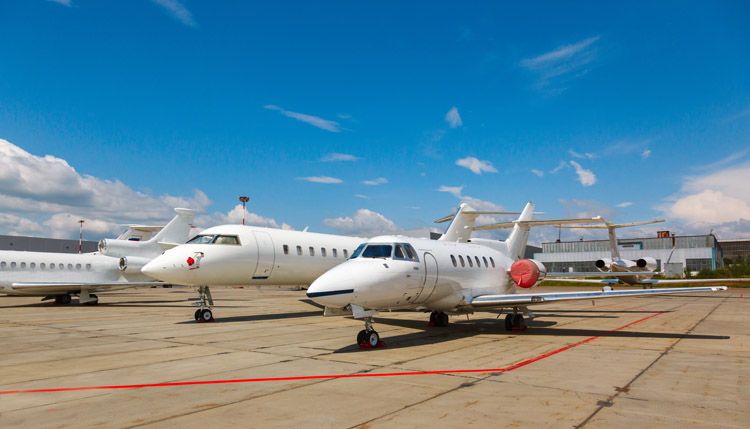 Photo Credit: Mikhail Starodubov/Shutterstock
The Super Bowl is fast approaching, with fans scrambling to get themselves the best seats they can find for the big Denver Broncos vs the Seattle Seahawks game. Fans aren't the only ones engaged in a competition over the NFL event though, private aviation companies have found themselves competing for luxury clients and airspace to jet people to and from the game in East Rutherford, New Jersey on February 2.
According to NBC News, over 1,000 private jets are basically fighting over reserved spots at Jersey's Teterboro Airport. There are only around 600 reservations available for those wanting to park, while others can do a drop-off and stash their jet at a reliever port. Considering the airport is just a few miles away from the stadium, these are some pretty priceless spots to land. Not only will there be upwards of 1,200 extra aircraft flying that day, if the weather takes a turn for the worse with rain and snow, aviation firms are going to have a pretty stressful day on their hands.
Photo Courtesy of MetLife Stadium
To make matters even more complicated, the Federal Aviation Administration will impose a no-fly zone within an eight-mile radius of the stadium — which is set to start at 4 p.m. and last until an hour after the football game ends. The New York Times reports that even after a plane lands, passengers will still have to deal with bypassing road traffic. We're assuming that if you've got yourself a private jet to take you there, you've probably organized some sort of pick-up too. And if you haven't, you may want to get on that.
Photo Credit: IM_photo/Shutterstock
While Teterboro is in the no-fly zone, Newark Liberty International Airport isn't and won't be affected at all. Though regardless of which airport you land at, you'll need a reservation and will probably have to pay an extra $250 in Super Bowl-related costs.
Of course, none of this will be of concern to the teams, as they will be using the MetLife Stadium's helipad to get to the game on time.