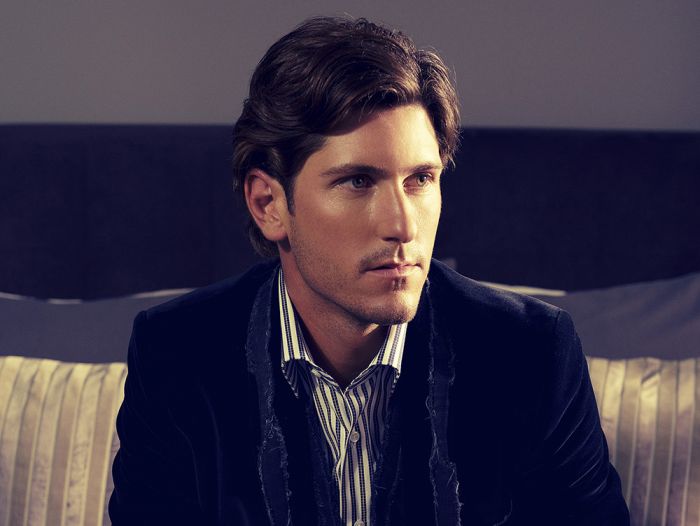 Photo Credit: Chiun Kai Shih
Nic Roldan has been called the face of American polo for more than one reason. Having a host of accolades and tournament wins under his belt, he was the youngest player in history to win the very prestigious US Open at the sprightly age of 15, a memory he told JustLuxe in a recent interview is one of his favorites. Besides being one of the top-ranked polo athletes in the United States, he is also a third-generation player, a brand ambassador for watchmaker Piaget, is currently contributing to the future of the sport (more on that later) and has a sweet, likeable personality to boot. It also doesn't hurt that Vanity Fair listed Roldan among Polo's 10 Hottest Horsemen; clearly the guy is easy on the eyes. That's a pretty complete package.
Photo Credit: Juan Lamarca
For anyone unfamiliar with the game, polo is an intense sport that doesn't get quite enough time in the limelight. Frankly it's a shame. In Nic's own words, the game is "like ice-hockey on horses, land speed of thirty to forty-five miles an hour, chasing a white ball…trying to stay on the horse." Make no mistake; polo is an intense sport that commands multiple talents of its players, only one of which is the ability to ride a horse well; an activity that is a sport in its own right. Roldan is no stranger to a range of athletics, having actively played soccer, ice hockey, golf and tennis.
He is quick however to draw a firm distinction between more commonplace sports and polo. "It's a much different experience, a lot more intense…you not only have to be a very good rider to play polo, you also have to have good hand-eye coordination, and you have to have great timing…of all the sports I've played it's by far the most difficult."
Couple all of that with the agility, quick thinking and overall strength needed, and you have a game that has been over and over called the sport of kings. In fact, do a quick search online and you will find that the media has played the "sport of kings" card so much that the tagline has probably done more damage to the reputation of the sport than good, bringing with it the connotation that the sport is somehow exclusive to the uber wealthy.
Photo Credit: Chiun Kai Shih
Granted, it takes what would appear to be a small army to support a single polo player, which certainly makes it a pricey sport to play. Nic has a team that he likens to a NASCAR crew, traveling around the world right alongside him. "I have four [people] that work with me all year round, two that are part time, you've got vets, you've got horse-shoers…it's a huge entourage, it's a big expense, a lot of maintenance and work involved, a lot of people are a little bit misconceived at the sport and think of it more as a lifestyle, it's actually an intense, very grueling [sport]; it's a lot of hard work, focus…determination needed to compete at the top level." On average, Nic travels with somewhere between 10 and 15 horses at any given time, even shipping his best overseas to the UK, where he has begun competing during the summer.
Photo Credit: Juan Lamarca
With a very clear-cut passion for polo Roldan seems to be putting his all into being the best and bringing the sport he loves into the mainstream. "Any sort of good publicity and attention toward the sport is great," according to the athlete, "one of my dreams is to try to win, or try to even compete in the Argentine Opener, the biggest tournament in the world, but it's tough trying to have horses both here and in Europe and in Argentina, so I'm trying to focus more on just, you know, doing the best that I can in the United States. I'm going to be in England for the summer, competing there, which is something new for me, a second year, there's two big competitions, the Queen's Cup, which is hosted by the queen, and the Gold Cup."
Photo Credit: Chiun Kai Shih
Like any professional sport, polo is filled with sponsors and naturally keeping them happy ranks among Nic's top career responsibilities, right alongside furthering awareness of polo as a spectator sport and contributing to the growth and development of the game.
"Polo's becoming more and more competitive every year, there's more and more sponsors, more and more money, more and more competitions around the world. And we'll be getting more attention now from the public eye, which is making the sport a lot more professional," Roldan explained.
So things appear to be heating up and Nic seems to be at the center of it all, not only on the field, but off of it as well. When the athlete isn't swinging a mallet while riding a horse, he is thinking about how he can be more effective at it, a practice that led him to design his own saddle for PoloGear, a brand he will eventually be the face of.
"We came up with the design of a concept for a saddle that's very different technology, and I think it's the new technology for saddles; moving on into the future…we're designing new polo equipment, new helmets, knee-guards…I'm actually quite involved. […] Fashion is something I've always loved as well…so we're working on new lines with the company, and a lot of good things are happening there." While the PoloGear Nic Roldan Free Shoulder Saddle™ is already on the market for anyone interested in purchasing one, the whole line is still in development and, according to Roldan, will hopefully become available in the next three to six months.
Photo Credit: Jason Myers
Also propelling the "sport of kings" into the future, Britain's royal princes can and should be credited with drawing attention to polo in the more mainstream media over the past couple of years, especially in the US where the game does not enjoy even half the attention it commands in the UK and India. Perhaps fittingly, Nic had the privilege of being on the field with both gentlemen, at one point captaining Prince Harry's team at the 2010 Veuve Clicquot Polo Classic on Governors Island. The media attention lavished upon the royals has certainly been a wonderful boost in exposure for polo, hopefully arresting and captivating a new audience in its wake. "It's opened everyone's eyes, it gives the sport a chance because nobody really knows about it or has been educated about it, but once people get the idea of the sport and how it works, and how much work and dedication is involved, and sort of see the speed and intensity, they fall in love with it."
Photo Credit: Jason Myers
Despite rubbing shoulders with royal blood (not to mention polo legends, celebrity names and the general upper echelon), Nic seems like a pretty normal, humble guy. After chatting shortly about his fairly boring lunch of chicken with salad, I asked him why he really loved polo. He told me it was the horses. "First and foremost is the horses, I grew up on horses, I grew up on a farm...horses have always been a passion in the family, I just love being around them." Any animal lover can probably relate and might even be a tad bit jealous of the polo star's relationships with his animals.
"And then the sport," he continued, "pretty much all I've ever done with my life is play sports. I used to play a lot of ice hockey, golf, and tennis and a lot of soccer." But his love for the intensity of polo trumps all of the others and the sport seems to be engrained in the man, who has been riding since he was five years old. Growing up as a third generation player, Nic strongly credits his upbringing for his success. "We had lots of horses, and you know, we played polo growing up, which really helped me get to where I'm at today…being able to be on the field with my father was an amazing experience. You know, he's been my mentor throughout my career, and he's really helped me a lot." He goes on to say that he also loves children and looks forward to having his own one-day. "I have a huge passion for kids, I love 'em…when the right time comes." He is clearly devoted to his family and finishes by saying "we're a very close family, we spend a lot of time together. I value my family immensely, without them I wouldn't be where I'm at today."
Photo Credit: Juan Lamarca
So what about tomorrow? Like any sport, the expiration date on a career in polo is inevitable. When I pressed him on his modeling career thus far, Nic was super humble. "I think part of being an athlete is the endorsements, and the modeling…whatever else that brings to the table, it's not like I was striving to do it. But it came with the position of being an athlete. I think it's fun, I think it's something different. Something enjoyable."
While Roldan is most certainly at the top of his game today, he is also level-headedly planning for the future, of which modeling does not seem to have a part. "Real estate is something I love, architecture, interior design, those are all, you know, passions of mine…I'm starting another company…called Bedford Park, it's an advisory group, we're a real estate investment group."
He also has a newfound passion for all kinds of art, which he has just recently started to collect. "Anything that catches my eye, I don't have a specific preference, that's sort of the way I approach life… when it comes to music there isn't a favorite type of music, I love all music, I think all art is beautiful. There's different ways to look at it… that's sort of the way I approach life, just sort of move forward and enjoy whatever you have."
Nic's sentiments leak into every aspect of the conversation. Pretty much a sweet guy who just so happens to also be very talented on the field, the man's personality is likeable and his drive is undeniable. While polo does not get the attention that it perhaps rightly deserves, maybe Roldan is the person to change that. Either way, one thing is certain: I am planning on being at a polo match in the very near future.