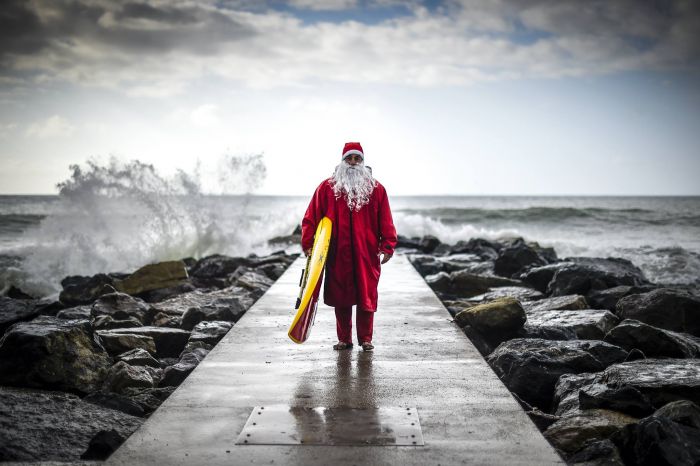 Photo courtesy of dryrobe
While coronavirus has restricted the playing of sports such as golf, tennis and football one activity that has surged under social distancing rules is cold seawater swimming – causing sales of the luxury attire known as 'dryrobes' to expanded exponentially.
With entry to gyms and indoor swimming pools restricted throughout the US and Europe, tens of thousands of people have turned to the sea for their exercise, regardless of the temperature, many for the first time, encouraged by health reports highlighting benefits such as improved circulation, increased libido, stress reduction and immune-boosting.
One clothing company catering to this newfound interest in the sport is a UK-based company, aptly named 'dryrobe.'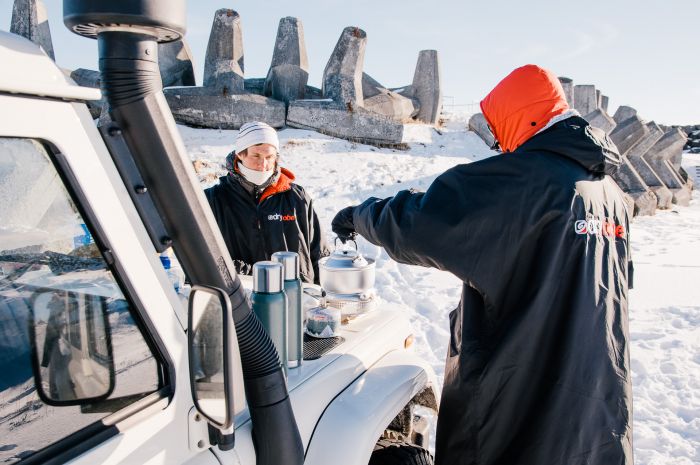 Photo courtesy of dryrobe
Founded by North Devon surfer, Gideon Bright, with over 30 years' experience in water-sports, the company developed an advanced change robe through innovation and product development.
Interestingly, it was Gideon's mother who created the first 'dryrobe' when he was a teenager. Producing a 'huge robe' one Christmas by utilizing her accomplished sewing skills, the original version was little more than a light blue waterproof 'robe' made from tent material with towel lining. But it kept Gideon warm after a day on the surf.
Gideon always had the old waterproof and windproof 'robe' idea in the back of his mind but didn't think to develop it, until one freezing day years later as he stood in a car park in the rain shivering with a wet towel robe on. After setting himself up in his garden shed and working on several designs, the first ever dryrobe was sold online in December 2010.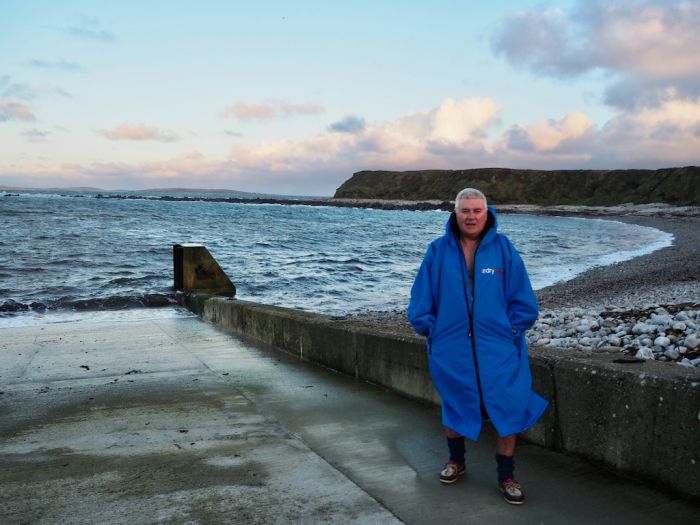 Sean Hillen arrives for a late December swim in the Atlantic Ocean in Donegal, northwestern Ireland. Photo by Columbia Hillen
From humble beginnings and a solitary car park in the depths of Cornwall in southwest England to an international business with world-renowned partners, the trajectory of dryrobe has been impressive.
The two core products, the dryrobe Advance Long Sleeve and the dryrobe Advance Short Sleeve, tell the story of this transformation from a homemade robe born out of necessity to an advanced change robe that offers customers protection whatever the weather.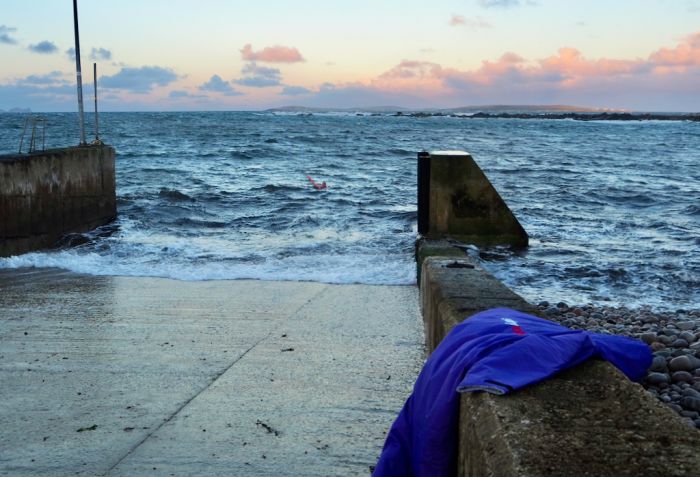 Columbia Hillen
"Through a waterproof and windproof outer layer and with insulating fabrics at its core, dryrobe's reusable design lets you get active outdoors, without ever feeling wet or cold," said Gideon. "Its innovative lining draws water away from the skin into the pile of the fabric, to preserve your energy and help regulate core body temperature."
Versatility is another hallmark element of the product, with a two-way inner/outer zip mechanism and an overall loose fit making changing in and out of underlayers such as wetsuits simple, with no restrictions.
The fleece-lined zip close exterior pockets provide further warmth and comfort, and a two-way waterproof zip chest pocket provides a safe place to protect valuable items from the elements.
The dryrobe Advance Long Sleeve features Velcro cuff adjusters to aid warmth further, particularly if you have to wait around after a sea swim in cold temperatures.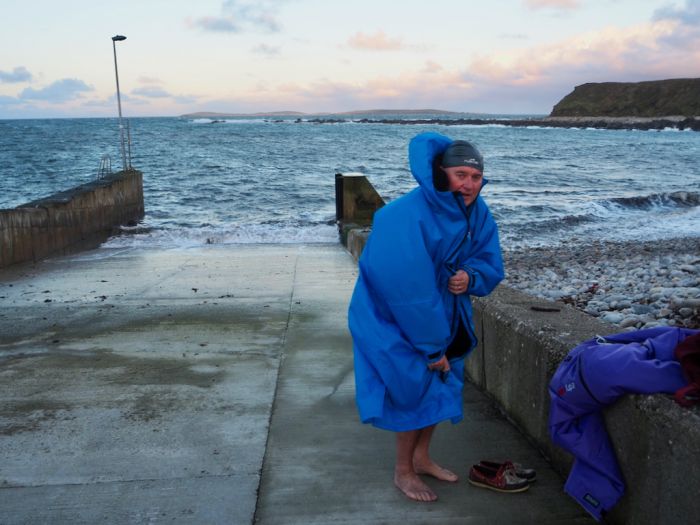 Loose-fitting dryrobe makes one feel as snug as a bug in a rug. Photo by Columbia Hillen
A frequent cold water swimmer over the last few months, my opportunity to test out a dryrobe occurred on an outing to Curransport, a tiny coastal hamlet in Donegal, northwestern Ireland, hardly the warmest place on the planet, especially in late December, and with a biting northerly wind blowing.
After plunging into waves whipping up against the concrete pier, I certainly needed a comfort blanket. My brand new blue dryrobe certainly provided that, it's loose fitting meaning I could swing it over my shoulders, its insulated fleece lining making me feel cozy immediately. Until then, I had simply dressed normally after swimming, Try doing that with numb fingers. It ain't easy. And the towel robe I used then didn't help much. In fact, compared to the dryrobe, it seemed as if I had been wearing a flimsy hospital gown.
Photo courtesy of dryrobe
Through their products, Gideon Bright has built partnerships with groups like Red Bull, GoPro, Adidas, Spartan Race, Tough Mudder, Wolf Run, Maverick Race, RYA (Royal Yachting Association), British Water Ski & Wakeboard and the RLSS (Royal Life Saving Society).
"For us it has always been about pushing boundaries to develop the best possible product," added Gideon. "As a simple concept, we've been overwhelmed by the positive feedback we've received from users."
Such is Gideon's success, there are now dryrobes for dogs, as well as accessory items such as towels, travel bags, change mats and car seat covers. And dryrobe's products have been endorsed by the British swim world record setter, Ross Edgley, and British women's surfing champion, Lucy Campbell.