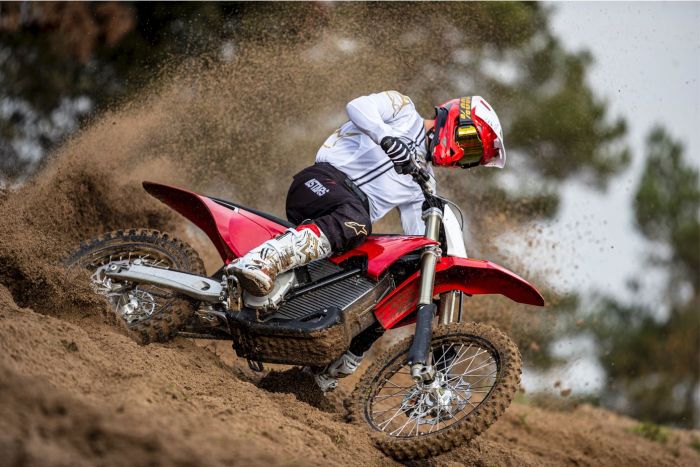 Stark
While motocross has been perennially present in the sport's world since its inception in the early 1900s, more than a century of athletic evolutions and technological advancements are setting motocross up to become more popular than ever on the world stage. With the motocross market expected to grow by 7 percent by 2024, demand is growing in tandem for high-performance bikes in-line with present-day consumers desires; but considering most available motocross bikes are gas-powered and subsequently have a negative pollutant effect on the environment, consumers increasingly concerned with patronizing eco-friendly companies have been left largely without a solution in the sport of motocross – until now. Released at the tail-end of 2021, Stark Future's fully-electric Stark VARG is reshaping the motocross market toward sustainability, all in a power-packed model approved by the world's leading motocross professionals.
As one of the most physically demanding sports in the world, devoted motocross riders have a key checklist of factors and assets needed to be ticked off when selecting their bike, including weight, speed, and agility – all of which can affect subsequent race results. While built fully electric and sans the use of fuel, Stark Future has spared no detail in the development of the Stark VARG, fitting the model with patent-pending technological advancements and meticulous design choices that make the Stark VARG pass the performance thresholds of conventional gas models so that riders want for not in selecting the all-electric, zero-carbon emission alternative.
"We set a very clear target - let's build an electric bike that outperforms all gas
Competitors," said Benjamin Cobb, Stark Future's Head of Communications. "That way, sustainability is not the only selling point if you want ultimate performance. Sustainability is the way to go, as there is no compromise."
With the singular ability to fluctuate through multiple cubic capacities, the Stark VARG's adaptable build brings another unique selling point to the motocross market, offering an enhanced and customizable ride for both on the track races and off-road excursions, all while operating a 30% higher performance than standard 450cc four-stroke fuel-powered models. Other features, like an ultra-light-weight chassis for increased agility and handling, the most energy-dense motocross battery in the world, and the capability of reaching 80 horsepower, give the Stark VARG its industry-leading power-to-weight ratio it's become known for on the global motocross circuit, resulting in the electric motocross bike reaching unprecedented sales of $56 million (€50 million) throughout its first month of large.
"We see it as confirmation people are interested in new technology, pushing
boundaries of what's been done before," said Cobb about Stark Future's record-breaking month. "In several aspects, such as performance, ease of ownership, no-noise, but, especially, it's easier to ride."
As motocross continues to grow its member base and viewership over the coming years, sport evolutions brought forth by the entrance of Stark Future's Stark VARG to the market are already helping pivot the industry toward a more sustainable future, ensuring the sport's enduring presence in the global market in the process.