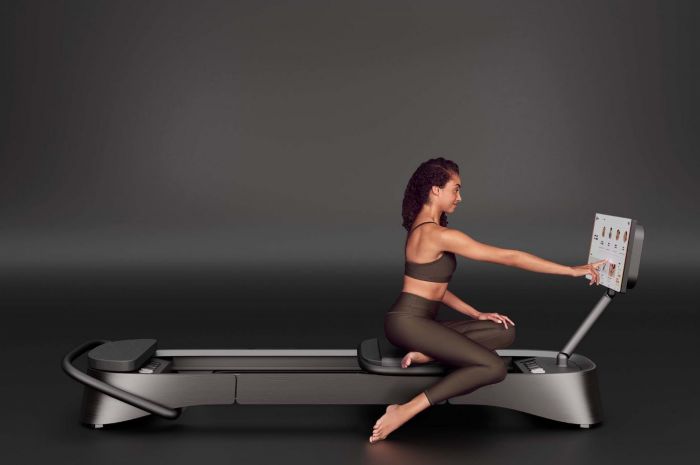 While Pilates has maintained a steadfast presence in the global fitness community since its early-1900s origins, consumers have had difficulty replicating the practice's efficient results at home in comparison to the streamlined transition of workouts like yoga, weight lifting and floor exercises. Part of this can be explained by the power of intense Pilates' requisite equipment, the reformer; composed of a moving carriage and expertly-placed resistance bands, reformers help transform Pilates exercises to the peak of toning potential through tension and an increased range of motion. However, given the machinery's expensive price tag and bulky sizing, Pilates devotees have by-and-large been required to attend studios to gain access to reformer equipment, and have otherwise been forced to follow mat Pilates – a decidedly less intensive alternative – or pivot attention to other exercises when exercising within their own homes.
Now, a new player in the fitness world looks to transform at-home Pilates sessions into the same level of effectiveness as in-studio classes; meet Frame Fitness' Frame Reformer. Meticulously designed for home usage, the Frame Reformer subverts many of the aspects that have made reformer equipment unwieldy in small spaces, utilizing a patent-pending foldable design to allow for ease of storage and enhanced portability. Similarly built to be aesthetically pleasing through sophisticated silhouettes and muted color palettes, the Frame Reformer adds a subtly elegant visual dynamic to the home when set-up, disappearing from sight when later folded for storage.
Considering a June 2021 survey by PilatesAnytime revealed that some 62 percent of respondents intend on continuing their practices at home as opposed to in-studio after the pandemic, the demand for at-home reformer equipment is anticipated to surge as a result. But what really makes Frame Fitness and the Frame Reformer stand out from the pack is its digitally-connected screen – the very first of its kind for a home-based reformer. Packed to the brim with on-demand classes pre-recorded by Frame Fitness' expert Pilates professionals, the Frame Reformer's digital screen likewise provides open access to live classes guided by top trainers, allowing users to flexibly curate their routines around their individual schedules with Frame Fitness' customizable subscription plans.
Designed specifically with the home Pilates enthusiast (and hopeful aspirants) in mind, Frame Fitness' feature-packed Frame Reformer pushes Pilates to its fullest out-of-studio potential, single-handedly elevating Pilates toward a new era of user-friendliness and at-home excellence.