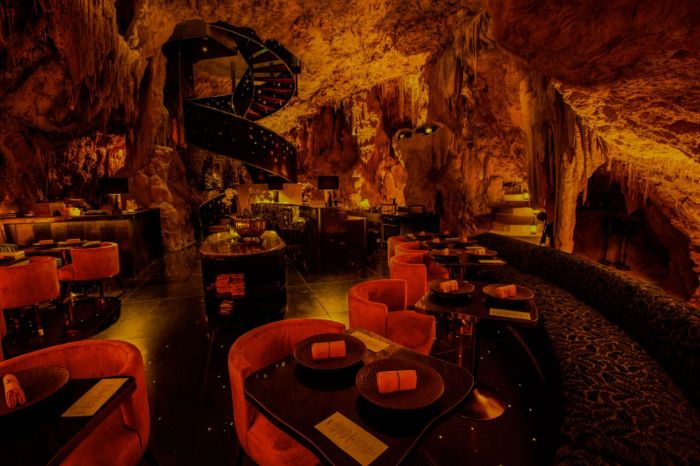 UBD is an iconic interior design firm in Bali, founded in 2010 by Caroline Usher. UBD has produced a successful number of commercial project interiors and architecture in restaurants, bars, and hospitality categories. One of their prominent projects - the CAVE restaurant by world-renowned chef Ryan Clift at the Edge Bali resort - brought them a win at the Luxury Lifestyle Awards in the category of Best Luxury Restaurant Interior Design category in Indonesia. We took this opportunity to talk to Caroline about her love of design and the success UBD has brought here and her team.
Luxury Lifestyle Awards: Where do you find the inspiration that has led you to be one of the top designers in Indonesia?
Caroline Usher: There's no other way to say it but it's all in my head. From the age of seven, I would wander off by myself into hills behind our little house in a coastal village in Pukerua Bay, New Zealand. I was captivated by the colors, where the sea meets the sky, the waves breaking into the rocks below, and the emerald grassy hills - constantly in a daydream imagining beautiful scenes. By age ten, I was making my clothes, a skill taught to me by my mother, imagining my couture fashion line and designing the runway. I've always been creative. I've always been designing in my head. I was also in the movie industry for 22 years, and this is where I also find inspiration, creatively.
LLA: How do you and your team design your portfolio?
CU: The process starts with design development as we work closely with clients and find inspiration to meet their concepts. I brief the team then we move on to 2D sketches, 3D renderings, FF&E, and more technical documentation. But what I love more than anything is creating the concept and passing the technical skills to others. Through a network of trusted designers and suppliers, we can design and facilitate more and more.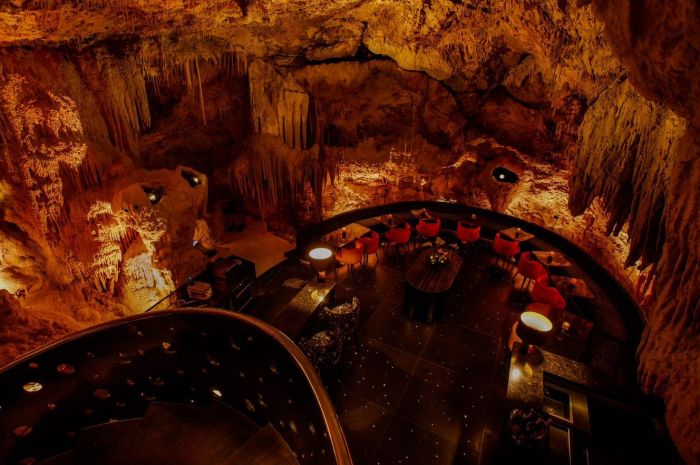 LLA: What projects are you most proud of, and why?
CU: That would have to be The Cave. It's a once-in-a-lifetime opportunity. I feel so honored that the owner came to UBG Global for our design ethic and quality, knowing that what we have is everything he wants. A spectacular timeless product was what he wanted - he came to us for that. He gave me the trust and freedom to curate, and we excelled. It's an incredible feeling.
LLA: What software do you use?
CU: The three main software programs we use are Auto Cad, Sketch Up, and Lumoin 3D. Through them, we go from technical drawings and planning to seeing the shape of each venue come to life.
LLA: How do you work cross-functionally with project managers, developers, and copywriters?
CU: I love working with local project managers and developers, individuals who strive for professionalism in everything they do. Through daily communication and trust, we can build a mutual level of respect for responsibilities and quality that must be maintained. It's always a balance between meeting design needs and the budgets between owners. When working with suppliers, we get together to discuss how to create custom solutions to design requirements. I tell them about the effect we want to fabricate for people through the interior. From then, we collaborate on how to deliver the desired effect, whether it be lighting, finishes, or furnishings.
LLA: In recent times, luxury has undergone a massive transformation. People seem to be looking for inclusive, personalized, and authentic experiences rather than exclusive experiences. Is this environment what we can expect at the CAVE restaurant?
CU: A million percent yes, not even a hundred. After what the world has been through in the past two years, it was essential to curate a nurturing environment where every guest feels enveloped in nature and safety. Taking steps underground into a dark cave seems daunting at first, but the design and ambiance transform the experience into remarkable gratitude of thanks and appreciation for Mother Nature.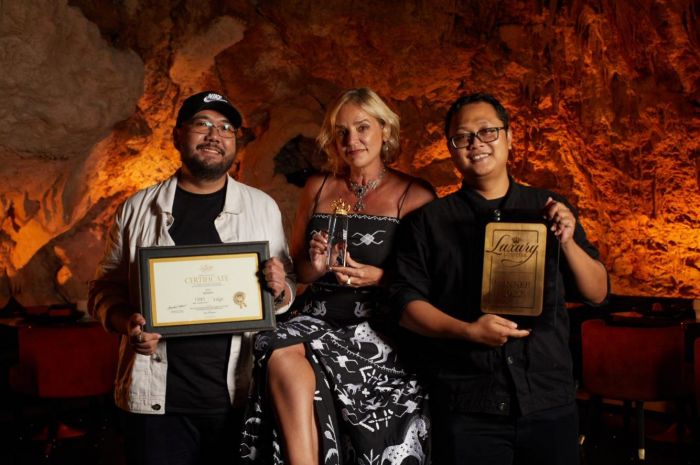 LLA: How do you conceptualize the CAVE?
CU: Again, it was all in my head. I recognized how the world changed and what I felt was needed at this time. The Cave is timeless and immerses us in the beauty of nature. It's what we need now more than ever.
LLA: What are you most proud of, interior-wise, at the CAVE?
CU: It would have to be having never harmed the living environment of the CAVE. The project is more sustainable than any others we've done. Every day we poured in sweat, working with no aircon and stepping on each other's toes as we dodged under and through the natural stalactites and tiny confinements of each cavern. I'm also so proud of all the local and sustainable materials we used, like the Balinese lava stone which makes up the upside-down galaxy of stars floor.
LLA: Were you involved in the strategy and concept phase of the CAVE?
CU: We were the concept. I am so lucky to have been given the opportunity and trust to design my idea for what would excel in the unique environment. From the moment I presented the concept to the owner to working with the project manager to deliver the final product, UBD Global was involved in every phase.
LLA: What do you see as the key to your success in general and your recent win at the Luxury Lifestyle Awards specifically?
CU: My success comes from my gratitude. Bali is filled with beautiful friendly souls. Every day, I'm given a platform to empower others, to be better, to honor its culture and always to be grateful. I manifest greatness and give thanks as a daily routine. I find so much joy in being part of this culture and giving back to what it gives me. A unified and empowered team was key to success in winning the Luxury Lifestyle Awards. Together, we created an impeccable design that honors Mother Nature.