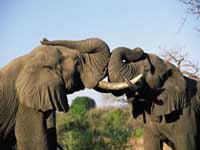 Port Elizabeth Shopping
Visitors to Port Elizabeth are often surprised by how small the city is, but this small town atmosphere is not reflected in its many shopping options. For convenience and a wide range of shops visit Greenacres Shopping Centre, now connected to The Bridge Mall, a useful one-stop resource if you need any travel supplies. This megamall has extended open hours on weekends and also contains cinemas and restaurants. Other shopping centres worth using are The Boardwalk, adjoining the casino near the beach, and Walmer Park Shopping Centre in the suburbs.
It''s unlikely that overseas visitors will be content shopping in malls that closely resemble the shopping centres back home. For a more authentic selection of Eastern Cape and South African items, start with a visit to the Boardwalk Craft Workshop which has locally made items emblematic of the region, such as wood carvings, painted and carved egg shells and colourful fabrics. On Sundays and public holidays don''t miss the Beachfront Traders Association, with 290 artisans, artists and traders this is the largest and most varied craft market in the region.
There are some specific shops in Port Elizabeth that are worth a mention: Aya''s Ceramic Studio works with local women to create beautiful pottery and clay items, as does the African Earth Ware Ceramic Studio & Gallery which exports its creations all around the world. The Wildlife & Environment Society is a good bet for clothing, wood carving, ostrich eggs, DVDs and books related to South Africa''s diverse and exciting fauna.