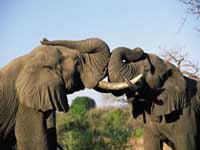 Port Elizabeth Overview
The industrial city of Port Elizabeth is the centre of the Eastern Cape region of South Africa, known in most tourist guides as 'settler country'. The city was founded by shiploads of British settler families who arrived in the Eastern Cape in the early 19th century, hoping to improve their prospects after suffering economic hardship because of the industrial revolution at home. The settlers also intended to strengthen defences against the local Xhosa people, who had been pushed back beyond the Fish River frontier. They came ashore at Algoa Bay, where there was nothing more than the small British Fort Frederick to welcome them.
The city, from its humble beginnings, has grown into a principal port and manufacturing centre. Although it is very much a working town with a large indigent population living in the outlying township areas, Port Elizabeth draws plenty of tourists because of its proximity to the attractions of the east coast and historically interesting interior. The city is justifiably known as 'the friendly city' and Algoa Bay boasts 25 miles (40km) of beautiful sandy beaches lapped by the warm waters of the Indian Ocean. The attractive beachfront is the venue for the annual 'Splash' festival and world boardsailing championships, and features a long promenade and pier full of tourist facilities. Port Elizabeth has a few museums and a small oceanarium, as well as the Nelson Mandela Stadium, which was built for the 2010 World Cup and dominates the cityscape. The nearby Donkin Reserve provides a pleasant day trip as do Seaview Game and Lion Park and the Kragga Kamma Game Park, and slightly further afield visitors can see the 'Big Five' at Shamwari Game Reserve, Amakhala Game Reserve, and Addo Elephant Park.