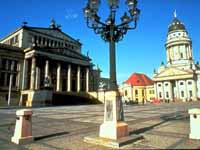 Berlin Shopping
Berlin may not be known as a shopper''s paradise, but don''t be fooled; it can give even the most seasoned of power-shoppers a run for their money. There are plenty of opportunities for shopping sprees, ranging from the overly expensive to the humble wares of the city''s flea markets, antique markets, cheap bargain stores and everything in between.
Luxury designer boutiques can be found lining the streets at the west end of Kurfürstendamm and in Friedrichstrasse. All the different shopping precincts have their own distinctive style and the best boutiques are often tucked away in backstreets or quiet courtyards.
The main shopping districts are the Kurfürstendamm, Breitscheidplatz and for some bargains, a quick stroll in the Budapestststrasse and Tauenzienstrasse could prove worthwhile. One of the trendiest shopping streets is the Schönhauser Allee with countless independent shops dotted along its thoroughfare offering the latest fashion and young independent designer labels which can be snatched up for a song.
A sales tax (VAT) of 16% is levied on most goods and services in Germany. Most major stores are open from 9.30am to 8pm daily and between 9am and 4pm on Saturdays. All stores are closed on Sundays, except for small stores in the main train stations.