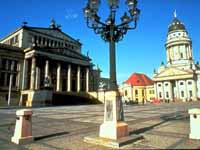 Things to do in Berlin
Berlin is teeming with history and its key attractions bare testimony to that. But there is something to interest just about anyone of any age in this intriguing city. The sobering Checkpoint Charlie and Jewish Museum are two just examples of the many sights that serve as a stark reminder of Germany''s turbulent past and history buffs will enjoy exploring all the museums and memorials this great city has to offer.
Younger visitors will enjoy a visit to the Legoland Discovery Centre where the children and the young at heart can marvel at the wonder that is Lego. The remains of the infamous Berlin Wall are now the Eastside Gallery, the largest open-air gallery in the world displaying graffiti from over 118 artists from around the world. It has become a major landmark in the city and a wonderful tourist attraction not to be missed.
The historic Hamburger Bahnhof, one of the most popular art galleries, is a must for culture lovers while the Postdamer Platz is a wonderful place to explore. The square, boasting a fantastic mix of restaurants, shopping centres, hotels, a casino, theatres and cinemas, draws both Berliners and tourists seeking good food and recreation. The Kollhoff building located in the square features a panorama platform, which can be reached by Europe''s fastest express elevator, and offers breathtaking views of the city.
The Berlin Welcome Card offers discounts on most of Berlin''s major attractions, as well as free travel on public transport within the city for one adult and up to three children aged 6-13. It ranges from EUR16.90 for 48 hours to EUR29.90 for five days. Culture vultures are also advised to buy the SchauLUST Museen Berlin ticket, which costs EUR19 (EUR9.50 with a student ID), is valid for three consecutive days and allows free entry to over 50 museums. Both cards can be bought from railway stations and tourist information centres.