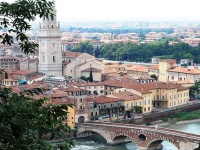 Best Restaurants in Verona
An idea that many tourists might have a hard time swallowing is that the Veronese are keen eaters of horse-meat. The dish known as is a local speciality and adventurous travellers should try the , a horse-meat stew cooked in Amarone wine and paprika and served with polenta. It''s also not uncommon to find bullocks'' testicles and calf''s brain on restaurant menus here.
Other traditional Veronese dishes include (pork casserole), (mixture of boiled meats) and , a traditional accompaniment of fruit and vegetables in mustard - and don''t miss out on the delicious (salami with garlic). Thankfully, for the unadventurous, ''regular'' Italian fare is tasty and most travellers will be familiar with dishes like risotto, ravioli, pizza, pasta and other delicious grills.