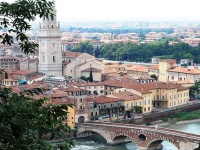 Things to do in Verona
A trip to Verona means plenty of sightseeing, history and romance - and travellers will have their hands full deciding where to begin. The beautiful architecture around the city, most of it rebuilt in Romanesque style after the 1117 earthquake, is simply breathtaking and is impossible to ignore. For many, a holiday in Verona isn''t complete without a visit to Juliet''s balcony. But there is more to the city of Verona than just following the trail of Shakespeare''s star-crossed lovers. In actual fact, ''Juliet''s balcony'' was only added to the so-called ''House of Juliet'' in 1936, and named as such to attract tourists, and while the house is open to visitors, it has no connection to the characters. Discovering Verona''s treasures is a much more rewarding experience. Visit the bridges of Ponte Pietra and Ponte Scaligero for some of the best views of Verona and the 14th-century Castelvecchio, which also houses Verona''s Art Museum; while the ancient Roman gate of Porta Borsari, which dates back to the 1st century AD, will fill visitors with a sense of awe and immense history. The church of San Fermo Maggiore unites the Romanesque and Gothic styles of architecture, while the magnificent Verona Cathedral ( ) features a marble Romanesque façade by the Veronese architect Nicolò, and the ancient Roman Theatre, which is also home to the Archaeological Museum, still hosts operas on warm summer nights.
Travellers set on seeing a good variety of sights in Verona should purchase the Verona Card for either one or three days (at a cost of Â?10 or Â?15 respectively), which can be bought from retailers participating in the initiative, tobacconists in Verona and tourist information offices.