By Beth Graham Oct. 18th, 2016
Nigel Barker is best known as a global fashion photographer and as one of the judges on America's Next Top Model. I caught up with Nigel at the grand opening of the AC Hotel Atlanta Buckhead at Phipps Plaza. Barker is the global brand ambassador for this European-style property catering to millennials and the creative class. As a guy who spends seven months of the year on the road, simplicity, function and fashion in a hotel brand are key. In our time together we discussed travel, how millennials are changing the industry and what helps him stay creative.
JustLuxe: How are millennials changing the travel industry?
Nigel Barker: I see millennials adapting more of a European travel style. U.S. business travelers are so work oriented, it's all about productivity. European travelers value relaxation time and space. That's what attracted me to the AC Hotel brand many years ago. They have libraries that are well-curated with books, the rooms are minimalist and there's no clutter, with plenty of meditation and creative space.
JL: It's no secret that Europeans do a great job of using their vacation time and going on holiday. What would you say to millennials to encourage them to get in that habit early?
NB: Social media has exploded and it's no longer just about the desire for communication. It has opened up an entire world to everyone, letting people look at the world in a way they haven't before. It's no longer just a curated collection of photos. People can see firsthand what's happening in other countries and it's creating this desire to see the world, not just through photos, but viscerally. This is a big desire for new generations, they are wanting to create their own history and legacy.
JL: Are you most comfortable on the go or at home?
NB: Both. When I'm gone, I have this longing to be home. My favorite place in the world is home. But I love being away when my family is with me.
JL: How will you inspire your kids to travel as they get older?
NB: Showing my kids the world is a big priority for me. I've traveled with them since they were born. I grew up in same style. My parents traveled constantly and took all six of us kids with them. We were always living on top of each other taking off for Sri Lanka, or India, going on African safaris, jumping on ferries to Spain, hopping off to Morocco. They wanted us to see the world through our own eyes and that's what I try to do with my kids. Travel these days is difficult, but the difficulty is what makes it fabulous. When you create stories and open everyone's eyes including your own, you realize the journey has been worth it.
JL: We live in this crazy world where it's chic to be busy which leaves little time for creativity. How do you find creative thinking time?
NB: I get up very early, long before anyone else, even the dog. I love the first crack of light, the promise of a new day. When I'm the only one up, I have this feeling of freedom. It's great creative time for me. I spend time thinking and I'm very old school, so I write things down. I never check my email in the morning so my mind is free to think creatively.
JL: How do we preserve the arts and encourage kids today that it's okay to pursue a career in the industry?
NB: I was so delighted to hear that Bob Dylan won the Nobel Prize for literature. I could not have gotten through high school without his lyrics. The arts are crucial. They're in everything—writing, sculpture, carpentry, furniture design, photography, drawing. That's what I love about today's social media. We have put a camera in a billion people's hands. Just as we give every child a pencil or pen and teach them to write, now we're giving people a camera and the ability to be creative and explore part of their brain that has been untouched. Photography is a great art form, it's very visceral. That's what my new show Top Photographer is all about, helping discover untapped talent through photos.
JL: What do you think is the future of reality TV?
NB: I believe we'll see more and more of it being used for good. I like to think America's Next Top Model did some of that. We had models on the show of all shapes and sizes and I think it helped pave the way for some of today's untraditional models. I think reality TV can show people what's possible. It can pull people out of obscurity and help them succeed. I believe that inherently, people love to see other people succeed.
JL: Favorite city for shopping?
NB: Paris
JL: Favorite city for eating?
NB: New York
JL: Best meal you've ever had?
NB: I once had dinner with the indigenous people in the jungles of Sri Lanka. They made this amazing curry in mud ovens.
JL: Best travel experience?
NB: I've just discovered this remarkable remote part of Eleuthera, Lighthouse Beach. It's covered with pink sand and there's not a soul in sight. It's the most remarkable place of untouched territory.
JL: Worst travel experience?
NB: None. I love gritty urban environments as much as I love secluded beaches. I find the best of everything.
JL: Binge-watching recommendation?
NB: I'm a Trekkie. I love sci-fi.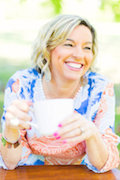 Beth Graham
Beth writes about the things that feed her soul - food, wine and travel. Read her stories at bethgraham.com and follow her journey on Instagram @Beth_In_Grahamland. ...(Read More)