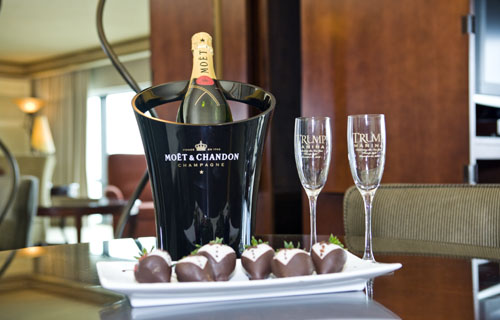 Hotels
Golden Nugget is conveniently located in Atlantic City's beautiful and relaxing bayside, overlooking the magnificent Senator Frank S. Farley State Marina. Here, a relaxed elegance combines with luxurious appointments and 24-hour thrills to create the ultimate getaway for grown-ups. Indulge your playful side in the world-class casino. Experience taste bud bliss at their award-winning restaurants. Catch a superstar performance in The Shell showroom. Move to the music at The Wave. Snuggle into one of Golden Nugget's chic and sophisticated hotel rooms or suites. Win big with non-stop giveaways of cash, cars and trips. They'll show you a time that's above and beyond what you expect.
Accommodations
Accommodations at Golden Nugget in Atlantic City New Jersey are the ultimate in comfort and style earning us the prestigious Five Star Diamond Award from the American Academy of Hospitality Sciences. Our spacious guest rooms are located in the Bay Tower, steps away from the Front Desk. Come enjoy sweet dreams in one king size bed or two full size beds dressed with the finest linens and featuring Simons Health Smart pillow top mattresses. The Bay Tower also houses 39 Bay Suites and 18 Marina Suites. Bay Suites are larger than our guest rooms and afford sweeping views. Each offer either one king size bed or two full size beds. The Marina suites have panoramic windows boasting a view of the ocean, marina and the Atlantic City skyline. Each have one king size bed, a parlor area with dining table, one full bath and one half bath.
Dining
The Golden Nugget has a abundance of restaurants to satisfy anyone's taste buds. From the first course to the last, DJ's Steakhouse at Golden Nugget is an experience your palate will never forget. Executive Chef Les Bender insists on serving Prime Certified Angus Beef in signature entrees designed to present steak at its flavorful best. As the name suggests, the waterfront setting alone makes Harborview at Golden Nugget worth a special trip. Perhaps even better than the spectacular view outside your window is the magnificent Italian cuisine and Seafood Specialties on your plate. Come explore the best of modern China, right in the heart of Atlantic City. The chefs of Imperial Court offer an exotic experience for your palate.
Casino
For nonstop entertainment, head to the nearly 80,000 square foot casino. From the thrills and chills of a baccarat or blackjack tournament to the fun and excitement of the craps pit, the table games at Golden Nugget have the hottest action in town! The main casino floor holds almost 65,000 square feet of your favorite games including everything from Blackjack, to Craps, Roulette, and Baccarat and Mini Baccarat. If poker is your game, we offer everything from Texas Hold 'Em Bonus Poker, to Flop Poker, and Let It Ride and Pai Gow Poker.
Spa
Enter the sanctuary of Crimzen and embark on a relaxing, holistic spa journey that will soothe your mind, body, and spirit. Crimzen's expert spa staff will be delighted to help you choose the perfect experience so you will get the most out of your time with them. Using pure essential oils, each service has been thoughtfully designed to delight your senses and touch your soul. Golden Nugget attracts top entertainment from all over the world. With four distinct venues, from showrooms to night clubs, there is no better place to enjoy your favorite entertainers and bands than the Golden Nugget in Atlantic City New Jersey.
Meetings & Events
While many Atlantic City hotels place weekend and traditional peak period restrictions on events, meetings or weddings, Trump Resorts are always open for business. They welcome you and your group, event, meeting or wedding 24 hours a day, every day of the week, every week of the year. No matter what type of meeting or event you are planning, Trump Atlantic City offers a variety of meeting venues from bayside to oceanfront.