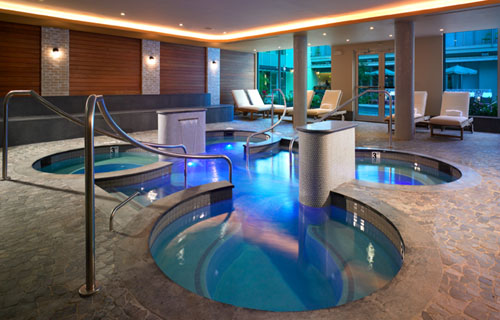 Hotels
Ushering in a new era of Atlantic City chic, The Chelsea Hotel is the first non-gaming hotel to grace the Atlantic City Boardwalk since the 1960s. The Chelsea Hotel is for the savvy modern traveler, capturing imaginations by conjuring the long-lost glamour and sophistication of this seaside resort town as a magical retreat. This hotel represents where leisure and luxury come together in a perfect blend of great service, true comfort, and alluring spaces.
Accommodations
This beautiful Atlantic City boardwalk hotel offers two elegant room types to meet any taste. This includes the Chelsea Luxe Rooms and Suites that are posh and luxurious with modern decor; many offering sweeping ocean and bay views that promise an upscale, pampering stay. Or the Chelsea Lite rooms, located in the Annex building, that are playful and hip with original tiles and vintage fixtures; offering hip quarters for guests seeking a more casual and cost-conscious, but no less stylish getaway.
Dining
Two signature restaurants invite you to enjoy the most delicious cuisine in the city. One of these signature restaurants, The Chelsea Prime offers a fresh take on a prime steakhouse. With a tantalizing menu of prime steaks, fresh seafood, innovative side dishes and classic martinis, Chelsea Prime is the consummate boutique steakhouse. Named for the hotel's original proprietors, Teplitzky's serves diner-inspired food in a fun, classic setting that also houses a hideaway cocktail lounge and coffee shop that is brought to life with original terrazzo floors, redwood walls, and cantilevered stools. Serving an eclectic menu of comfort-food favorites and creative specialty cocktails this is the spot to be.
Spa
When it comes to health, fitness, and beauty, The Chelsea Hotel believes guests should choose their own pleasure, whether it's trying out the hotel's cutting-edge fitness center or unwinding in private cabanas by the beautiful terrace pool, or simply marveling at the ocean's crashing waves on the beach. The indulgent-inclined might choose the hands-on approach of Sea Spa's decadent menu of services. Guests of The Chelsea enjoy a special privilege: access to the only full beach service in Atlantic City, providing luxurious towels, lounge chairs, and umbrellas, as well as a dining menu. The Chelsea's cabanas on the beach are private sanctuaries featuring mahogany wood floors, enough room for two lounge chairs, and sides that can be rolled up or down as personal preference, or the weather, dictates on any given day. Cabanas will be in high demand, so it is recommended that guests reserve theirs when booking a room.
Meetings & Events
The Chelsea's seaside location and wide selection of large and small gathering spaces, each distinguished by its own unique style, set the stage for the perfect event, from a picturesque wedding reception to a business function to anything in between. The Chelsea's event coordinators pride themselves on exceeding each guest's expectations, tending to every detail so that even the hosts can savor the festivities. The Chelsea's premier event venue is The Crystal Room, a 4,400-square-foot indoor banquet space (that can be divided into smaller spaces) with an accompanying outdoor terrace overlooking Sea Spa's saltwater pool. The Crystal Room takes its name from the Howard Johnson's ballroom that once occupied the same space and where USO volunteers entertained American troops. The Crystal Room's namesake feature 'the chandeliers' are bejeweled with refurbished crystals from the ones that once hovered over revelers here, while the Terrazzo floors were made by regrinding original flooring materials.