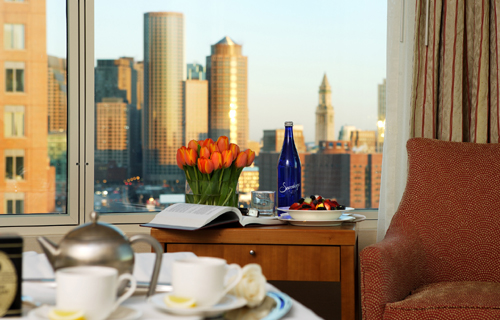 Hotels
Welcome to the Seaport Boston Hotel & Seaport World Trade Center providing you with refreshingly different style and service whether you're visiting Boston for business or leisure. Located on the waterfront in the bustling Seaport District, the Seaport Boston Hotel offers you luxury accommodations with dazzling city and harbor views and incredibly convenient access to all major points of interest including the Financial District, Freedom Trail, Faneuil Hall, Fan Pier and the North End.
Enjoy complimentary wireless Internet access throughout the hotel plus one of Boston's finest fitness facilities including an indoor heated pool. We're just minutes from Logan International Airport with our own MBTA and water taxi stops! Experience our historic city while staying here at Seaport, one of the most luxurious Boston hotels.
Designed to meet the needs of the modern traveler, a key element of our guest room renovation is centered on optimizing our furniture and room design so that guests can work and relax with maximum flexibility. Guests will find Seaport's new rooms a delightfully fresh take on the best in timeless hotel design whether they are traveling for business or leisure.
Whether you're between meetings, between visits to the New England Aquarium and shopping sprees, or just craving a midnight snack - there is always time for a fresh and healthy meal at the Seaport Hotel. With a full-service restaurant serving innovative contemporary cuisine, a vibrant bar with a fun atmosphere and exotic cocktails and convenient in-room dining, you're sure to find something to savor. Choosing a restaurant in Boston is made easier with the Seaport's dining options.
Inspired by fresh ocean breezes, Seaport creates meetings that are consistently fresh and creative. Our location on historic Boston Harbor shows off the bustling Seaport District offering maximum convenience to the Financial District and Logan International Airport, as well as the North End, Back Bay and all major Boston attractions.
Your guests can relax in our light and airy, residentially-styled accommodations, enhanced by delightful dining and recreation amenities. Then everyone can come together in our extensive Boston conference center.