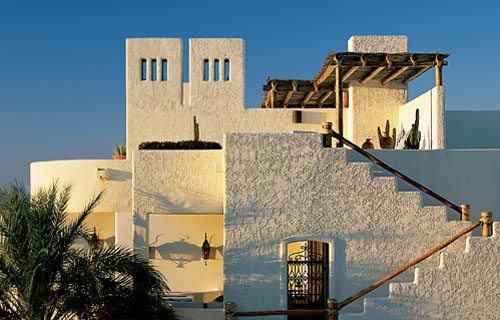 Hotels
As its name implies, Las Ventanas al Paraíso, A Rosewood Resort, is a window to Paradise. A Ty Warner Property and one of the most acclaimed resorts ever, Las Ventanas has redefined luxury and pampering, reaching out with special touches that are the hallmark of refined hospitality. The desert resort captivates its guests with expansive suites, a world-class spa, inspired cuisine and an intoxicating ambiance.
Accommodations
Expansive and richly appointed, all suites have marble showers and Conchuela limestone floors. At the end of the day share the warmth of a seaside fire, and be lulled to rest by the rhythm of gently washing waves. Or, turn your personal telescope toward the heavens to gaze at the shimmering stars.
Dining
At the resort's beautiful dining room every table features a fabulous view of the sun-soaked pool area and glistening Sea of Cortez. Engaging Mexican-Mediterranean inspired decor features a meandering, hand-painted mural that captures the essence of the local area. The tables are set with the finest, hand-painted Mexican crockery for breakfast and lunch, and for dinner with renowned Bernardaud crockery from Limoge, France. Guests may opt for covered outdoor seating or indoor dining in a climate-controlled ambiance.
Spa
Realize your optimum well being and enhance your quality of life in a secluded desert garden setting. A team of specialists can guide you in formulating a personalized spa experience. The Spa's extensive range of services are inspired by restorative treatments, holistic therapies, healing rituals, organic products and native remedies found in Baja, Mexico, and around the world.
The Spa at Las Ventanas embraces a holistic approach, drawing upon the belief of the ancient healers of Baja California that emotion, spirit and physical well-being must be constantly balanced.
Meetings & Events
The resort offers exceptional meeting facilities, including a conference center that can accommodate 36 people for classroom-style meetings or receptions of up to 60. It is divisible for smaller meetings and is complemented by an outdoor patio ideal for breaks or lunch. Host an intimate dinner in the 2,400-bottle wine room, La Cava, or an ornate reception under the stars on The Plaza overlooking the water.