By Touring & Tasting Apr. 13th, 2011
Since the first commercial wine grape Mother Vine in the United States, dating back to Sir Walter Raleigh, resides in North Carolina, it makes sense that Cypress Bend Vineyards thrives here as well.

The land (covering about 1,000 acres) has been in owner Dan Smith's family for more than 100 years. In 2002, he and his wife Tina decided to plant 35 acres of it with bronze Muscadine grapes, the state fruit of North Carolina. Muscadine, often referred to as Scuppernong, has commonly been used to make flavorful, sweet wines.


Dan and Tina began making several varietals, but they also began using a proprietary fermentation and winemaking process to produce a dry Muscadine. "Cabernet Sauvignon lovers visit our winery and are delighted to discover our dry Muscadine wines," Tina says.

Tina, who is the former president of the North Carolina Muscadine Grape Association, is quick to point to several studies that prove the grape's health benefits. "Besides its exotic flavor, Muscadine has been found to have exceptionally high levels of resveratrol and other healthy antioxidants," she reports.

Cypress Bend Vineyards routinely reaps its share of accolades. Recently, the Catherine, Autumn, and McNeill labels won gold medals at the 2010 Mid-Atlantic Southeastern Wine Competition. These wines and others are now available for purchase on the winery's website.


For those wine touring in North Carolina, a visit to this tradition-rich family farm is an absolute must. Cypress Bend's 4,800-square-foot, sand-colored winery, topped by an old-fashioned cupola and bronze weather vane, includes a retail shop, tasting room, tank room, and outdoor picnic area.

Cypress Bend's success can be attributed to hard work, fertile land, and the belief in the worthiness of a native grape. It would likely please the many North Carolinians — who weathered Prohibition and continued to make their Muscadine wines—to know that Muscadine is alive, well, and believed by many to be nature's healthiest grape.

WHAT TO BUY:

Riverton Reserve Dry, full, round palate, velvet finish $10

Autumn Intense, aromatic red Muscadine $12

Christina's Magnolia Passionate dry white, citrus, delicate, magnolia, very soft $12

CONTACT:

Cypress Bend Vineyards
21904 Riverton Rd
Wagram, NC 28396
910.369.0411 Tasting Room Open Mon–Sun 12–6p.m.; Sat 10–6p.m.
cypressbendvineyards.com

SPECIAL NOTES: Private tastings and tours, weddings and receptions, winemaker and owner on site, wine club discounts, wines for sale on website.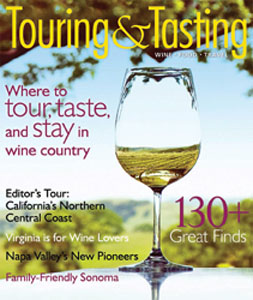 Touring & Tasting
Established in 1995, Touring & Tasting offers an array of compelling marketing opportunities through its biannual, nationally distributed magazine wine club services weekly e-newsletter print newsletter and Website, TouringAndTasting.com. Touring & Tasting's Wine Club delivers an incomparable assortment of premium, hand-selected wines to a broad spectrum of motivated wine consumers. We offe...(Read More)