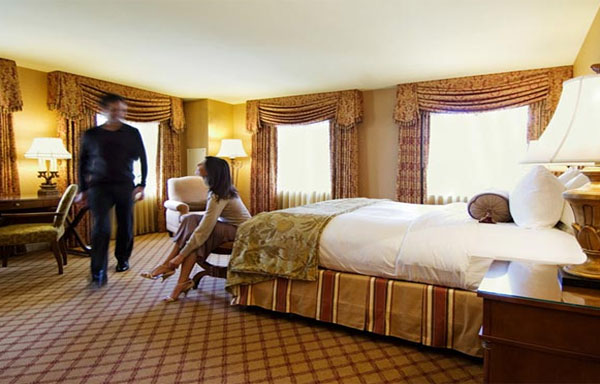 Hotels
Often regarded as Chicago's answer to the Champs-Elysees, the "Magnificent Mile" is a broad boulevard lined with exclusive shops, museums, and trendy restaurants. Experience this lively scene in all its brilliance from the InterContinental Chicago - the only downtown Chicago hotel with a front entrance on this world-famous thoroughfare. Immerse yourself in the enchanting atmosphere of the Windy City.
Frequently referenced in architectural tours of the city, the original 1920's design of this world-class downtown Chicago Illinois hotel has been faith-fully preserved through a series of renovations, which represent nearly a quarter-billion dollars of thoughtful investment. The end result is a charming destination, affording everything necessary for a relaxing visit.
Enjoy an unrivaled array of recreational features-from our Junior-Olympic indoor pool and state-of-the-art fitness center, to three distinct food and beverage venues. Corporate travelers will appreciate high-speed Internet access, conscientious event support, and a full-service business center. Rediscover this beloved hotel in downtown Chicago, Illinois-where the host of signature features amenities to please.
Accommodations
Widely considered one of the city's landmark architectural treasures, the InterContinental Chicago Magnificent Mile consists of two soaring guestroom towers, marked by contemporary and classic design. Treat yourself to the premier downtown Chicago hotel accommodations - with a front entrance that opens directly onto this world-famous avenue. Step into our four-story lobby - with its grand staircase and cast bronze ornamentation - and you'll instantly recognize what sets us apart from standard downtown Chicago accommodations. Luxuriate in guest rooms, suites, and restaurants, designed to capture the essence of the 1920's style with a modern twist, right down to the detailing in the draperies, carpets, and stunning murals. Choose your pleasure from a luxurious variety of room types.
Dining Befitting its exclusive North Michigan Avenue address, the InterContinental Chicago Magnificent Mile offers some of the best downtown Chicago restaurant options. Enjoy contemporary American cuisine in a sleek setting that overlooks the Magnificent Mile at Zest -- a restaurant aptly named for its flavorful approach to food. Gather with friends or prepare for a night on the town at The Bar, where our extensive menu and expert bartenders cater to your every need. Delight your palate with the tantalizing dining options of our Magnificent Mile restaurants.
Amenities Originally built in 1929 as the Medinah Athletic Club, the InterContinental Chicago Magnificent Mile is a lovingly restored downtown Chicago luxury hotel, where old-world style meets modern convenience. Enjoy a relaxing and rejuvenating stay by taking advantage of our wide array of features. Take a dip in our ornate pool -- an engineering marvel when it was built and visited often by "Tarzan" star and Olympic gold-medalist Johnny Weissmuller. Sip an award-winning martini at The Bar, our 1920's-era club. Stay connected and up-to-date with our 24-hour business center. Grab a quick workout in our state-of-the-art fitness center - spanning three levels, one of the largest hotel gyms in the city. Book your next stay at our Magnificent Mile Chicago luxury hotel and delight in a host of amenities.
Meetings & Events An exclusive address in the heart of the city's business district, the InterContinental Chicago Magnificent Mile is an inspiring destination for downtown Chicago meetings. Just minutes from both O'Hare and Midway airports, we offer the ideal combination of modern facilities, attentive service, and convenience to area businesses. With over 40,000 square feet of fully modernized event space, we expertly accommodate groups of 10 to 1,000. Awe your colleagues and clients with our wide range of unique function spaces -- including the Renaissance Room, featuring an ornate Frenc