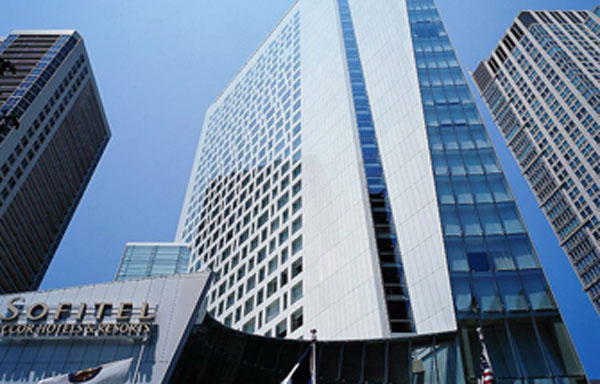 Hotels
Standing proudly in the downtown district, thirty two floors of steel and glass is the Sofitel Water Tower in the city of Chicago. World class amenities and services await the discriminating traveler at the modern marvel that is the Sofitel Water Tower hotel.
Only minutes from Chicago's Michigan Avenue, often referred to as the Magnificent Mile, guests have access to such famous attractions as The Art Institute and The Museum of Contemporary Art. Fashionable boutiques selling exclusive wares, world famous dining opportunities await all that come for a visit at the Sofitel Water Tower in Chicago.
Accommodations
Contemporary furnishings decorate the 415 guest accommodations along with 33 suites with the utmost in luxury. Jean-Paul Vigueir, French architect, designed and created a hotel that embraces the new combined with elements of classic architecture.
Pet-Friendly Animal lovers will be pleased to note that their pets are allowed at the Sofitel Water Tower in Chicago. All guest accommodations are fully equipped with the most modern amenities such as Wi-Fi wireless internet access. A porter is on call to serve you and the concierge is just waiting for the requests of guests. Reception has a safe deposit box where valuables can be safely stored for a worry free holiday.
Features A shoe shine machine will have guest's shoes so shiny they will be able to see their reflection. A fitness center allows guests to keep up with their exercise routine. Massage services ensure that each guest can be cosseted and pampered. For those that are in Chicago on business, there is a business center along with a support staff to cater to every need. There is also a fax machine when papers have to get there fast.
Location A convenient location from which to see the sights or shop until they drop, the Sofitel Water Tower makes sure that the guest is the star of the show. There are a number of restaurants where the latest fusion dishes from all around the globe can be sampled as well as the finest in French cuisine. A number of bars are available so that guests can relax and socialize in comfort and style without having to leave the premises.
Chicago is an exciting town and the Sofitel Water Tower is an extraordinary five star hotel where guests can feel as if all that matters is their wishes and desires. It is truly an unforgettable experience when guests visit the Sofitel Water Tower in the heart of Chicago.