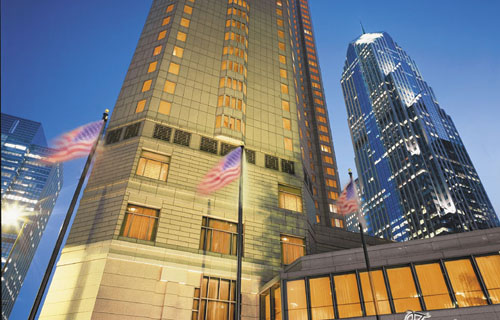 Hotels
All of Chicago Awaits You at the Fairmont.
Learn what all discriminating travelers already know when visiting Chicago. Hospitality offered at the Fairmont Chicago drips with elegance and sophistication. Each guest is welcomed by name as they enter the grand lobby. Truly a haven away from the hustle and bustle of downtown Chicago, this hotel has been placed on the Condè Nast Gold List, and awarded with the AAA Four-Diamond Award.
Large guest suites are appointed with contemporary amenities such as air conditioning and heat that is individually controlled for the utmost in comfort. Slip into one of the plush robes or sit and watch a movie while sipping a cocktail from the mini bar. Bathroom amenities abound with huge bathtubs, and separate showers. Dress in style and comfort in a dressing area with a full length mirror as well as a huge closet for your wardrobe.
At the Club Lounge visitors enjoy spectacular views of downtown Chicago while enjoying a continental breakfast. End the day with sweeping vistas of the city lights while dining on appetizers. Voted "One of Chicago's Best New Restaurants," Fairmont guests have the chic Aria Restaurant at their fingertips. Fresh fish is flown in daily from Japan and is prepared by one of the best Sushi chefs in Chicago. Sink into lavish couches and sip sake as you unwind and wait for your meal.
Health and wellness are not forgotten at the Fairmont Chicago. Guests may seek pampering pleasures at the Lakeshore Athletic Club and Waves Spa. Spirit, mind and body come together in the 120,000 square foot space with equipment that is state of the art. Play a game of basketball or squash, challenge the seven story climbing wall with your skills or take a class at the Pilates studio. Guests can simply relax on the deck of the outdoor pool if active pursuits are not to their liking.
Waves Spa offers guests a wide variety of spa treatments such as herbal wraps to reduce stress, aromatherapy facials and to really get rid of the kinks, soothing massages. At the end of the day the Bath Sommelier will draw guests a warming bath in their room, while at the bedside a hand poured martini awaits.
Whatever the guests' desire, the Fairmont Chicago is committed to giving their visitors the ultimate in service and luxury. Nothing is overlooked at Fairmont Chicago except the fabulous views of the Windy City.