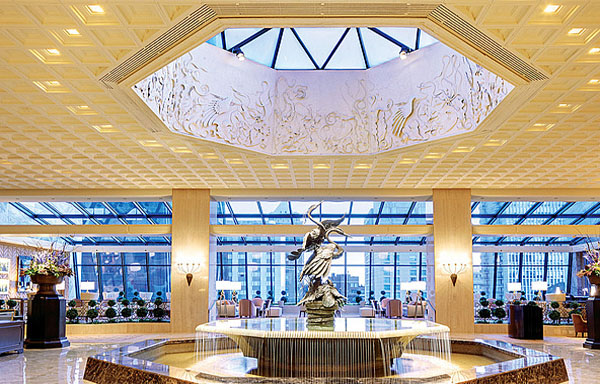 Hotels
This is one of the nation's premier hotels with capacious new Premier Class Rooms and Suites. It sits pretty atop Water Tower Place and is as ritzy as the name implies. Silks cover the walls, the draperies are European, the marble is from Italy and Spain and the art is from around the world. Needless to say, luxury is evidenced all around.
Accomodations
The Ritz-Carlton Chicago, on the city's Magnificent Mile, offers 435 richly appointed guest rooms, including 91 suites, on the 15th through 30th floors of Water Tower Place. All guest rooms and suites feature extra large picture windows that showcase stunning views of this world-class city.
Dining
The Dining Room chef, Kevin Hickey, has won many prestigious awards for his cuisine. If you bring along the kids, they will receive a bag of gifts on arrival. Including complimentary videos, toys, cookies and milk in the evening, as well as an abundance of baby supplies, this nicety comes free of charge and exemplifies an attention to guests' needs.
Spa
The Spa at The Carlton Club is a tranquil oasis dedicated to personal well-being. Its full array of pampering rituals - including massages, body envelopments, facials and nail care - are performed by experts in each specialty, who are dedicated to the renewal of mind, body and spirit. After your spa experience, enjoy a dip in the adjacent temperature-controlled pool and whirlpool, or savour views of the city and lake from the sun deck.
Pets
Even Fido gets his own gift, and there is room service for him, too. He can also be groomed at the on-premise kennel and walked, courtesy of the concierge department. Some might consider it a trifle excessive to offer caviar to cats, but a grand hotel must cater to every client's whims.
Meeting & Events
Honoured among the world's finest hotels, year after year, The Ritz-Carlton Chicago's distinctive service, guest facilities and salons - atop prestigious Water Tower Place - lend an unmistakable tone of grandeur and prestige to business meetings and conferences.