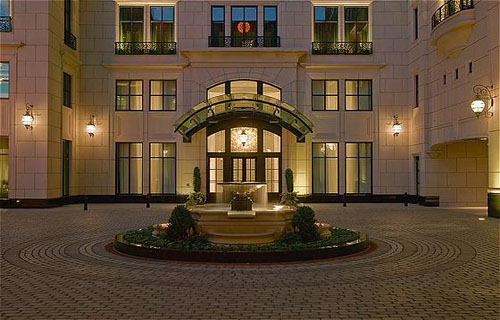 Hotels
The lost art of travel. At what point did the thought of travel evoke images of electronic kiosks, snaking check-in lines and mediocre room service? We are not positively sure either. What we are sure of is that sometime over the past century, travel became so commonplace that we stopped treating it for what it is: one of life's greatest indulgences.
At the Elysian, they are dedicated to reviving the bygone era when travel was synonymous with luxury. When prompt attention from staff was not considered an amenity, but a common courtesy. When even a single overnight stay at a hotel was treated as a welcomed getaway from reality. Simply put, the Elysian is revitalizing luxurious hospitality and striving to create the world's most remarkable hotel experience.
Accommodations
Here, each guest room and suite has been designed to ensure your expectations for hotel living are far surpassed. With only ten per floor, the expansive accommodations average 890 square feet. In each space, you will find distinctive feature such as white Carrera marble bathrooms with soaking tubs, separate showers and dual vanities with inset LCD televisions. The beds are draped with 460-thread count Rivolta Carmigani Italian linens, the closets are expansive, the terraces are furnished, and the fireplaces are patiently waiting for you to cozy up next to them. All of which ensure you (and your expectations) will be very happy here.
Dining
Casual Restaurant -Whether reminiscing with old friends, toasting a successful meeting with work colleagues or discussing why the sky is blue with your children, you are sure to find this all-day dining establishment comfortable and inviting.
Signature Restaurant -Feel the energy from the Gold Coast neighborhood as you dine just above the street below in this dramatic, dinner-only destination serving fresh, artisanal dishes.
Private Dining Rooms -Located on the third floor, the private dining rooms are ideal spaces for groups of 8-12 to share exceptional food & conversation. In the smaller dining room, with a maximum capacity 12, a view of the kitchen in projected onto a flat-screen television.
Lobby Lounge -Whether you're on your way in from meetings or out to stroll the Oak Street boutiques, the elegant spot provides the perfect place to gather and relax in front of the fireplace.
Spa
At the Elysian Spa & Health Club, each experience - whether an indulgent body wrap, a therapeutice massage or intense Pilates session - is tailored specifically for your needs and desires. By doing so, the Elysian Spa & Health Club is a place of purpose, where each treatment is chosen to ensure the results not only delight, but also leave you feeling restored. As such, the therapists and specialists are happy to provide you with an assessment and recommend treatments and services that will be most beneficial for you.
Weddings
You found each other. (Which means the hardest part is over.) From the dress to the honeymoon, there are thousands of decisions to be made when planning your wedding. But with a personalized menu using the finest ingredients, a glamorous ballroom, and a staff that is eager to make your day the one from your dreams, deciding where to start your life together should be fairly simple.
Meetings & Events
Business or pleasure? As you and your colleagues exchange ideas on the open-air terrace overlooking the Gold Coast, or share a glass of Madiera in the Fitzgerald boardroom, the hardest part of your day may be convincing yourself that it actually classifies as work.