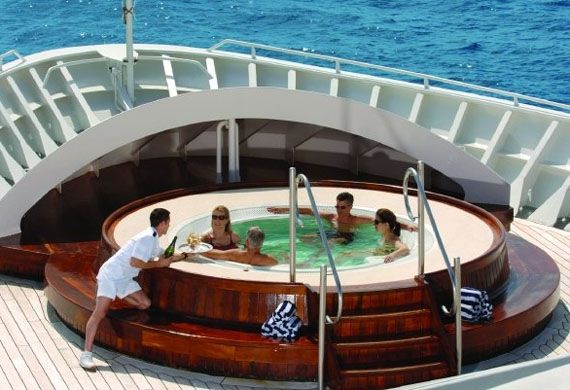 Photo Courtesy of Seabourn
What makes sailing on The Yachts of Seabourn so special? We have two words for you: Nick Hale. Mr. Hale is the Cruise Director of the luxurious Seabourn Odyssey, and he is hands down, the best cruise director we have ever encountered in the industry.

Witty, personable, gracious, with a personality as big as the ship, Mr. Hale impressed us — and everyone else — with his professionalism and charm. In fact, we even met some avid Seabourn cruisers, who told us that they were going to base their next upcoming cruise bookings on where in the world Mr. Hale would be sailing. As Mr. Hale liked to joke, he was living the dream — albeit on the typical cruise director schedule of missed meals, no sleep, and non-stop pressure to be "on." All the passengers just love him; especially at his daily trivia contests, where he is never without his hilarious rubber chicken.

The Seabourn ships such as the Odyssey also have other innumerable advantages that can help you make the most of your cruise. It's no wonder, then, that Seabourn, in 2011 and in other years, received the top "Readers's Choice" Award from Conde Nast Traveler, in the "Best Small-Ship Cruise Line" category.

Here are our top ten reasons for planning our sail on Seabourn:

1. All-inclusive
Your cruise ticket includes your room (it's basically a Four Seasons at sea), all alcoholic beverages, all meals, and entertainment, making it an incredible value. Plus, you unpack just once so your hotel room travels with you. This type of all-inclusive luxury is not standard in the business, and Seabourn's mission — which it accomplishes — is to never say "No" to anything; even, for example, if you want caviar in your room every night, a special table for 10, or a unique meal at dinner. The Odyssey holds just 450 guests. By comparison, mass-market lines with thousands and thousands of passengers are merely, as we have heard, "The K-Mart of Cruising," and charge you for every little thing.



2. Great Food
If you're a gourmand or a foodie, you're in luck. One of the alternative restaurants on Odyssey, with no extra fee required, is Restaurant 2. Here, you'll get a zillion little bites of yummies such as duck confit pops; tea-smoked game with chestnut spaetzle; and apricot beignets with Calvados ice cream. It's first-class dining at a free price.
3. Special Orders
We set sail knowing that our special orders for lowfat mayonnaise (for tunafish sandwiches), 60-calorie almond milk, nonfat yogurt and 45-calorie bread were fulfilled. We also asked for — and we received — nonfat ratatouille and lowfat carrot cake. Who says you have to gain weight on a cruise?
4. Massage Moments on Deck
"We like to surprise our guests," says Spa Director Vlado Salak. Indeed, when you least expect it, the spa staff shows up at the pool deck to offer complimentary 10-minute massages. It's a terrific "amuse bouche" for every bone in your body.
5. Special Molton Brown Baths
Just tell your stewardess and she can provide, complimentary, special in-suite bathing experiences in fragrances such as Ginger Lily and Ginseng. That's what we call good clean fun for sweethearts.
6. Seabourn Couples Spa Treatments
The luxurious (and award-winning) Seabourn Spa offers a wealth of options for couples to enjoy. There's a couples steam room, plus a $293 Couples Massage. You can also take advantage of the roomy Spa Villa when you partake in the Seabourn Sanctuary stone therapy massage that also includes a bathing ritual ($650), lunch, and full use of this private sun-splashed villa for five hours. The Elemis spa also offers free classes in Tai Chi, Pilates and yoga, plus extraordinary facials for both of you. Debbi took a "gilt trip" and enjoyed the 24k-gold Elemis facial ($325) that included a facial, scalp and foot massage. And for divine decadence, consider having an al fresco massage together on an outdoor massage bed, as you breathe in invigorating, clean sea air.
7. Dancing Lessons
The ship's two exceptional ballroom dancers, Vindora and Cosmin, teach a daily class at 2 p.m., so couples can get their groove on. For example, we took a terrific class in the jive dance, and now we're ready for any fast music you can throw at us!
8. Drink Up: All Alcohol, Wine and Specialty Coffees Are Included
Unlike mass-market cruises where you pay for every cocktail, every coffee, and every bottle of water, Seabourn's pricing includes all your alcohol so you can enjoy every cocktail on the map. Specialty coffees are the name of the game in Seabourn Square, and lunches and dinners feature all types of wine. For example, at the French Gastronomic Dinner in the Colonnade restaurant, the comped wines include a red Cotes de Rhone 2006 and a Sauvignon Blanc Georges DuBoeuf white 2007. If that's not to your liking, you can also purchase other wines at a modest price. Sip, Sip, Hooray!
9. Great Entertainment
Every night there's a terrific show. Our cruise featured the incredible sleight-of-hand magic of Mark Haslam; a talented violinist who played everything from Abba to Vivaldi; and let's not forget the four talented Odyssey singers from the UK who presented numerous shows, including one featuring Broadway tunes, and another focusing on composer Burt Bachrach (They reminded us of the Manhattan Transfer, a fabulous group). We would have gladly paid admission to see these talented performers in London's West End, but they are included in your cruise price.
10. Caviar In The Surf
On some Seabourn ships, there is a port of call where the waiters, in full attire, get into the waist-deep water with surfboards bearing drinks and caviar. This is Seabourn's wildly popular "Caviar in the Surf." And if you are a caviar lover, you can also request it every night in your suite, for free, to add a little more magic to your memories.

Lastly, we have three words for you, which Mr. Hale stressed every day in his announcements to the passengers: "Live the dream." With Seabourn, that's easy. To learn more, visit
Seabourn.com
.