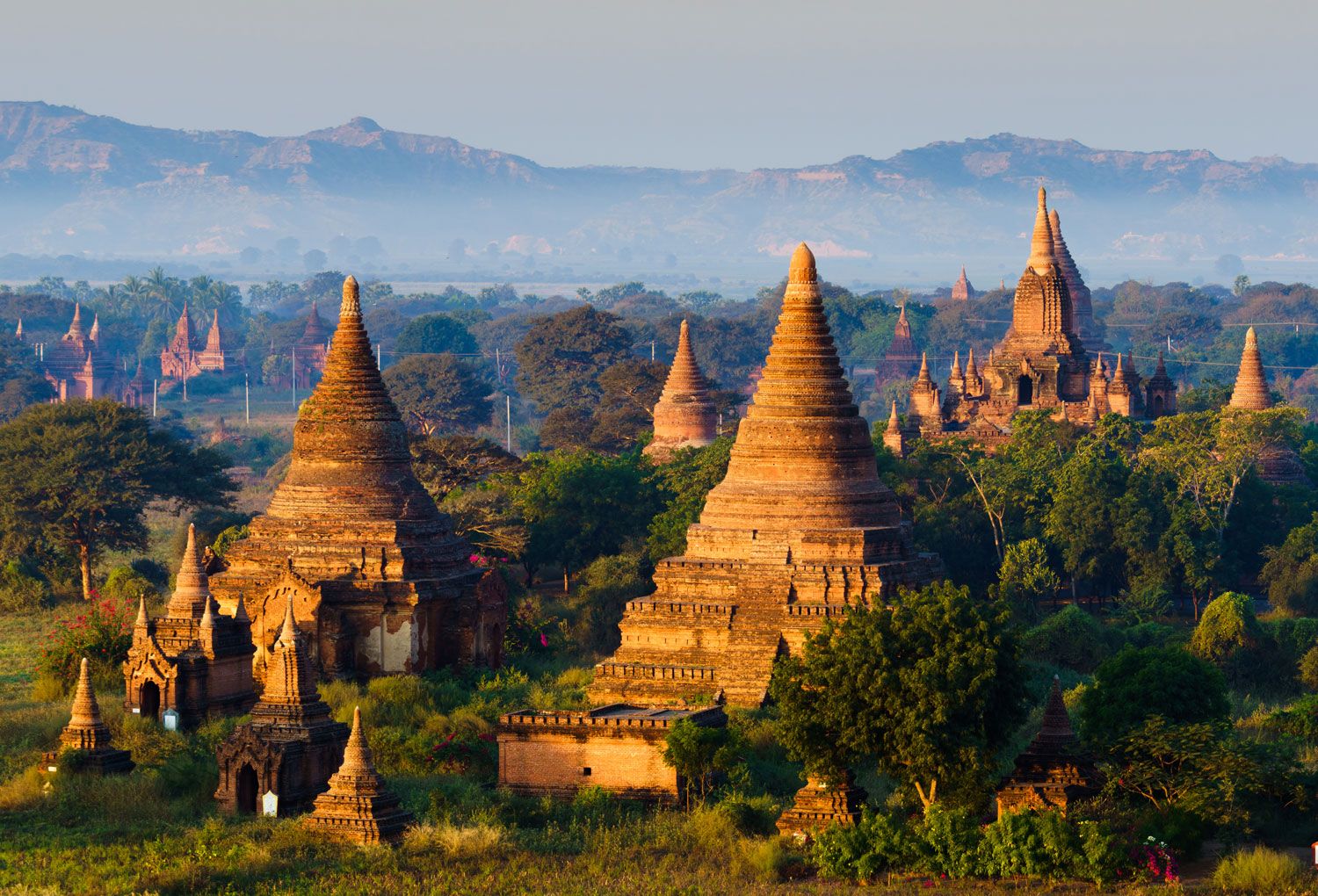 Photo Courtesy of Shutterstock
Experiencing Myanmar now—before it becomes too commercialized—is a must for any seasoned traveler. Doing it in style aboard the newly-built 56-passenger, all-suite Irrawaddy Explorer, offered by Haimark Travel, makes the trip a deluxe adventure.
Photo Credit: Michael Reiss
You will start your nine-night Treasures of Golden Myanmar itinerary in Yangon or Mandalay, with your guide accompanying you to your home on the river. After settling into your spacious suite, you'll be off on your first excursion. Haimark's tours are carefully planned to include anything from remote villages specializing in palm oil production or pottery making, to magnificent and breathtaking Bagan tours featuring "the city of 2,000 temples."
Bagan, unlike the already-discovered Angkor Watt, is truly a wonder of the world, without the many thousands of tourists. The window of opportunity to visit Myanmar, which was once completely cut off from the outside world, will soon pass when the world discovers its hidden treasures.
Photo Credit: Haimark Travel
Each evening starts with cocktails and a briefing by the Cruise Director, followed by a multi-course meal with local and continental selections alongside complimentary wines. After dinner guests chat outdoors under the stars or retire early, as the next day's schedule is always full of activity and surprise.
Photo Courtesy of Shutterstock/OPIS Zagreb
Being in "the land of golden temples," most days include a temple visit. Built by individuals who believed that their donations would release them from reincarnations and send them to Nirvana, many temples and pagodas are covered in gold gifted by ordinary citizens who save money to personally place it on the Buddha statues. This is their way to honor and preserve their predominantly Buddhist heritage of generosity and gratitude.
Photo Courtesy of Shutterstock/Szefei
Myanmar (previously known as Burma) is a third world agrarian society. Life in Myanmar is filled with simple villagers who live life much as their ancestors did hundreds of years ago. Even when internet is advertised, it is still sporadic at best. This is one place where communication still takes place the old way, person-to-person with a loudspeaker system announcing events for the entire village!
Photo Credit: Michael Reiss
Walking the earthen streets is a trip back in time. You will encounter ox carts, bicycles, scooters, tricycles and the occasional motor vehicle--all vying for space on the one-lane dusty dirt roads. Temples are randomly placed among the makeshift homes on stilts made of bamboo and the main paths are strewn with tea shops, tiny sundry shops and roadside food stands. People are working the fields, plying the Irrawaddy River, fishing or tending their small enterprises, all trying to eke out a living in a country seemingly caught in a time warp. Although everyone is engaged in staying alive, there is always time for a smile and a wave.
Photo Courtesy of Shutterstock
Yet here in Myanmar there is a sense of peace and contentment. Only in the largest cities are there any indications of commercialism taking hold. Your guides are ever present to explain the culture informally as you encounter it, as well as through planned lectures on board. The day's excursions are meant to be informative as well as entertaining. You will soon look past the dusty roads and the noisy, unmuffled fishing boats and begin to understand and appreciate this culture in all its simplicity, richness and complexity.
Photo Credit: Michael Reiss
Besides village and temple visits, market tours and looks into schools and monasteries give guests access to some of the layers of this emerging nation—so long isolated by political turmoil that still threatens its fragile framework.
In contrast, life aboard the riverboat couldn't be better. After returning from a morning or afternoon tour, cool towels, refreshments and helping hands are awaiting you. Speaking of hands, the ship's masseuses offer a variety of therapeutic massages as well.
Photo Credit: Haimark Travel
Irrawaddy Explorer's suites range from 270 to 400 square feet with large king-size beds, spacious showers and a separate sitting area. Each has floor-to-ceiling walk-out balconies or floor-to-ceiling windows offering panoramic views of the passing landscape. Dining options include at least one Burmese item at each meal. With Thai and Vietnamese influences, this cuisine has its own distinct flavor profile. Local soups are available at every meal (as is customary), as well as noodles and curry-like concoctions that are healthful and full of flavor. Hiamark Travel gets high marks for combining luxury travel with authentic experiences.