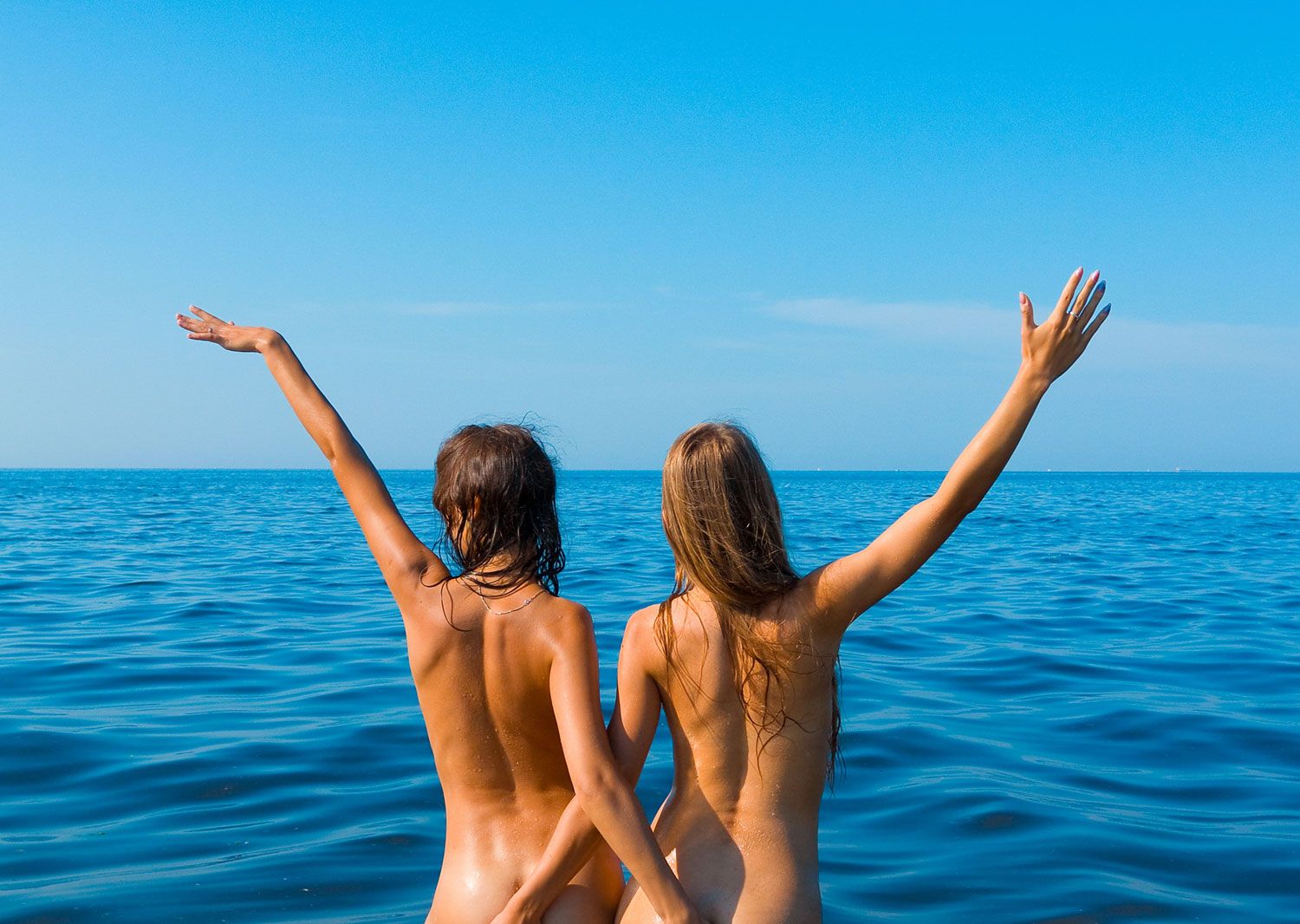 Photo Courtesy of Shutterstock
Nudist travel is on the rise. While Europeans have always been more comfortable with their au naturel bodies, Americans have been much slower at adopting adult vacations as an acceptable form of travel. But have no fear, we're finally catching up to our international neighbors. While this isn't a new concept, it's a growing niche that is "reaping about $400 million in yearly profits," according to USA Today. We even have a catchy new phrase for it: nacations (naked vacations).
"One reason for the rise in luxury nudist travel is that customers are ageing. Nudists tend to be older, richer and whiter (OK, pinker) than the national average, and they travel mostly in romantic pairs," Bob Morton of the Naturist Action Committee tells the Economist. "Many are not full-time naturists but think a clothing-optional holiday sounds fun: some 18 percent of American leisure travelers say they are game for it, according to a 2014 survey by MMGY Global, a marketing firm."
Photo Courtesy of Shutterstock
With National Nude Recreation Week upon us from July 6-12 (yes, that's a thing), we thought we'd dive into the world of luxury nudist cruises to see what's out there. And as luck would have it, it wasn't hard to find plenty of sexy adventures for exhibitionists, swingers, and lovers of all things racy.
In March, Thrillist posted an article entitled Everything You Ever Wanted to Know About Swingers Cruises. Contrary to popular belief (we're looking at you, college guys), it's not just all about sex, sun and booze. There are rules to abide by (no means no) and, if you're a male, sorry, but you can't book if you're single. Also, the average age of passengers is 48...so if you're looking for hot 24-year-olds who DGAF, better look elsewhere. And, during the day, guests can do more than just try out different Kama Sutra positions with new partners. They can take informative seminars to learn how to enrich their relationship or how to find the G-spot. I know! Who knew ABC (anything but clothes) vacations were so informative? So, without further ado, here are five cruises to embark on during your next nacation:
Photo Credit: Luxury Lifestyle Vacations
Bliss Cruise — November 29 – December 6, 2015
Aptly named, this adults-only cruise ventures from Florida to the Eastern and Western Caribbean this winter aboard Celebrity Silhouette. The new ship offers half an acre of freshly manicured grass on the uppermost deck as well as an al fresco dining space, a cabana-style seating area, Art Studio, 12 restaurants, SpaClub, casino and multiple bars/lounges. Bliss considers itself an experience for like-minded individuals curious about a new cruise vacation or open-minded couples such as nudists, swingers, voyeurs and exhibitionists. Starting in Ft. Lauderdale, Florida, the ship will spend two days at sea before arriving at Case de Camp in the Dominican Republic on December 2. Other ports include Samana in the D.R. and Labadee in Haiti. Back on the ship, guests can participate in a number of theme nights including a Glow Panty Rave, Antiformal and ABC party and a Fetish Friday affair. The Saturday night theme is a Holiday Tease Party, so be sure to bring your best sexy elves, snowmen and Santa costumes. Staterooms begin at $950 per person and suites range from $3,175 to $12,250 for the 1,291-square-foot Penthouse.
Photo Credit:
Baltic Debauchery — August 2-11, 2016
Nothing says European like nudity (amirite?), and this Baltic Swingers Cruise is just the place to explore your risqué side. Sailing from Stockholm to Amsterdam, this trip takes passengers through Norway's Fjords, the Baltic Sea, Germany and Denmark, all the while throwing some of most sensual parties at night. The voyage takes place aboard Royal Caribbean's small ship division, Azamara Quest, which holds 343 cabins. The small ship makes it easy to meet people and get to know your fellow nudies. And if you should get tired of seeing too much skin, there are clothing-required areas as well. When it comes to partying, Mardi Gras, Fantasy Fest and Toga nights are all a part of the Baltic Debauchery experience. Explore your voyeuristic side by letting other guests view into your stateroom while you're...having fun. But don't worry, you may also shut the blinds if you're not ready for that kind of pleasure. Rates range from $5,350 per person to $7,250.
Photo Credit: Couples Cruise
Divina Couples Cruise — April 16-23, 2016
Talk about sexy. Couples Cruises' MSC Divina's spring swinger's trip hits some pretty great spots on their eight-day journey. With ports in St. Maarten; San Juan, Puerto Rico; Great Stirrup Cay, Bahamas; and Miami, Florida, this trip is sure to be hot. Although relatively new to the US, MSC has been providing vacations in Europe and Latin America for many years. Divinia is their first North American 35,000-person vessel that has been adapted for American travelers (currency accepted, outlets, dining selections, etc). One thing the ship is already known for, however, is their dungeon, and play and specialty rooms (just your everyday Christian Grey stuff). Their theme nights aren't announced yet, but you can bet they won't be boring. If you're one of 120 Yacht Club members, you'll also have access to the marble Concierge Reception room which boasts a Swarovski crystal staircase, private pool area, Le Muse Restaurant and the Top Sail Lounge. Rates start at $1,000 per person.
Photo Credit: Bare Necessities Tour & Travel
The Nude Paul Gauguin — April 1-15, 2017
Voted "World's Best Small-Ship Cruise Line" in 2014 by Travel + Leisure, Paul Gauguin's nude cruise is a spicy tour through some of the South Pacific's best islands. Traveling through Tahiti, Marquesas, Tuamotus and the Society Islands (Bora Bora, Moorea), this all-inclusive ship will be home to 300 naturists come April 2017. The yacht offers staterooms and suites, with all accommodations boasting ocean views and some include balconies. Along with two restaurants, a pool, and dive programs, the trip features watersports activities that, of course, can be done sans clothing. Imagine coming face to face with sea turtles and colorful marine life all the while hanging out in your birthday suit! Lovely. A little less racy than other au naturel cruises, this one may be the best starting spot first-time nudists. Rates begin at $5,999 per person and go up to $19,099 for the OS Owner's Suite.
Photo Credit: Cruise Nude
The Big Nude Boat — February 6-16, 2016
If you're looking for something a little grander, The Big Nude Boat might just be what you're searching for. Next year, they'll be embarking on a 10-day voyage on the newly refurbished Celebrity Constellation with 2,000+ guests. Over the last 23 years, Bare Necessities Tour & Travel has been offering nude itineraries across the globe. In 2016, their Mardi Gras Caribbean cruise will set off from Ft. Lauderdale and will make stops in Fort-de-France, Martinique; San Juan, Puerto Rico; Samana, Dominican Republic; Grand Turk, Turks & Caicos; and CocoCay, Bahamas. Although most of the clothing-optional fun can be had onboard, Bare Necessities also makes sure to plan a few on-shore tours that are also naturist-approved! Rates begin at around $1,199 per person in an inside stateroom and venture upwards to $9,997 for a penthouse suite.