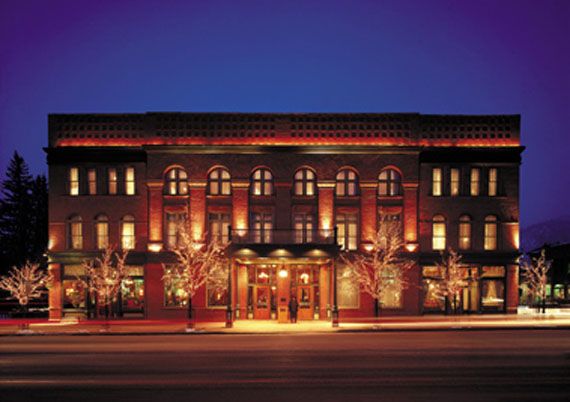 Hotel Jerome has seen
Aspen
grow from a small community to the elegant and elite ski town it is today. Completed in 1889, the historic hotel is still the leader of the pack.
A RockResort property, the Hotel Jerome is a Four-Diamond property a few short blocks away from the slopes. The hotel greets guests with a warm and welcoming lobby, with an atrium and crackling fireplace flanked by two of the original dinner guests, the elegant heads of the deer that were served at the inaugural dinner in 1889.


A brick building with beautiful original accents, the Hotel Jerome affords guests modern luxuries with historic flair. Created as the heart and soul of the community, visitors soon understand the saying "If you haven't been to The Jerome, you haven't been to Aspen." A pet-friendly property with 94 unique rooms, the East Lake Gothic Victorian style hotel incorporates several exceptional public spaces and the largest hotel rooms in Aspen.

Complimentary WiFi and RockResorts "Water on the Rocks" program are two modern amenities guests enjoy, as well as Comcast digital cable and 24 hour room service. Each room also has large soaking tubs with jacuzzi jets, perfect for after a long day of skiing. Every room is truly unique, from walls to décor, adding charm and character throughout.

In the morning, guests can find the Café Jerome, located off the main lobby with freshly brewed coffee and home made baked goods. Breakfast is also served in Jacob's Corner Restaurant.
All-you-can-eat prime rib is available at Jacob's on Friday nights. During the summer months, the Garden Terrace offers fine dining experiences with stunning views of the mountain.

J Bar is home to the infamous and historically relevant "Aspen Crud," a vanilla milkshake with Kentucky Bourbon served during Prohibition to the tenth Mountain Division. A tasty menu and happy hour draws celebrities and locals alike to the famous establishment. The Antler Bar is in the 1986 annex of the hotel, offering views of Red Mountain and adjacent to Aspen's only above-ground ballroom.

From the outdoor pool and hot tub, to the in-town car service and ample fitness facility, this historic property offers modern creature comforts while affording historic ambiance and mountain magic. A perfect Aspen stay year-round, the Historic Hotel Jerome is continuing on a tradition of excellence well into the 21st century.

Hotel Jerome
330 East Main Street
Aspen, CO 81611
877.412.ROCK
hoteljerome.rockresorts.com