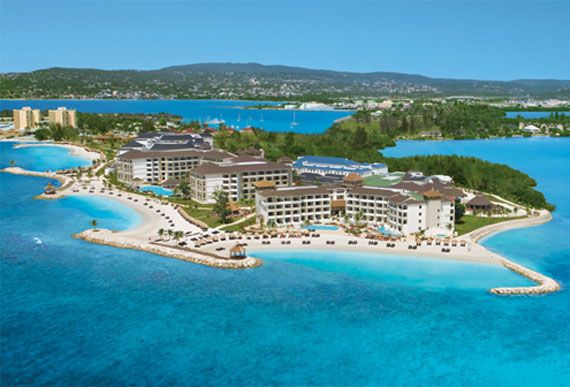 Photo Courtesy of AMResorts
Secrets is the sexy adults-only collection of resorts in sun-splashed locations like Punta Cana and the Riviera Cancun. Dreams is the
all-inclusive resort
brand distinguished from Los Cabos to Cancun for its sparkling white-on-white décor and upscale, yet still family-friendly ambience. Zoëtry, the luxury spa resort collection whose very name hints at exclusivity and romance.
While not everyone might have connected all these brands to the same parent company, certainly regular visitors to the Caribbean and Mexico would notice the rapid pace of their expansion. Secrets now has seven locations including the enormous Silversands Resort, chic new Secrets Huatulco (exterior plaza below) and Secrets Marquis los Cabos, which is a renovation and rebrand of an iconic Los Cabos property.



Zoëtry is now in three locations, while Dreams has 11 total properties. In just 10 years, parent company AMResorts has taken on brand management and marketing duties for 26 properties, with a projected portfolio of 34 resorts by 2013. And unbelievably, AMResorts is rolling out another three properties in 2012 and six properties in 2013.

Or maybe it's not so unbelievable. The first, Sunscape, is actually a spiffed-up re-introduction of the very first brand the company ever tested, but temporarily was "sleeping." The real newcomer, vibrant and contemporary Now Resorts & Spas, is going to bring the same upscale-chic spin to family-friendly all-inclusives that Secrets brought to couples-only. And the last, Gems of Cap Cana (below), is actually a collection of four new-build hotels.



"New brands are born — and this is very important for us — out of our continuous quest to expand AMResorts offerings to meet the needs of guests who appreciate the brand standards the company maintains, but are looking for a slightly new experience based on where they are in life at the moment," says Alex Zozaya, president of AMResorts. "For example, Now Resorts & Spas was designed to offer singles, couples and families a hip, fresh and dynamic Unlimited-Luxury experience with contemporary restaurant, amenities and in-resort entertainment and children's activities."

As for the brand standards that have proven so popular at a time when many other hotel groups are struggling, there's a common theme: AMResorts offers the all-inclusive experience cleaned up, grown up, restyled and tailored for people who don't typically like the all-inclusive experience. They've even trademarked it, by other names. There's Unlimited Luxury (at Dreams (Dreams Villamagna Nuevo Vallarta suite below), Secrets and Now), Endless Privileges (at Zoëtry) and now, Unlimited Fun (at the reinvented Sunscape).



If you're the sort of traveler who's uncomfortable with loud, boozy, big-box places, who doesn't like to wear a cheesy plastic bracelet, and who cringes when approached by "entertainment staff," then AMResorts is your solution. There are no sideshows, no aggressive drinking games, no bracelets. Whether you're floating in the Thalasso pool at Zoëtry Paraiso la Bonita or marveling in the fact that your (sparkling white, oceanview) living room at Dreams is larger than your living room at home (at least, for many city-dwellers), you will be free to have your all-inclusive cake and eat it in peace, too.



AMResorts continues to aggressively expand its presence in Mexico and as the very vocal 50,000 fans on the brands' Facebook pages reinforce, Secrets and Dreams have a strong enough following to draw customers, regardless of a slump in Mexico tourism. Two new builds, Secrets Vallarta Bay and Now Amber Puerto Vallarta, are opening in April 2012. Additionally, Zozaya is optimistic about the November 2011 debut of the new Sunscape in the Pacific-side beach town of Ixtapa (Family Suite below). "The oceanfront Sunscape Dorado Pacifico Ixtapa is set on Playa del Palmar, which has received the Mexican government's distinction for its clean beaches. We know that this is a perfect location for our guests," he says.



Outside Mexico, projects in the pipeline include the $400 million Gems of Cap Cana, in one of the Dominican Republic's most luxurious resort destinations; and the company's first Central American project, Dreams Costa Rica. To learn more, visit AMResorts.com.