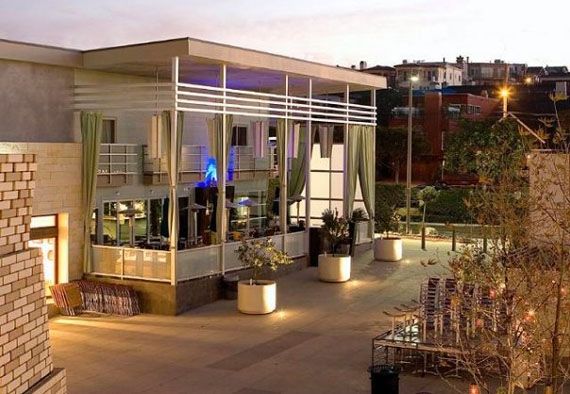 Photo Credit: Cynthia Dial/Shade Hotel/Strand House
I confess, until recently I was in the dark about the Manhattan Beach
boutique hotel
, Shade. Heading into the on-the-water, tony town, GPS guided the way — my anticipatory slate was blank, for I had no idea what to expect. The target was an intersection five miles south of LAX, two blocks west of the Pacific.
Located in one of Los Angeles' South Bay surf cities, Manhattan Beach, the town has a rep as LA's newest hip corner. Forever known for its surfing, beach volleyball, bicycle cruising, sunbathing and a back-in-the-day pier, today's city by the sea is also revered for relatively recent additions, including The Strand House, Rock'n Fish, Mucho Ultimo Mexicana and Shade Hotel, all "babies" of local legend and restaurateur, hotelier, entrepreneur Michael Zislis. 
Thus, may I introduce you to Shade, where Hollywood hip meets California casual? For me, the stage was set at check-in when I met fellow guest, Ash Bebi, a Seattle resident who was greeted by the staff with an ice-cold, lime-garnished Corona. "They know it's my favorite drink," explained the repeat guest. "I stay here every time I'm in the area."
Then there's Shade's interior. Designed by Discovery Home Channel's Emmy Award-winning "lifestylist" Christopher Lowell, it's been described as "raffish décor co-mingling with seaside casualness and exaggerated lavishness." Two-story drapes in colors of the sea dramatically define the promenade entrance and enclosed outdoor patio.
The lobby, seemingly cruise ship-inspired, is the comfortable morning gathering spot for breakfast and lively entertainment haunt weekend evenings. One part bustling bar, one part luxury lounge, one part familiar foyer, it's where guests can mingle or mellow out. And it's where guests and visitors alike can sample Executive Chef Greg Hozinsky's food. For me, temptations from the Small Bites menu included the truffle short rib sandwich, brie and pear grilled cheese, truffle cheeseburger (it's been named the best burger in LA) and a subzero martini served in a glass made of ice.  
Uptown amenities flow like champagne during Sunday brunch at the Waldorf at this 38-spa-room hotel. The list is luxurious and lengthy: Tempur-Pedic bed lathered with 400-thread-count Mascioni linens and a goosedown duvet, two-person Sanijet spa tub hidden by frosted glass shoji-like screens and equipped with chromatherapy where you dial in the color for your desired mood, pillow library, in-room Lavazza espresso machine, complimentary cruiser bikes, a bountiful buffet (fresh fruit, yogurt, lox and bagels, hot oatmeal, just-baked muffins, freshly-squeezed juices and Lavazza coffee) and (this is the best piece of the privileged puzzle) mini-cupcakes at turndown. 
Tip:
To take your experience to the max, request a west-facing room on the second floor to see the sun set in the evening and the blue sky all day.
Adding to the amenities lineup: rooftop Skydeck which sometimes hosts dance classes and always serves up an ocean view, stainless steel pool and the
Southern California
sun. Little wonder Shade has overnighted such high-profile guests as Laura Bush during her book tour, Bruce Willis while locally filming a movie and Kobe Bryant when chilling out. 
When I strayed from Shade, I popped into a couple of nearby restaurant haunts including the newest kid on the block, The Strand House, and a longer-term community staple, Mucho Ultimo Mexicana. Steps from the beach, the impressive five-level The Strand House opened in August, 2011. At its entrance, you'll be greeted with the town's only in-restaurant wine station. It's as simple as purchasing a "wine" credit card, selecting a vino (from a choice of 24) and deciding on a taste (1 oz.), half glass (3 oz.) or a full glass (6 oz.) of ever-changing, hand-selected wines. And should the process or your choices need explanation, there's a sommelier nearby. The Strand House is a happening hotspot with dancing Thursday through Saturday nights, a see-and-be-seen lounge, exclusive wine cellar and a noted restaurant.

A short walk away, Mucho Ultimo Mexicana is known as the place to go for the town's best margaritas and largest tequila selection (over 200 tequilas). And with the creations of Executive Chef Chris Garasic (who promises six monthly specials), I'll remember it for much more than its liquid entrees. Mouth-watering examples: the day's featured ceviche, Malbec-braised short ribs and ancho-marinated Arrachera carne asada. At the suggestion of Chef Garasic, my meal ended with churros. Irresistibly feather-light and made to order, they're tossed in Mexican sugar and served with chocolate and caramel dipping sauces. Can you say addictive? 
Tip:
They can be made gluten-free, too. 
Regularly visited by sports notables and such celebs as Rachel Hunter, the music on Friday and Saturday nights creates a whole different scene says genial General Manager Javier León.
Over-the-top amenities, around-the-corner fun, laid-back atmosphere — all sought-after elements, and all elements of Shade, Manhattan Beach's coolest hotel. For more, go to
ShadeHotel.com
.   
Suite tub with chromatherapy lighting
Sub-Zero martini
Zinc restaurant terrace
Cynthia Dial
Shade interior patio