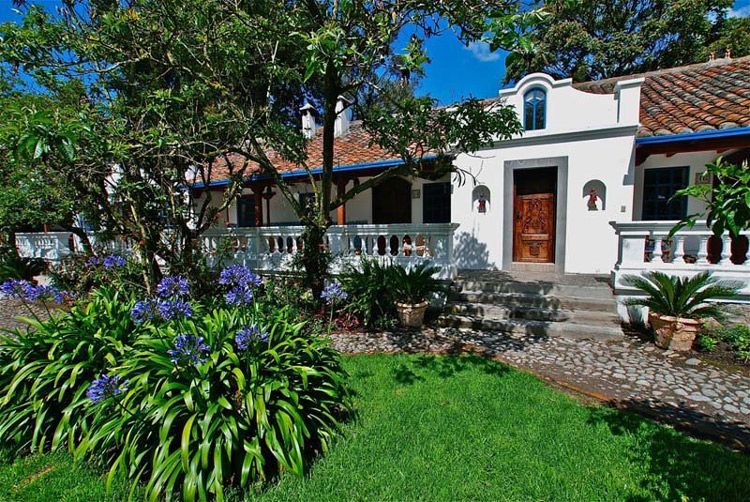 Photo Credit: Hacienda Cusin/Janice Nieder
After an exhilarating but exhausting afternoon power shopping my way through the famed Otavalo handicraft market, I couldn't wait to hop a cab for the 10 minute ride back to my "oasis of calm," the Hacienda Cusin. This restored 400-year-old Ecuadorian estate lies in an enchanted hodge-podge garden setting filled with a riotous display of color from the bauble-bright bougainvillea, roses and orchids, and painted, story-telling murals.
Walking the cobblestone paths twisting through the seven acre garden was a giant treasure hunt; every turn along the way disclosed priceless antiques, brightly painted folk art murals, fairytale towers (one even has a secret passage) wooden bridges over babbling brooks, stone fountains and some rare religious artifacts.
JRN
Founded in 1602, Hacienda Cusin has morphed into a warm, hospitable, 45-room country inn, under the guidance of its British owner, Nicholas Millhouse, who purchased the dilapidated hotel in 1990. A few years later, Millhouse added more guestrooms by constructing El Monasterio, which is just a short hop over the bridge.
The rooms in the monastery are a bit simpler than the ones in the hacienda; but they all simply ooze romantic charm, with wood-beamed ceilings, rustic whitewashed walls, terra cotta tiles, wooden shutters complete with charming hand painted scenes, kiva-style log-burning fireplaces, and colorful piles of hand woven Andean blankets to snuggle under.
Each morning I was awakened either by the chirping birds or a knock on my door and a cheery "buenos días" from a smiling waiter delivering my Café con leche, which gave me the energy to head over to the museum-like dining room for a full British breakfast. Every night the dining room underwent a romantic transformation, complete with bouquets of gorgeous fresh flowers, a crackling log fire, flickering candlelight and soft classical music playing in the background.
Be sure to save a couple of hours to explore this sprawling complex in depth. Stop in at the reception desk for a copy of their self-guided tour, which includes some fascinating background stories and detailed information about the works of art that include everything from Flemish tapestries to a Cusco School painting from the 17th century of the Virgin Mary's head on top a mountain. Guests can choose from the roster of on-site activities that include squash, basketball, volleyball, a game room, a library (a perfect spot for afternoon tea) and a movie room with a selection of over 300 films.
Don't miss a visit to the vegetable garden, craft shops, and rose plantation. Stop in to say hello to the horses, guinea-pigs, geese, hens, rabbits, pigs, and guinea-hens that reside in the stables. When I was there, a couple had just finished a guided horseback ride through the Gualavi valley and local villages, which they raved about. The hotel offers clear directions and maps for easy hikes around the property, ranging from one to several hours, or your hosts will be happy to arrange longer field trips such as hiking or mountain biking around crater lakes and volcanic mountains or exploring the various craft villages.
JRN
Inside Tip:
One of the main attractions in the Ecuadorian highlands is the famed Otavalo market. Almost every guidebook recommends visiting the market on Saturday when the Plaza de Ponchos is full of vendors and also jammed with busloads of tourists frenetically snapping pictures. I found it much more pleasurable shopping on a quiet weekday and there was still an abundant supply of quality handicrafts to choose from. I had absolutely no difficulty filling four shopping bags to the max with vibrant woven ponchos, scarves and hand knit baby sweaters. These were so adorable and reasonably priced that I bought two, even though I don't even know anyone with a baby!

Not to mention the high quality Inca styled pottery, black-banded panama hats (which FYI are really made in Ecuador) and, at about $2 a piece, enough Tagua (often referred to as "vegetarian ivory" since this palm nuts natural creamy color greatly resembles real ivory) jewelry to open a store on Ebay. I did manage to resist purchasing an intricately carved "Mayans vs. Conquistadors" chess set and the cutest baby Llama.
Sidenote:
If you're driving back to Quito make a quick pit-stop at the small town of Cayambe, which is famous for their "bizcochos." These salty, flaky biscuits (make sure you get a batch fresh from the oven) are best enjoyed with string cheese and hot chocolate (10 for $1.00).
Room Rates Include:
breakfast, optional log-fire and hot-water bottle, and WiFi access. There are also a handful of country cottages on the property that would be perfect for girlfriend getaways, family bonding, or if you're the private type. For more information please see
HaciendaCusin.com
.