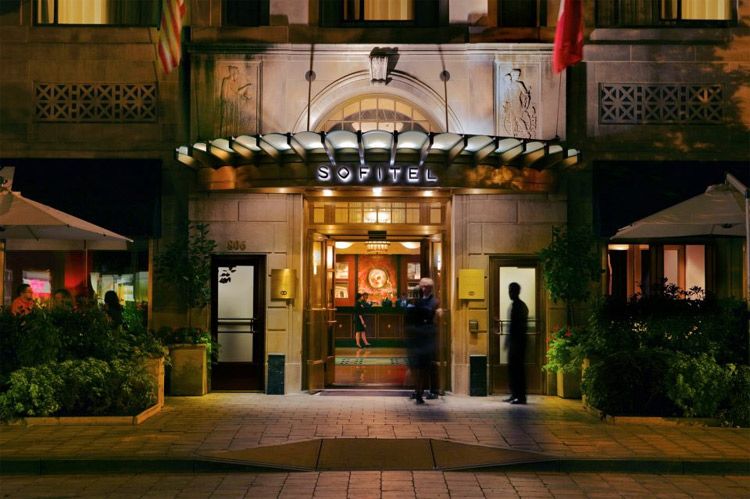 Photo Courtesy of Sofitel Washington DC
Around the corner from The White House, blocks from the historic monuments, and just a short Metro ride to the Georgetown shopping district sits a little piece of France in downtown Washington, DC. Sofitel Washington DC Lafayette Square is tucked into the heart of the nation's capital, offering four-star accommodations, fine dining, and impeccable service all with a modern French flair that the brand has become synonymous with.
When I arrived at the hotel, the entrance's two golden doors were immediately whisked open, as if the doormen were anticipating my arrival. The first welcoming words I heard, "Bonjour mademoiselle!" came automatically from their lips as I entered the stylish establishment. The lobby straight ahead is simply decorated in tones of cream and gold with fresh pink flowers arranged in clear vases and a large golden chandelier hanging above an emerald green carpet.
On the left, summoning to me beyond a red velvet curtain was Le Bar, a cocktail lounge with a much sexier personality than its adjoining lobby. Rich red hues run throughout the room covering throw pillows, lamp shades, glossy walls, glowing votive candle holders and the floor below. Locals, business and leisure travelers alike were seated around the bar enjoying their drink of choice, some afternoon chatter and a bite from the menu's selection of French fusion dishes.
Keeping that seductive space in mind for a nightcap, I checked in and headed to my room. The 400-square-foot luxury king guest room contained the same quaint charm as the lobby. A fluffy duvet with cozy white linens lined the bed, a flat screen TV sat atop a concealed mini bar, and large picture windows made up the entire length of one of the walls.
After tasting some of the delicious chocolate treats left on the nightstand for me by the housekeeping staff, I went to check out the amenities in the spacious bathroom. It was stocked with a wide array of L'OCCITANE products for use in either the marble tub or separate glass enclosed shower. After freshening up it was time for dinner at the Sofitel DC's own French bistro.
Across from Le Bar, set behind its own alluring red curtain, is ICI Urban Bistro helmed by Executive Chef Franck Loquet. Using only the freshest local ingredients, Chef Loquet puts a contemporary spin on traditional comfort food from his native France with dishes like Cassoulet with bean ragout, duck leg confit, garlic sausage, pork belly, and South West sausage and Homemade Duck Foie Gras Au Torchon with cardamom-cherry jam
I started with a crisp arugula salad and went on to order the highly suggested Seafood Stew with baby vegetables, lemongrass and tomato broth for my main course. The shrimp, scallops and mussels were perfectly tender and I made sure to get every last spoonful of the delicious, comforting broth. For dessert we were persuaded to try the Tarte Citron sans Dessus-Dessous, a frozen poached meringue with lemon curd, crumble and grapefruit foam. Preferring a lighter dessert, I appreciated its tangy flavor and citrus notes to end the meal.
During my visit I was able to see the Sofitel's theme of celebrating "art de vivre" (art of living) come to life as they welcomed an exciting photo exhibit to grace its walls. Renowned author and journalist Henry-Jean Servat has curated the collection of 30 rarely viewed photographs of French actress and model Brigitte Bardot, titled "BB Forever-Brigitte Bardot, The Legend." It is the first time an exhibit featuring Bardot has be presented in the U.S. and will be on display around the hotel through September 15, 2012.

After experiencing a weekend stay, signature cocktails, a gourmet dinner, and a glimpse at the art, I've found the Sofitel Washington DC Lafayette Square to have that certain 'je ne sais quoi' to keep me coming back for more. Visit Sofitel.com to learn more.