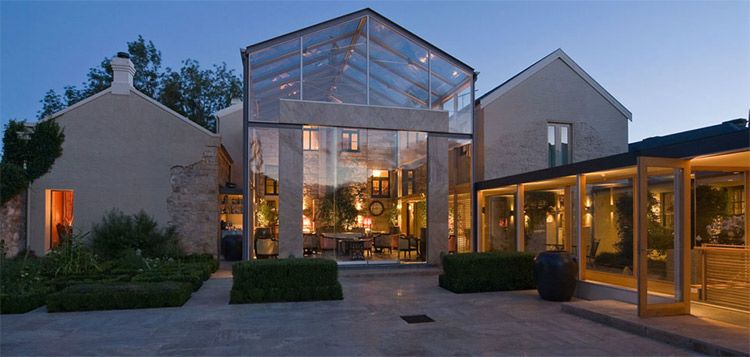 Photo Credit: Karin Leperi/Islington Hotel
Classical elegance with award-winning service defines Islington, an 11-room boutique accommodation located in one of the finest neighborhoods in Hobart, Tasmania. With a commanding view of Mt. Wellington, this five-star guesthouse was built in 1847 in the Regency architectural style. Today, it is an immaculately restored
luxury urban hotel
that has been updated to include modern amenities and showcase an eclectic collection of artwork and antiques from the owner's many years of traveling the world.
Art and Antiques Everywhere
Karin Leperi
Since Islington is a curated hotel, you can either wander the halls and rooms on your own or ask for a guided tour. During my foray, I am in disbelief when I discover sketches by Picasso and Australia artist Brett Whiteley within the house. I am assured that they are the "real" thing. The morning room, a bright sun-filled room with yellow painted walls and gold silk drapes, houses Georgian antiques and a Louis XV bureau plat. Nearby is a leopard-print chaise lounge of Thai silk accented with lacquered Japanese furniture and Persian carpets. The rose-themed drawing room serves as a reception area. In the afternoon tea is served and in the evening you can help yourself to a complimentary sherry.
Over in the library is a collection of illustrated works by Louisa Anne Meredith, an early settler who documented the novelty of her surroundings and the early history of Tasmania. The library is swathed in a palette of browns, blacks and golds with mahogany tables and bucket chairs. A statue of a black panther is prominently displayed. Thomas Barker, Islington general manager, explained the charm: "The entire house is like a living gallery, and what I really enjoy is explaining the provenance of original artworks and antiques to guests as all add to the personality and individuality of the house."
Karin Leperi
From your table in the conservatory or out on the marble-paved patio, guests can dine overlooking Mt. Wellington, which is often enveloped in mountain-top cloud cover. During my stay, the rainy days of winter unfortunately kept me inside for the warmth. The country kitchen welcomes guests with its warmth and wonderful aromas wafting in the air; the cozy space features an antique 10-seater table. Guests can watch the kitchen prepare their home-cooked meals from a front-row seat at the group kitchen table or they may choose a more private and intimate setting in the conservatory.
Gourmet Country Kitchen and Conservatory
It is hard to say what the centerpiece of the Islington Hotel might be, as all the rooms are splendiferous in their own way. I was particularly drawn to the glass-enclosed conservatory and adjacent gourmet country kitchen. The conservatory has an expansive feel and connectivity with nature due to its soaring glass ceiling. Just outside is the reflecting infinity pond and Murano glass sculptures. Blooms and colors change depending on the time of year. Included in the mature gardens are a willow tree over 100 years old, a mulberry tree, cherry blossoms, and an ancient yew.
Courtesy of Islington
"In the Kitchen our resident chef uses seasonal, organic, locally grown produce, even some from our own gardens to compose an ever changing a la carte menu available in the intimate restaurant," said General Manager Barker. "Our cellar holds vintages selected from the best vineyards both locally and further afield as well as some of the best Tasmanian whiskeys available."
For breakfast I was treated to fresh squeezed orange juice, an assortment of freshly baked breads and muffins, and my choice of eggs. I usually order soft- poached when on the road so as to reduce fats—and dare I confess—to test the kitchen. This time was no different. Much to my delight, my eggs were served just the way I ordered, an attestation to a kitchen that knows how to properly cook and listens to their guests. Though dinner is served here too, much to my regret, I did not have the opportunity to sample the fine fare.
The Rooms
The original house contains five rooms, with six newer garden rooms that capitalize on views of the rhododendron and azalea gardens. Each room is uniquely decorated and features Islington Angel beds specially made for the hotel by A.H. Beard. Using the latest in latex materials with wool embedded into the layers for warmth and comfort, this Tasmanian company is the oldest bedding manufacturer in Australia.

The bathrooms are a contemporary work of architecture with all the latest in technology. From heated granite bathroom tiles to ornate Italian baths and separate rain shower stalls, they easily equal any modern spa. Plus, the rooms are stocked with my favorite personal care products from Aesop, an Australian company headquartered in Melbourne noted for their wonderful fragrances and extensive use of high-quality botanical ingredients and anti-oxidants.
For more information, check out
IslingtonHotel.com
.