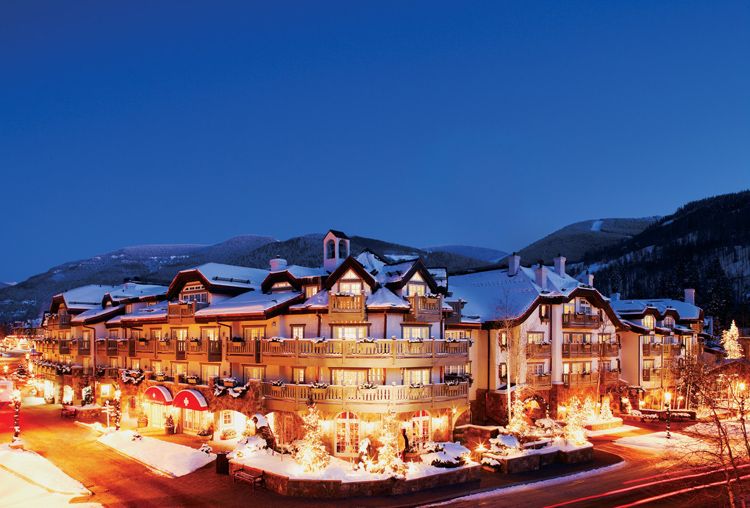 Photo Courtesy of Sonnenalp Resort
The AAA Four Diamond Resort, Sonnenalp was opened by the Bavarian Faessler family, whose luxury hotel in the old country was known for personalized service and beautiful surroundings. The Vail location was opened in the late 1970s, but the apple didn't fall far from the tree, as the resort still promises impeccable service and beautiful views. Unlike its Bavarian parent property, the
Sonnenalp Resort of Vail
is an STI Eco-Certified Luxury Hotel, the first of its kind in the western United States. Long-term sustainable tourism is something that the resort strives to achieve, minimizing the impact of tourism on the local people and their environment.
The Resort Spa contains indoor and outdoor heated pools with a waterfall and riverfront sundeck to soothe you into oblivion. Once you've relaxed a while by the pool, you are encouraged to figuratively travel across the Atlantic by experiencing Turkish steam rooms, or the Finnish sauna, both situated near a cold plunge for some instant relief.
The spa also features a juice bar for not only juice and smoothies, but also a few alcoholic beverages. The glass-walled fitness center is sure to inspire you to do your workout, as everyone on Gore Creek can see when you don't. The resort also offers daily Yoga or Pilates classes, to ensure that guests keep themselves nice and limber for the slopes.
As it is located in the mountains of Colorado, Sonnenalp offers many skiing adventures, whether they be guided or independently experienced. The concierge desk can set you up with a personal ski guide for either Nordic skiing, or snowshoeing. Mountain biking, tubing or fly-fishing can also be arranged. Guests also have access to a championship links style golf course or, if they prefer tennis, the facility features two clay and two hard courts.
The hotel also has professional instruction available in either sport. Once you have had that training, you may feel like you can finally go pro. And for that moment of self-assurance, the resort has a pro shop with a bunch of pricey merchandise that you will buy in anticipation of your future career. Once you get back to the real world of office hours and traffic jams however, you will inevitably rediscover that your childhood dreams of being a pro-golfer will never be realized, and it was just the thin mountain air and an encouraging mentor that made you believe again.
Ludwig's, the main restaurant of the resort, features Executive Chef Steve Topple's fresh and light seafood and wild game creations. From Kalamata Dusted Lamb Loin to Potato Crusted Colorado Trout, the restaurant offers a warm meal, earned by a day spent skiing. The restaurant also has an award-winning wine list, accompanying an elegant atmosphere, to ensure guests are always surrounded by luxury.
The Swiss Chalet is a Swiss-style restaurant which serves all traditional European cuisine. Whether your meal be the French Cordon Bleu with Potatoes Lyonnaise, or the Viennese Wiener Schnitzel (no, not the hotdog mogul) with Lingonberries, the restaurant offers sommeliers to help you choose from their daunting list of award winning wines for the perfect compliment.

If you want to escape all of those European pretensions, then Bully Ranch is your refuge. Enveloped by a casual western hunting lodge style ambiance, the menu features American favorites like chicken wings, New York Strip Steak, and even a "Famous Bully Burger." The restaurant even has a dog-friendly patio, so that no one gets left out. Ribs and fajitas are also an option, along with fish and chips or a number of hearty salads.
You can get your next Vail ski vacation started with room rates ranging from $150-$3600 a night.