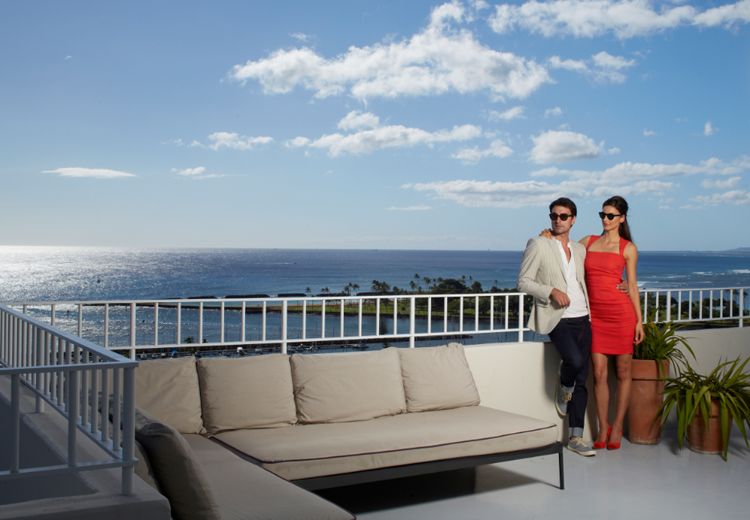 Photos Courtesy of The Modern Honolulu
It?s been awhile since Waikiki?s heyday as a port-of-call for the rich and famous looking for some R&R upon Hawaii?s sunny shores. Despite a temporary downtick in high-end tourism in the past few decades, Waikiki (and all of Oahu) has recently experienced a renaissance thanks to an influx of new luxury hotels, international fashion brands setting up shop, a reinvigorated food and dining scene, and reinvestment in the island?s natural and cultural treasures that have all begun to attract jetsetters back to the well-trod sands of Waikiki.
Thoroughly Modern at The Modern Honolulu
Although it got off to a rocky start in its former manifestation as The Edition Waikiki?a collaboration between Ian Schrager and Marriott that ended in a middle-of-the-night management change?
The Modern Honolulu
has traversed its rough patch and emerged as one of Waikiki?s (and Hawaii?s) favorite see-and-be-seen destination hotels.
The "urban resort" was designed by renowned New York-based design firm Yabu Pushelberg, with landscape design by Deborah Nevins. The property contains 353 style-conscious guest rooms and suites, all taking full advantage of the building's location on the edge of Waikiki to provide sweeping views of the city skyline. The resort is bordered by lush tropical mountains, a marina filled with yachts and, of course, the glittering waves of the Pacific, all ensuring an authentic
Hawaiian vacation
.
Guest rooms combine a laidback '60s Malibu aesthetic with the clean white-on-white palette of Cape Cod cottages, complete with white-washed wooden fixtures such as work desks and a minibar (which can be stocked with cheeky menu items upon request). Sleek accents include moveable teak shutters and contemporary bathrooms with glassed-enclosed, walk-in showers and simple Terrazzo sinks stocked with citrus-scented Lather products. There are also playful touches like colorful sarongs hung on the wall for guests to use during their stay below a shelf holding a ukulele and tropical-themed art works.
Rooms are equipped with either a king, queen or double beds dressed in Frette linens, 46-inch flatscreen televisions, coffee-making sets, large in-room safes, complimentary high-speed Internet, and twice-daily maid service. Specially programmed iPods and iPads can be provided upon request.
Windows take up almost an entire wall of most rooms, and many open onto small balconies complete with seating for private sunbathing. Accommodations range from the standard City View category at 390 square feet to the 340-square-foot Partial Ocean View rooms, and Ocean View One Bedroom Suites with 665 square feet of space including oversize outdoor terraces and pull-out sofas. The Waikiki Penthouse Suite has 1,400 square feet of custom-furnished space and a huge wraparound terrace that's landscaped with lush tropical plants that will feel like your own personal pied-a-terre in Honolulu.
Of course no one comes to Hawaii just to sit in their room, and the Modern has no shortage of diversions to keep guests entertained. Chief among them are the hotel's two pools. One is an adults-only "private beach" with lounge chairs situated in a shallow, round wading pool surrounded by a sandy pool deck and an outdoor cocktail bar. On the lower level is the second pool, black-bottomed and similarly surrounded by lounge chairs and daybeds (there's a $150 minimum order requirement for these). The poolside restaurant, The Grove, is on this level and serves a simple menu of breakfast and lunch dishes. Passageways, another small, shaded lounge area, is where meals and drinks are served during the day and early evening.
The hotel has a small, but well-equipped fitness center and a cozy little spa with a salon and individual treatment rooms. Here, guests can pamper themselves with sundry treatments like the gingerbread pedicure that soothes sore muscles and renews dried skin. Or there's "Stoned at The Modern," a massage which draws upon an ancient Hawaiian technique using warm lava stones to relax the muscles. This treatment also includes a facial massage with the guest's choice of aromatic infusions.
The property is also home to two of Honolulu's hippest nightspots. Iron Chef Morimoto has set up shop on the first floor of the property. His signature restaurant features a dramatically lit dining room where the tables are made of Lucite, containing technicolor-green sea moss, with coral fixtures hanging above the tables. This inner-sanctum is only outdone by the expansive outdoor lanai overlooking the marina.
After a dinner of tuna "pizza" with slices of fresh ahi, olives, anchovy aioli and jalapeno, and spicy Alaskan king crab legs with bright orang tobanjan aioli, tobiko and micro cilantro accompanied by a side of fries, the crowd tends to gravitate toward the lobby for cocktails at The Study. The happening bar is hidden behind a slightly askew bookcase in the lobby and is a nice pit-stop before heading to the hotel's nightclub, Addiction, which is patronized by visiting celebrities and scenesters alike.
Welcome Back to Waikiki
Although many travelers once considered Waikiki an overcrowded beach destination, its famed shores fringed with towering hotel high-rises and sandy beaches thronged with international visitors, lately have seen an upscale development boom. This flux has included renovations not only of historic properties like the Royal Hawaiian and the Moana Surfrider, but also the emergence of a row of luxury stores featuring brand names such as Chanel, Prada, and Tiffany, all along bustling Kalakaua Avenue. Recent years have also brought a refresh of the Ala Moana shopping center at the juncture of Honolulu and Waikiki. Hawaii's low state sales tax make the area a first-rate shopping destination, so pack an extra bag for your purchases.
Photo courtesy of Waikiki Beach Services
Just as important as exploring the streets of Waikiki is getting out on the water, and there's no better way to do so than to visit
Waikiki Beach Services
, the current incarnation of Waikiki's famous "Beach Boys." The stand is located at the Royal Hawaiian, only a 15-minute walk from The Modern.
Visitors can hire them for just about anything ocean related. Whether it be an outrigger canoe adventure to see the whales, trying your hand at stand-up paddle-boarding, surf lessons (you can also just hire out the equipment if you're proficient), or just grabbing a set of beach chairs to relax in, Waikiki Beach Services probably has you covered. Visitors can also join a regularly scheduled catamaran sailing excursion for between $10 and $20 per person. The trips take place at various times throughout the day, beginning at the Royal Hawaiian, and head toward Diamond Head for dramatic coastline views. (
Photo courtesy of Waikiki Beach Services
)
Landlubbers will enjoy the nature excursions like hiking the leafy mountaintop paths of Round Top for stunning panoramic views of the island, or watching the kite surfers brave the whitecaps at Kailua Beach. There are a multitude of cultural activities as well, including tours of the Iolani Palace—the only royal residence on U.S. soil—tours of the equally palatial Shangri-La, the art-filled former home of the late tobacco billionairess Doris Duke, or the Pearl Harbor Memorial. The island's military history is made manifest by the "Punchbowl" Honolulu Veterans Memorial, which speaks to a side of Hawaii's past that is just as impressive and important as the warm aloha spirit that pervades its hospitality outlets.

With all that Waikiki has to offer, your Hawaiian getaway can be about anything you want it to be.
Fill your time with beach activities, poolside lounging, high-end shopping, fine-dining, cultural exploration, or all of the above. This is what makes Waikiki, and Hawaii in genera, such a special place, and one that more and more seasoned travelers are rediscovering.