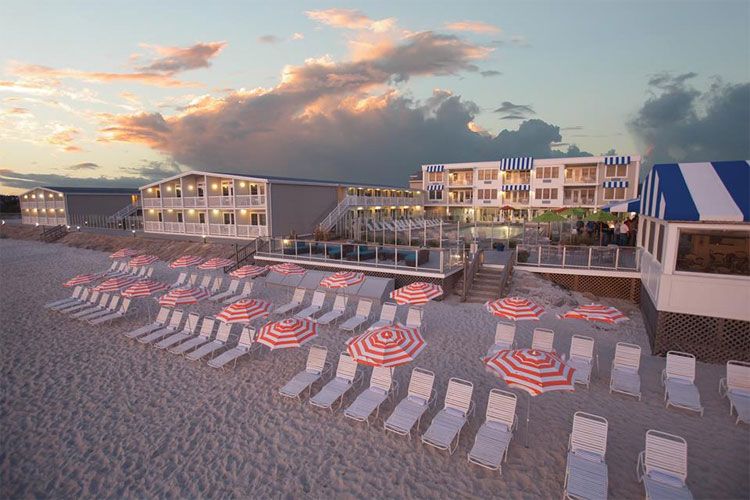 Photos Courtesy of Sea Crest Beach Hotel
Beach hotels in America tend to be built, enjoy a brief heyday, ease into a barely noticeable period of decline and then immediately be fully rehabbed or built again. The really loveable thing about the Sea Crest Beach Hotel in Falmouth, Mass. is that it's a historic property that has seen many phases, and those phases mirror so many epochs in American history.
Though the hotel must renovate and modernize, it makes a point of remembering past chapters, with vintage decorations, venue names (i.e. Red's, the sports bar/restaurant named after former hotel owner Red Auerbach), and with a fantastic memory wall in the main lobby. Dozens of postcards, black-and-white snapshots, old flyers and other memorabilia give glimpses into Sea Crest's colorful past.
From its earliest days as the Old Silver Beach Club, back when the Falmouth neighborhood was a seedy area full of speakeasies and gambling dens, the space served a multi-season stint as a community theater, then was converted to Navy housing. During its beach-club days, Barbara Walters' father Lou Walters ran things for a while. The property had already weathered one major hurricane by the time it was turned into a hotel in 1941. It would go through a few more in coming years, but the sunny and beautiful days far outweigh the storms.
Many of Sea Crest's customers have been vacationing there for multiple generations, outlasting its varied owners and unconcerned during the times when the property looked a little dated or weather beaten. Now in a period of happy reincarnation, with the entire property and a revamped signature restaurant just open, Sea Crest still retains its classic Cape Cod charm. You can see exactly what that means by looking through the virtual scrapbook of images we've borrowed from the hotel's archives.
Elizabeth Theater
Whale Watching
Vintage Postcard - Women in Water
Vintage Postcard - Beach Umbrellas
Old Silver Beach