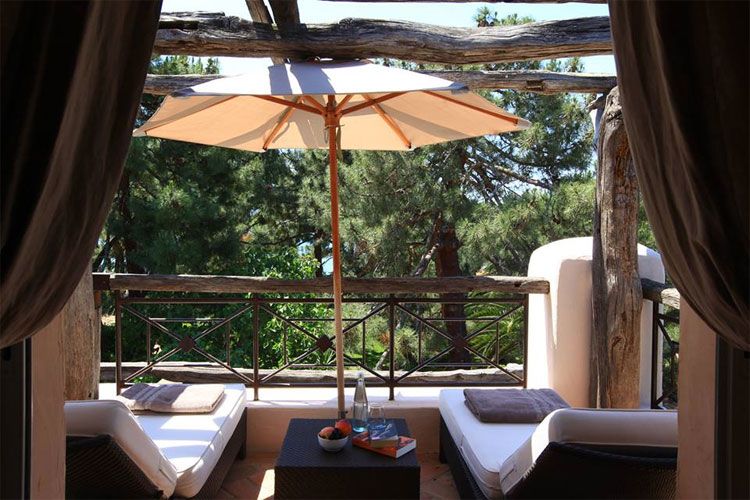 Photo Courtesy of Le Grand Hôtel de Cala Rossa
Such is the discreet nature of its location — screened behind thick foliage of yucca, cypress, bamboo and bougainvillea — that we bypassed the entrance to the Le Grand Hôtel de Cala Rossa, located in Porto Vecchio in southern French Island of Corsica.
A narrow, stone pathway from the main hotel building leads through a veritable botanical garden of olive and palm trees, oleanders, honeysuckle, jasmine, immortelle, lavender, citrus, rosemary and clematis. This delightful sense of nature also permeates many of the hotel's furnishings, including two finely varnished wood replicas of horses obtained from a carnival carousel and an elongated sculpture made from branches of a juniper tree.
Photo Credit: Columbia Hillen
Behind the reception desk, a cherubic face in the center of a decorative floral motif (recovered from the remains of an 18th century ship) covers most of the wall behind the reception desk. The hotel's lobby features a décor of vaults and arches with a green, white and brown floor of terracotta tiles from Salerne in southern France. Its red leather armchairs held guests relaxing, catching up on world news or enjoying a round of cards with friends in the evenings. The lobby also holds a large bar area with open log fire, a piano and a collection of 17 wood framed mirrors.
Photo Courtesy of Le Grand Hôtel de Cala Rossa
Inside the Grand Comfort guestroom, the contemporary, Mediterranean-style décor is the preferred style of owner Toussaint Canarelli and his daughter Helene, the hotel manager. The predominantly eggshell-white color scheme features patina furniture by Mis en Demeure with a white desk, chairs and glass-fronted wardrobes. Among the other furnishings are a cane-backed bed, a pair of armchairs, crimson-colored curtains, and fabrics by Ellitis. Sliding doors open to a cozy terrace with wicker chairs and a table under a makeshift roof made from bare untreated wood.
Photo Credit: Columbia Hillen
One of the highlights of a good weather stay at Le Grand Hôtel de Cala Rossa is a relaxing few hours on chaise lounges at its large, raised outdoor patio. The hotel's private beach is made even nicer by a specially-erected plastic boundary fence that prevents jellyfish and other potentially harmful species from entering the swimming area. Beyond this lies a picturesque coastal scene, a smooth sea peppered with several interesting rocky outcrops, yachts, fishing boats and alabaster homes in small mountain town, the Massif de l'Ospedale. Every morning, the property takes guests out on 90-minute complimentary boat ride leaving from the end of a long wooden pier. In the dry, warmer months, this pier plays hosts to morning fitness classes.
Photo Courtesy of Le Grand Hôtel de Cala Rossa

Onsite, Le Grand Hôtel has a variety of amenities and activities, including their Japanese-designed Clarins spa with cedar wood floors, a sauna and steam room and decent-size swimming pool. For dining, La Table restaurant is a contemporary mix of Corsican and Japanese influences and based upon fresh products from the hotel's own vegetable and herb garden. It also pulls from the region's offerings and dining there is as exciting as a Christmas morning because you never know what will be on the menu with the daily changing set three-course meal.
Photo Credit: Columbia Hillen
The culinary delights at the property could be a full story on their own; these are few of the creations that encompass the feel of the island: the square of piglet roasted in its own skin on a bed of vegetables cooked in Asian spices; lightly grilled scallops in a soup of pumpkin with hazelnut oil; magret of pan fried wild duck, its skin resting on a bed of carrot puree and prunes; and liche tartare (a locally caught fish with a texture similar to that of sea trout) marinated in a local maquis mix.
Photo Credit: Columbia Hillen
Our first impression of the luxury hotel was of a tropical, West Indies-style retreat — a feeling not just encouraged by the thick foliage out front, but also by the array of color emanating from the surrounding floral gardens. It felt welcoming and that was only the beginning. With its soothing Mediterranean-inspired guestrooms and delicious food choices, our first impressions were only further enhanced by the charm and quality service found at this four-star hotel.