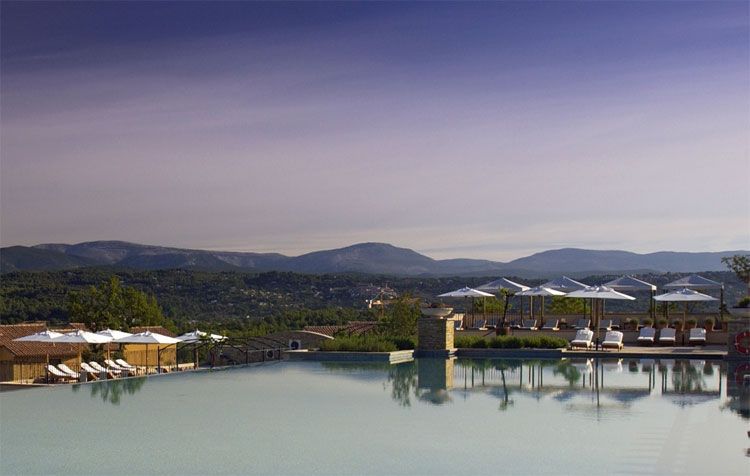 Photos Courtesy of Terre Blanche
Terre Blanche Hotel Spa Golf Resort, located in Eastern Provence, France and nearby Cannes and the French Riviera, provides European travelers with a premier European destination in Southeastern France. This five-star resort is consistently rated as one of the best getaways on the globe and offers beautiful scenery, luxurious comforts, and activities.Sitting atop rolling hills that overlook the valley around Provence, Terre Blanche has 750 acres of exclusive property brimming with things to see and do at every turn. As the resort itself is designed to appear as its own private Provençal village, the hotel is as pleasant as it is comfortable. Views from around the resort include verdant landscaping, majestic mountains, and historically intriguing medieval villages.
The large, comfortable villas and suites are placed amongst lush, twisting walkways and come equipped with perfected comforts that are difficult to move on from at the end of a vacation. Relax or entertain personal guests in the living room, then escape to the sanctity and quiet of the separated bedroom that each suite and villa comes standard with. After a day of visiting impeccable French restaurants and sites, kick off your shoes and enjoy the surrounding scenery from the privacy of your own terrace. Some of the Prestige Villas also come equipped with their own exclusive Jacuzzi or pool.
Like the rest of the resort village, the hotel is a beautifully modern take on Provençal architecture and style. Around the property itself, guests will enjoy the extensive private art collection which fuses the contemporary with the classical, and is a remarkable addition to the delightful atmosphere of the locale.

Located in a hillside villa and built on two levels, the Spa's environment is designed to enhance well-being and provide physical and spiritual relaxation. Decorated in soothing colors and subtle lighting, each of the 14 treatment rooms offer peaceful environments. Two larger couple suites also come with their own hammam, Jacuzzi and private terrace. From top to bottom, all the details have been designed to clear away the stresses of everyday life.
Terre Blanche Hotel Spa Golf Resort***** is also home to two premier 18-hole golf courses, allowing golfers of all ages and experience to fully enjoy hours of transcendent surroundings. The Albatros Golf Performance offers a driving range of 64 practice mats on two levels, a Leadbetter Academy offering golf classes and a Biomecaswing Center with the unique concept of performance optimization. The resort also has two tennis courts offering private classes for all ages or casual games, an inside swimming pool and an outside infinity pool with panoramic views over the surrounding area.
And, with all this comfort, ambiance and nature, the Terre Blanche Hotel Spa Golf Resort also has a remarkably friendly and helpful staff. With so much to love about this impeccable resort, you are bound to have an incredibly relaxing vacation.
Terre Blanche Hotel Spa Golf Resort
3100 Route de Bagnols en Foret
Tourrettes, France 83440
+33.04.94.39.90.00
Terre-Blance.com