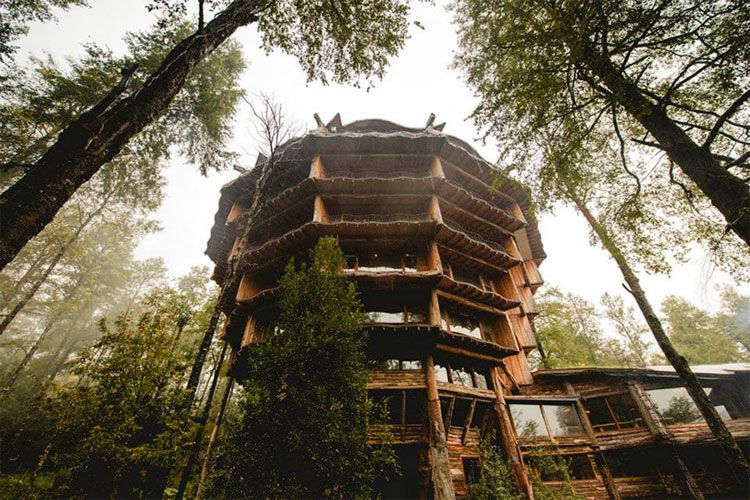 Photos Courtesy of Nothofagus Hotel & Spa
One of the best things about being a travel writer is getting to sit at a desk all day scouring the internet to find the hottest new destination, the craziest hotels or the most thrilling adventures around the globe; all the while, adding favorites to our own personal travel bucket list. When a really intriguing hotel pops up, we can't help but share it with you, since we're guessing you're as much of a travel junkie as us.
Last week, we stumbled across one such property, Nothofagus Hotel & Spa in Neltume, Chile. The pictures alone urged further research into this 55-room wooden structure that rises among treetops of Middle Earth the Andes. Ten years ago, The Private Natural Reserve project began to work in Neltume to figure out a way to protect its 150,000 acres of Valdivian Forest and turn it into a sustainable area. This led to Huilo Huilo's project and the now Nothofagus structure.
Inside boasts a circular ramp with a smooth slope that winds through each level of the hotel like the interior coils of a tree (elevator access is also provided). And while you might feel like you just entered the dwelling of a Hobbit, the guestrooms alone will zap you back to reality with rooms that are spacious, open, and anything but other worldly. The first two of seven floors contains the standard rooms with twin or double beds and ensuite bathrooms. Level three and four hold the Superior Room categories which also come with a balcony.
To really get the most out of your stay, look into either a Suite or Suite Premium Room which offer between approximately 463-732 square feet of space. The two-level Premium room comes with a whirlpool tub, balcony and living room. Like the rest of the hotel, the rooms boast wooden furnishings, bare wood columns, large windows and minimal décor, lending to a very earthy 'one-with-nature' kind of atmosphere.
Located on one end of the hotel, Lawenko spa consists of a heated swimming pool, dry and steam saunas, whirlpools and therapy treatments. Among the choices, the spa offers a Hydrasoin deep moisturizing facial that is meant to help minimize pores, spots and blemishes. While there, check out the pool bar which offers snacks, sandwiches, juices, beverages and adult drinks.
On the ground floor, two dining options are available and serve a mix of native dishes and international flavors. Many of the ingredients used come directly from the surrounding vegetation. However, if you're really craving a taste of home, you can still order a pizza to satisfy the hankering.

Nothofagus is located deep in the forests of Chile and therefore not the kind of destination for those who prefer a plethora of shops, restaurants and activities nearby while on vacation. Nature rules here; and as such, the style and polish of the property aren't what you'd find at a St. Regis or Four Seasons. But this is also a reason why many outdoor enthusiasts enjoy it. It is also advised to go during the warmer months as the hotel doesn't currently offer central heating.
Different booking options are available, including an all-inclusive package with a three-night minimum. It comes with a buffet breakfast, lunch and dinner; welcome drink; open bar; access to the spa, and daily excursions. If you're flying into Santiago airport, you'll need to next fly out from the International Airport Comodoro Arturo Merino Benitez to arrive at either Valdivia or Temuco. After a one and a half to two hour flight, from those locations, you'll either need to rent a car or reserve a shuttle from the hotel ahead of time.
So, the question remains: Will this make your travel bucket list?