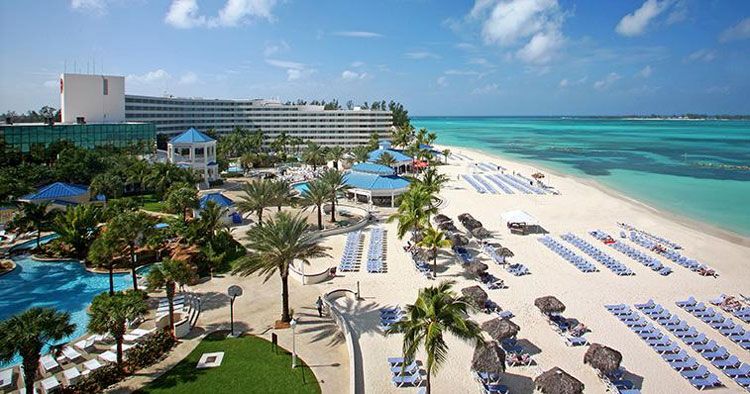 Photo Courtesy of Meliá Nassau Beach
Baha Mar Ltd. and Meliá Hotels International recently signed an agreement for Meliá to take over the Nassau Beach Resort in Baha Mar, which is part of an all-inclusive resort development project being raised in the Bahamas. The 694-room hotel will operate as the Meliá Nassau Beach this month. There are plans to refurbish the hotel throughout the next year to bring it up to the brand standards of a Meliá property. Once those renovations are complete, the deluxe property will be changed to the Meliá at Baha Mar.
With the addition of a Meliá resort, the project includes five hotels, private residences, gaming, golfing, shopping, entertainment, and a number of natural attractions. The $3.5 billion resort community will span 1,000 acres and feature more than 3,000 feet of oceanfront.
Photos Courtesy of Meliá Nassau Beach
"Meliá brings a wonderful, upscale name with global recognition and exceptional values to our brand portfolio at Baha Mar," said Sarkis Izmirlian, Baha Mar's chairman and CEO. "The company's expertise in the European, Latin American and Russian markets will further support Baha Mar in attracting a worldwide clientele. In addition, Baha Mar will be proud to offer Meliá's all-inclusive resort experience, which is a leader in one of the fastest-growing segments in vacation travel."
The luxury lifestyle destination will offer more than 2,900 hotel rooms and residences, a 100,000-square-foot casino, an 18-hole Jack Nicklaus Signature Golf Course, an ESPA spa and at least 12 pools. A dedicated on-site convention center will be the cornerstone for the 200,000-square-foot meeting and convention facility.
Photo Courtesy of Ruth Peterkin/Shutterstock

"The addition of the new Meliá Nassau Beach [Resort] and the prospect of the future Meliá at Baha Mar being part, within a year, of one of the most ambitious hotel and leisure projects in recent decades, is a new source of pride for our brand, [which is] already present in 40 countries," said Gabriel Escarrer, chairman of Meliá Hotels International. Escarrer also said that the opening of its first hotel in the English-speaking Caribbean is a major achievement for Meliá Hotels International.