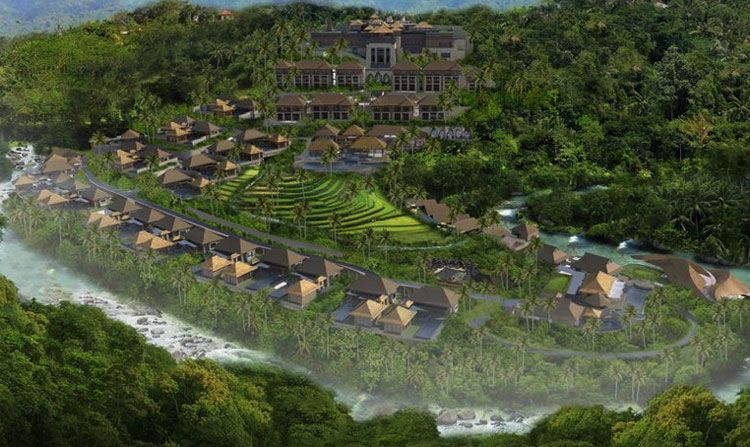 Renderings Courtesy of The Ritz-Carlton Reserve Bali, U
The Ritz-Carlton Hotel Company will open a Ritz-Carlton Reserve resort on the island of Bali, Indonesia in the summer of 2015. "We are delighted to announce another exclusive Reserve project to the hand-selected portfolio. Bali is a well established destination for luxury travelers and we are confident that our resort in Ubud will raise the bar for style, service, and quality in the area," said Herve Humler, President and COO of The Ritz-Carlton Hotel Company.
"The Ritz-Carlton Reserve offers guests a contemporary interpretation of the local lifestyle and culture. The concept is simple, yet exudes style and luxurious levels of comfort," said Humler. "The resorts provide a complete escape to the unexpected; a private, exclusive leisure experience that blends unique elements of the local culture, history, and heritage with intuitive individual service, exquisite indigenous design, casual ambience and respect for the surrounding environment."
The new resort will be in the city's major art and cultural hub situated on the Ayung River. Visitors will be able to enjoy scenic views of Bali's famous rice paddies and the village temple. Guestrooms will consist of 60 villas and suites. Relying heavily on architectural features and art elements that are indigenous to Bali, the hotel's designs are meant to fully immerse guests into the local culture.
In addition to a spa and two swimming pools, the property will offer exquisitely landscaped gardens, meditative areas, and hillside views of the island. Personal day beds and sheltered spaces will be available for guests to further personalize their experience. Extra-special amenities also include dedicated butlers and a personal concierge to assist guests in planning excursions, events, and personal itineraries.