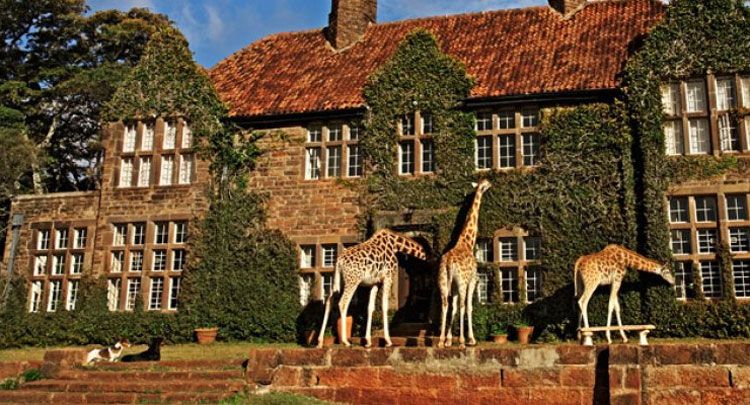 Photo Courtesy of Giraffe Manor
Many times, images are all the convincing you need when booking a hotel. Especially if those images are of giraffes in East Africa peeping through guest's windows and casually hanging out on the property's front lawn.
Photo Courtesy of Giraffe Manor
Built in the 1930s, Giraffe Manor's brick facade remains the same but for the shawl of lush green ivy that has since come to rest on its walls. It is also only 12 miles away from Nairobi's city center whose nickname, "Green City in the Sun," has attracted many tourists over the years.
Photo Courtesy of Giraffe Manor
While the outside property is an appealing sight on its own, it's the resident herd of Rothschild Giraffes that will have you reaching for your camera. The endangered species freely roam the terrain and eagerly vie for guest attention.
Photo Courtesy of Giraffe Manor
Around the property there are plenty of ways to interact with the beautifully spotted mammals. The sitting room's large windows allow for viewings of the giraffes from indoors, but to really get the most out of the trip, sit outside on the lawn. From there, guests can hand feed the friendly four-legged residents and snap a picture of their adorable faces (just watch out for their tongues, lest your hair get an unexpected cleansing).
Photo Courtesy of Giraffe Manor
Inside the 10 suites inspired by the manor's original décor, the rooms feature large four poster beds, antique furnishings and spacious bathrooms. Some rooms also include fire places that provide the warm, welcoming ambiance of a home and a place to cozy up next to on colder evenings. Families should look into the Karen Blixen or Finch Hatton's suites since they provide more space.
Photo Courtesy of Giraffe Manor
Served in the sun room or drawing room with a fire lit backdrop, meals at Giraffe Manor are cozy affairs with a variety of traditional dishes to experience. If you'd prefer a more intimate meal, opt for a private table under the stars with flickering lanterns setting the mood for a romantic night.
Photo Courtesy of Shutterstock
Nearby, the city center of Nairobi boasts a colorful blend of cultures where travelers are easily able to spend time getting to know its people and learn about their way of life. Also nearby is the Karen Blixen Museum whose namesake was the author of novel and 1985 movie Out of Africa. The museum sits among beautifully landscape gardens looking out over the Ngong Hills and has a number of African portrait paintings in its library.
Photo Courtesy of Giraffe Manor
Certainly a unique travel experience, Giraffe Manor is not just an item that belongs on your bucket list. Trip Advisor ranks the property as the second best hotel in Nairobi and past travelers have referred to it as "magical" and "wonderful," earning 208 "excellent" reviews (of a total of 235!). While the Tamini site does not readily give you rates (you have to email a request in), the average price tag per night is around US $500. But If you're looking for a reason to kiss a giraffe ('cause who isn't?), we suppose that is a small price to pay. Not convinced? Let the pictures do the talking.
Photo Courtesy of Giraffe Manor
Photo Courtesy of Giraffe Manor
Photo Courtesy of Giraffe Manor
Photo Courtesy of Giraffe Manor
Photo Courtesy of Giraffe Manor
Photo Courtesy of Giraffe Manor
Photo Courtesy of Giraffe Manor