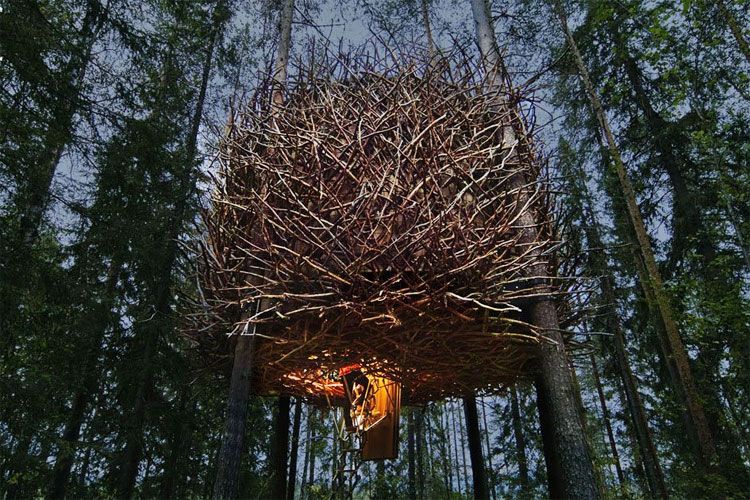 Photos Courtesy of Treehotel
Swedish architects seem to have a knack for modern, contemporary design and an eye for cutting edge creations. Three years ago, founders Britta and Kent utilized those talents when they enlisted some of Scandinavia's leading architects Cyrén & Cyrén to build Treehotel in Sweden. Mixing together nature and avant-garde concepts, the five-room community sits 13-19 feet above Harads village among the trees.   
Inspired by the film The Tree Lover by Jonas Selberg Augusten, Treehotel was modeled around the movie's philosophy of the significance of trees for human beings. It is meant to be a place where nature, ecological values, comfort and modern design are combined with minimal environmental impact.
When arriving at the tree-top property, you'll enter Britta's guest house to check-in. This home, decorated in 1930-1950s styles, is also the setting for all meals. A five minute walk takes guests to the five treerooms, each with a different design and varying between 161-322 square feet of space. The lighting, furniture and fabrics are all unique to the specific accommodation. Suspended in the air, the buildings are reached by ramp, bridge or electric stairs.
One of the most interesting structures is The Mirrorcube which is designed with mirrored walls acting as a camouflage in the forest. The 13x13x13-feet walls reflect their surrounding elements and sits on an aluminum frame at the trunk. In case you were wondering what keeps our flying friends from running into the cube, infrared film visible to birds has been placed around the building to prevent any accidents.
Inside, the surfaces are made with birch wood and it sleeps two guests with a double bed, bathroom, lounge and rooftop terrace. Six windows allow for panoramic views of Harads and minimal décor is placed throughout the wooden interiors.
On the outside, The Bird's nest looks, well…like its name suggests, but with a larger-than-life façade. Built as a circular room, the space inside is 182 feet squared with separate bedrooms, a bathroom and living area. Hidden among the trees, the room is reached by retractable stairs.

Of all the choices, we personally love the look and vibe of The Cabin. Overlooking the Lule River valley, this hut is intimate, fitting only two guests and offers floor-to-ceiling and panoramic windows allow lots of natural light to flow through. A horizontal bridge gives you access to the room and it is also attached to a large wooden deck where travelers can soak in the beautiful landscapes.
Whichever room peaks your interest, there's no doubt you'll be impressed by the imaginative design and simplistic décor that enhances a feel of airy lightness in each space. Along with the treerooms, the property offers a sauna with room for eight people. There is also a hot tub and access to the relaxation area. Rooms begin at around USD $677 per night/double occupancy and includes a daily breakfast buffet.