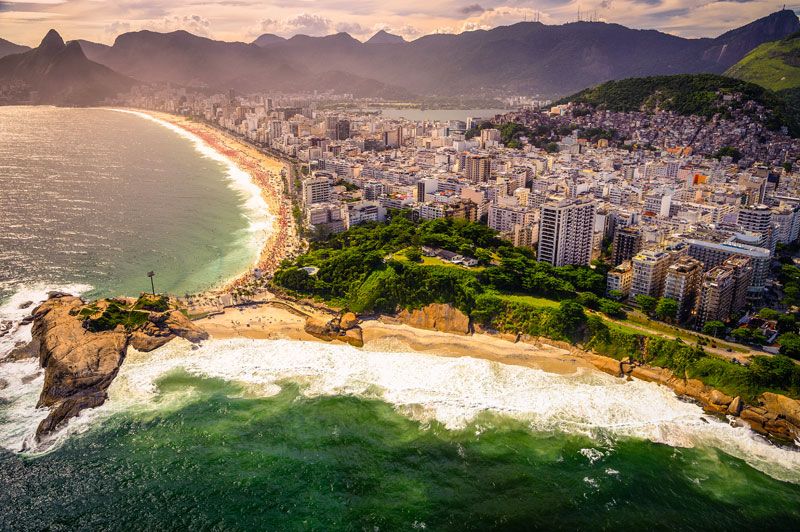 Photo Courtesy of Shutterstock
It's almost time for the 2014 FIFA World Cup, and at the JustLuxe offices we're all abuzz over the once-every-four-year event, and you know, we may have spent some time Googling images of our favorite sexy soccer players (Can you blame us?). As the event kicks off on Thursday, June 12 in different stadiums all over Brazil, we thought we'd find out what some of Rio's local hotel concierges have to say about what to do while visiting. Check out their insider's guide to the country's second largest city.
Photo Courtesy of Aprazível
Sofitel Rio de Janeiro Copacabana — Silvio Maurício Gomes, Chief Concierge
"Santa Teresa is the most picturesque district of the city with its cobblestone streets. It is a good place to wander and admire the diversity of the city. A good suggestion for lunch or dinner is the pleasant restaurant Aprazível which offers seating in a beautiful garden with a bucolic view of the neighborhood."
Photo Courtesy of Parque Lage
Hotel Santa Teresa — Bruna Buiatti, Front Desk Manager
"Two unforgettable places in Rio de Janeiro: See the sunset at the Bar Urca, near the Sugarloaf, perfect to drink a beer and a caipirinha and eat a shrimp patty, and breakfast at Parque Lage next to the Botanical Garden. [It's a] wonderful landscape."
Photo Courtesy of Fogo de Chão Brazilian Steakhouse
Hotel Fasano Rio de Janeiro — Eric Frei, Concierge
"Fogo de Chão Brazilian Steakhouse: This new churrascaria in Rio follows the tradition of the gauchos on preparing the delicious barbecue. In this location, the amazing view of the Botafogo Bay and Sugar Loaf are breathtaking."
Photo Courtesy of Shutterstock
Sofitel Rio de Janeiro Copacabana — Silvio Maurício Gomes, Chief Concierge
"Urca is another oasis within the metropolis, a walk through its quiet streets gives a good feeling of being in a small village. Right next to the Sugar Loaf cable car station, you will find the track Cláudio Coutinho—a paved walkway surrounded on one side by lush green forest and on the other side the waters of Guanabara Bay. If you like adventure, step inside the forest where there is a sign indicating the ascent to Urca hill, it [is a] fifteen minute climb but the view is rewarding."
Photo Courtesy of Vieira Souto
Hotel Fasano Rio de Janeiro — Eric Frei, Concierge
"Vieira Souto: A recent opening in the city, this Italian restaurant is unique for its location facing the trendy Ipanema Beach. As [good] Italian must be, they produce their own fresh pasta inside the restaurant. The extensive wine list offers the [top wines] in the world."
Photo Courtesy of Bottega del Vino in Leblon
Sofitel Rio de Janeiro Copacabana — Silvio Maurício Gomes, Chief Concierge
"Dias Ferreira in Leblon neighborhood is the gastronomic city street, a place for lovers of good food and gourmets. There is a wide choice of cuisines, from Brazilian contemporary to Italian, Japanese, Thai and French."