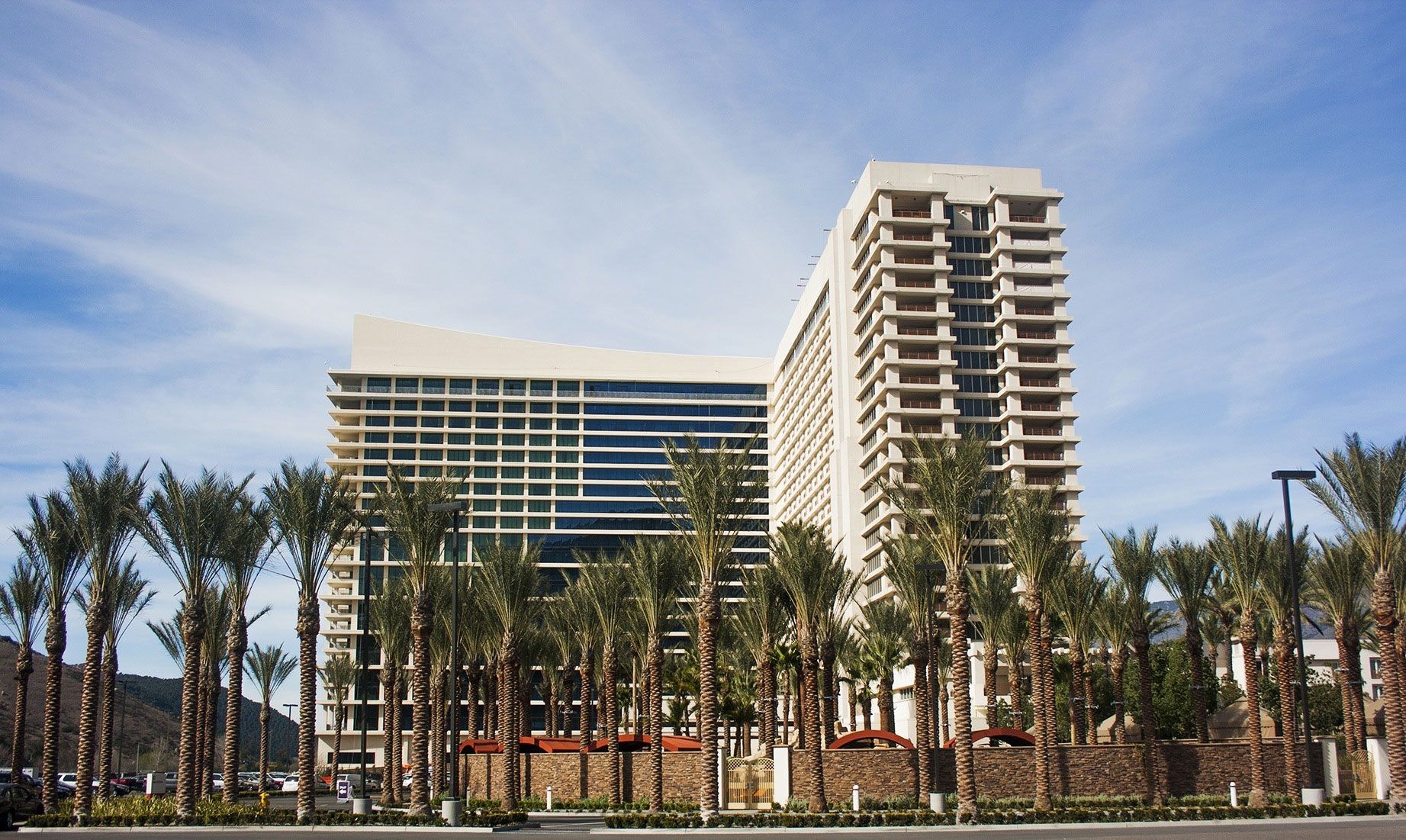 Photos Courtesy of Harrah's Resort Southern California
Most of the time, when you hear the name Harrah's tacked onto a hotel you begin to picture decent casinos, tasty buffets, and comfortable, standard rooms—but you wouldn't necessarily throw the hotel brand into the luxury category. However, Harrah's Resort Southern California's latest $160 million, multi-phase renovation has us rethinking our traditional views of the Caesars-Entertainment-owned hotel chain.
Unveiling their new 403-room hotel tower this spring, the resort's expansion also included the addition of three new dining venues, Dive Day Club, a 23,000-square-foot convention and entertainment space and two new lounges. With all the changes and updates, Harrah's has really stepped up their game, making themselves more on par with Las Vegas properties.
One of the biggest transformations was the addition of the Tower North which features 48 expansive suites. With the construction of the additional accommodations, the hotel now boasts 1,065 places to lay your head at night, 147 of which are suites. Staying in the one-bedroom, two bath corner La Jolla Suite, we couldn't help but notice the overall feel of the space from the moment you enter in. It feels modern yet classically chic with dark wood furnishings, floor-to-ceiling windows with thick curtains and a slight '60s-Mod style. In the living room, an L-shaped couch sits next to a glass dining table and a wet bar with fridge on the other side. Outdoors on the private terrace, two lounge chairs and a table make for the perfect place to sit back and enjoy the warm So-Cal weather.
What's really striking, however, are the over-sized elements that add that extra flair to the suite. Hanging on a wall next to the master bath is a full-length mirror whose length and height is equal to that of the bathroom's door (ladies, you'll definitely enjoy its size when getting ready in the morning). Inside the bathroom, a deep soaking tub and separate shower are paired with marble countertops, motion-sensor lighting, and a vanity mirror and stool. The bedroom comes with a king-size bed, flat-screen television, automated curtains, access to the patio and a spacious closet. One feature we were really missing though were robes and slippers to really give it that four- or five-star feel. But, they made up for it with their extremely tasty turndown chocolates that had us wishing we could take home a whole box for later.
As a resort and casino, there is definitely plenty to keep guests occupied, but one of their newest features is their Dive Day Club, which is made up of nine hot tubs and two pools: the swim-up bar (the only one in Southern California) and the lazy river. A third pool is separated off the day club as well which is just for hotel guests. Similar to a Vegas pool party, the venue opens to the public on the weekends and guest DJs are brought in, cabanas and day beds can be rented with bottle service, and meals can be ordered from pool servers. The 21+ club gets pretty packed so for those who prefer some space, we'd definitely recommend securing a cabana for the afternoon.
Since gaming is one of the main attractions of the hotel, we made sure to spend time in the casino to see what gamers could expect from the updated property. Harrah's SoCal offers a 59,000-square-foot casino that holds 1,700 slot machines, a nine-table Poker Room featuring Texas Hold 'Em and 59 Las Vegas-style table games strategically placed down the center of the gaming floor. Throwing games such as Rincon Craps, Blackjack, and Mystery Card Roulette all together in one space ensures that the atmosphere remains lively. One notable aspect is the amount of non-smoking areas; with high ceilings and plenty of air flow, the smoking sections aren't bothersome to non-smokers.
Sprinkled throughout the space are also a number of venues to enjoy such as The Courtside Sports Bar with more than 20 TVs and live comedy once a month, and Corked, one of the newest scenes at the property. Corked is a craft beer and wine bar which features many of San Diego's best breweries. When it comes time to dine, guests can choose from one of nine choices including a Mexican food truck, the iconic Pink's Hot Dogs (a celebrity favorite in Hollywood) and Fiore, a fine dining steakhouse. Fiore is helmed by George Kapetsonis who competed on the Food Network's Chef Wanted with Anne Burrell against other chefs in a battle of knowledge and skill. Open for only for dinner, Fiore offers melt-in-your-mouth steaks, fresh seafood and delectable desserts (save room for the cheesecake).
Located just 40 minutes from downtown San Diego, Harrah's Resort Southern California is both a great place to spend a week with the family and a fun getaway for friends celebrating, well…just about anything! From where it was only a year ago to where it is headed, we're definitely excited about the changes and the renovations we've already seen. As the phases continue, there will be more updates to the property and more than likely we can expect Harrah's to fully secure its spot in the luxury hotel world.