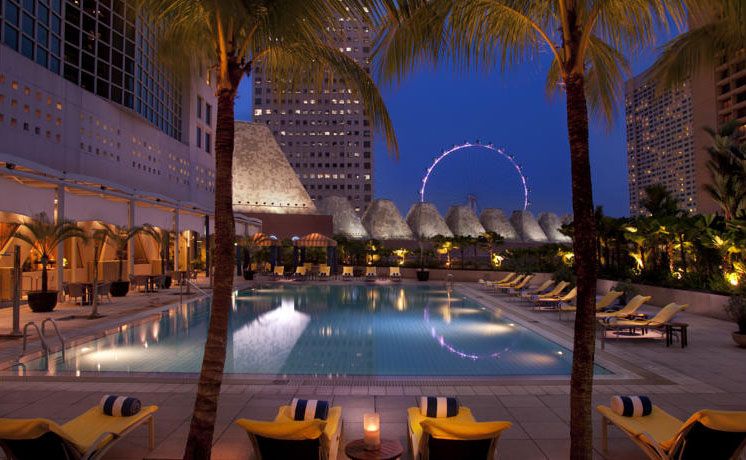 Photos Courtesy of Conrad Centennial Singapore
Singapore was my first venture into Asia, and although a seasoned traveler, I wasn't exactly sure what to expect from the city that requires prescriptions for chewing gum and is a second home to many affluent business travelers (thanks, in part, to their many private banks). That being the case, the five-star Conrad Centennial Singapore seemed a smart choice for accommodations—as it caters to corporate travelers—to get a sense of what business guests can expect.
If you've ever flown to Asia from the States, you are fully aware of the long travel time it takes to get there. If you have not, make note that when arriving at 1:30 a.m. after a 24-hour travel day, you'll want to have double-checked with the hotel that a car is waiting for you at the airport. Otherwise, you may end up as I did without a ride due to a date mix-up back at the hotel (not the best first impression).
Driving through the city on the way to Conrad, the skyline was illuminated by soaring skyscrapers and the Singapore Flyer sat quietly on the sidelines, lit up with purple lights, welcoming me to this foreign place. When you enter the property, the first thing you'll notice is a grand staircase spiraling down to the lobby lounge, marble floors and potted trees, all decorated in hues of gold, red and neutrals. The lounge serves weekday executive lunches, afternoon tea and offers live music in the evenings.
Check-in is simple for Executive Level guests and done right in your room, so there is no need to wait at the front desk. Inside the 430- to 463-square-foot Executive Room with king bed, guests will find a good-sized desk with phone jacks and high-speed Internet access connections, Wi-Fi access (fee applies), a 46-inch TV with home theater system and a Nespresso® coffee machine.
The décor and layout of the room is simple, not overly glamorous but perfectly suited for business travelers who are there to get work done. The room also offers great views of Marina Bay, the city or Fountain. The bathroom is elegant with a separate shower and deep-soaking tub, complete with a rubber duck and bath salts.
One thing that stood out was the lack of electric plugs. The main room has one (that I could find) and the bathroom has a second. If you need to charge your iPad, phone and laptop at the same time, you'll have to decide which is more important and take care of it first. While a little inconvenient, it is not necessarily a deal breaker.
With an Executive Level room, guests also get two hours meeting room usage, late check-out, complimentary selection of music and movies, and access to the Executive Lounge. Located on level 31, the lounge sits on the highest floor of the property and guests can enjoy a complimentary buffet breakfast, wine and spirits, coffee, tea and juices throughout the day, and hors d'ouevres and canapés in the evenings. There is also complimentary Wi-Fi available here. A smart dress code is requested and sport shorts, singlets and casual footwear are not permitted.
For event spaces the hotel has a Grand Ballroom, Grand Salon, private salons, two boardrooms, and four conference rooms to choose from. To assist meeting planners and guests celebrating special occasions, a dedicated events team will work alongside them to create personalized affairs. Business travelers can also take advantage of the property's partnership with Suntec Singapore Joint Marketing Alliance which gives meeting delegates access to more than 452,000 square feet of event space.
Conrad Centennial has two restaurants on the property, the award-winning Golden Peony serving Cantonese creations and the 24-hour Oscar's eatery which serves breakfast, lunch and dinner buffets featuring local and international cuisines. Helmed by Executive Chinese Chef Ku Keung, Golden Peony is a quiet venue and is great for business lunches and private dinners over tasty dim sum. There is also a great wine list with selections specifically chosen to pair well with Cantonese cuisine.
The nice thing about Oscar's is the variety of options available, so even the pickiest eater will find something they enjoy. Known for their freshly shucked oysters, the restaurant offers fresh seafood-on-ice, sushi, live carving stations, an outdoor noodle bar serving bowls of local favorites and a desert bar. Be sure to order a warm waffle with a scoop of ice cream (maple walnut, if they have it) on top to end your meal, you won't be sorry. On Sundays, the eatery includes free-flowing Champagne, wine, beer, or sparkling juice alongside their brunch menu.
While the hotel does have a spa, it seems that as a business-centered destination, the wellness facility is more of an after-thought. Located next to the fitness center, the small spa is best for a quick treatment before a meeting or after a day of sight-seeing, but not necessarily as a place for quality rest and rejuvenation. Because of its size, after your therapy you are immediately escorted back to the locker rooms to change since there are no relaxation areas available. If a great spa is high on your list of priorities, maybe consider visiting one of the neighboring properties instead.
Overall, Conrad Centennial is a great business hotel and well-suited for travelers who will be holding business meetings and enjoying cocktails with other corporate guests. It's not necessarily the ideal choice for leisure travelers but we can definitely see the potential of staying here again on a work-related trip. Also, the staff is incredibly helpful and the concierges will gladly map out routes for you when wanting to visit the local attractions.