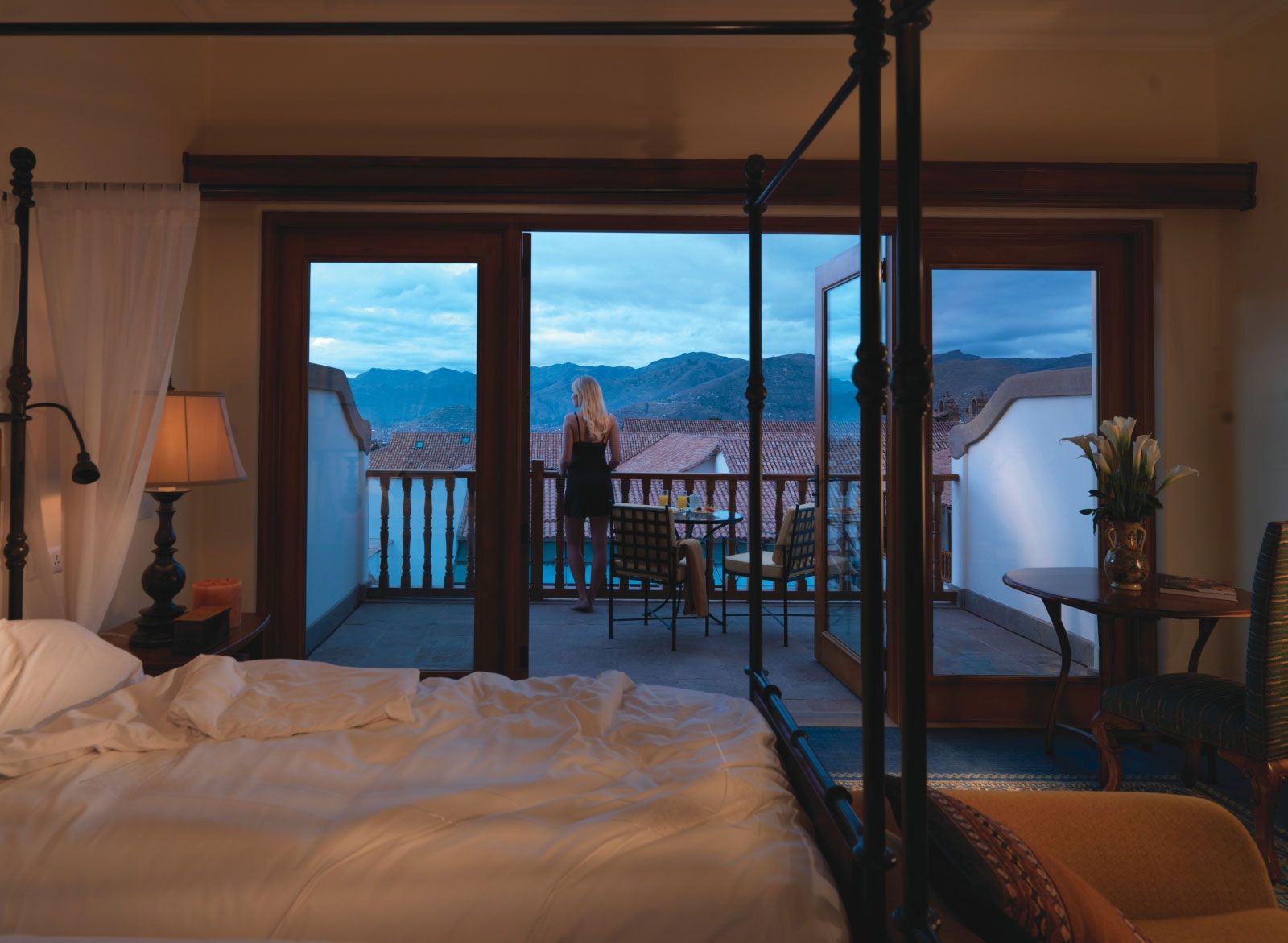 Photo Courtesy of Belmond Palacio Nazarenas
Plenty of luxury boutique hotels around the world are filled with good art, but there are two in the city that are art galleries in themselves. In a trend of making beautiful hotels from buildings that originated for other purposes, this country excels in taking the usual and turning it into the spectacular.
Photo Courtesy of Hotel B
Hotel B, a boutique property in the exclusive Barranco section of Lima is one; the all-white Relais & Châteaux property is a pristine example of a Belle Epoque mansion. It was originally built as a summer seaside retreat for the Garcia Bedoya family when Peru was celebrating 100 years of independence and Lima had been transformed for the occasion. The property captures the celebratory spirit of the 1920s.
Photo Courtesy of Hotel B
French architect Claude Sahut, who was also responsible for remodeling parts of the Government Palace, Lima's main avenues, parks, theaters and other public buildings, built the hotel in 1914. Its ornate façade, high ceilings, "teatinas" or local style skylights, open balconies and marbled terraces were designed for ample ventilation at a time when air conditioning was something for the future to discover. The restoration and re-opening last year of Hotel B meant enormous rooms, a feeling of being back in the 1920s and the ambience of being enveloped in comfortable luxury.
Photo Courtesy of Hotel B
The art in the property, is contemporary, and guests are greeted in the front lobby with a larger-than-life sculpture of Woman 2 by Joaquin Liebana. She is fun and whimsical, and gives you the idea that this property is not about to take itself and its history too seriously with its elegant furniture, cozy library and humongous armoire closets. The art makes you stop, laugh, admire, and perhaps covet. Much of the art is for sale, and if you don't find enough inside the building, it is attached to the Lucia de la Puente Gallery so that, if they are having a show while you're at the hotel, you will be invited next door as an honored private guest.
Photo Courtesy of Belmond Palacio Nazarenas
Another great art hotel is Belmond Palacio Nazarenas. I was so excited by the air in my hotel room in Cusco (all the rooms are oxygenated, which to someone who has flown here from sea level to 12,000 feet altitude, is a tremendous relief) that I had to retrace my steps from the front lobby, after taking a few deep oxygenated breaths, to discover and relish the amazing set of buildings that surrounded me.
Photo Courtesy of Belmond Palacio Nazarenas
The Belmond is a former palace, a convent, a Jesuit school, an orphanage, a murder site, and a place so suffused with Inca history that you feel you are going to sleep in a museum. Built over an Inca site in a quiet, Spanish colonial square steps away from the center of Cusco, the property offers original Inca walls, a stone coat of arms and other stones taken from former Inca buildings and re-used by Spaniards. The building was restored in 2012, leaving much of the original layout and the ancient wall murals intact, while of course, turning the guest bathrooms into their own palaces of personal indulgence with a menu of herbal tea-bag type infusions for the enormous bathtubs as well as separate sinks, marble floors, and dozens of lights specific to each area of the bath.
Photo Courtesy of Belmond Palacio Nazarenas
Among the friezes and murals, most of them from the 18th century Spanish colonial period, is a painting called Vision of Christ, using dry tempura and canvas. It was restored by Julio Ninantay, master art restorer, who worked with natural materials such as vinegar, rabbit skin glue and the local cactus pulp. Frescoes from ancient times have been carefully restored, and the patio with a fountain where the beatas (women who were not quite nuns) used to wash the laundry. Since the hotel was built on top of Incan ruins, an extensive network of water channels sits beneath the hotel. Originally they were used by great architects and urban planners to transport water by gravity, both within the original palace and for the entire community. Having been restored, the water flows throughout the open areas, including the spa. Inca stone doorways have been left intact, and herb gardens and fruit trees grow where the originals did in ancient times around the patio.
Photo Courtesy of Belmond Palacio Nazarenas
A church within the hotel is still used for masses and weddings, and the mezzanine above it has a library specializing in the history of Peruvian art, cuisine, architecture and music. Of course joining these historic books are 21st century computers, printers and faxes for the convenience of 21st century guests. Services inside the historic hotel are as indulgent and contemporary as the murals are ancient, with your choice of herbal pillows for your bed and a personal butler who will come to your room to show you how to prepare the perfect pisco sour, the national cocktail, as well as enjoy it right there with a tray of nibbles.