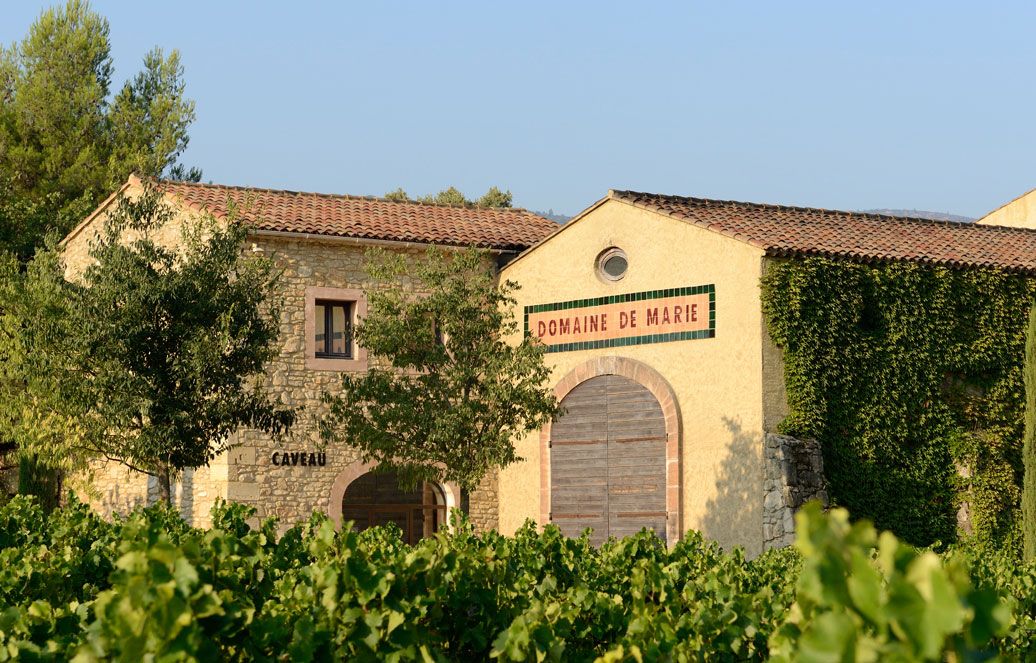 Photos Credit: La Bastide de Marie
Sitting down to breakfast at a flagstone terrace bathed in sunshine next to rows of succulent grapes is just one of the delights of a stay at the 15-room La Bastide de Marie in Luberon Regional Park. Located in the foothills of Ménerbes, this elegant 18th century residence is nestled among 57 acres of vines. It was also three miles away from here that Peter Mayle wrote his best-selling memoir A Year in Provence.
Entering off a countryside road and through sturdy electronic gates, the growl and grind of modern city life suddenly seems a world away. Cyprus trees, century-old olive trees and scented lavender bushes lead up to the main cas (or mansion), set amidst a copse of pine, olive and oak. Walk from the small parking area and through a narrow stone passageway and you're greeted by a line of copper-colored ornamental urns filled with colorful flowers. A small pool stands outside the reception area offering a refreshing respite from the noonday heat.
Our accommodation was rustic and cozy. It offered a flagstone-floored sitting room, slanted exposed beams in a low ceiling, an open fireplace, gray and crimson armchairs, a sofa and a simple round wooden dining table. Curtains separate this area from the main bedroom, which boasts a canopy bed and bathroom with clawfoot bathtub and double sink. Vases and books line the shelves and a French door from the sitting room leads outside to a quaint and private space.
The sitting room of the main building reflects a disheveled countryside innocence, reminiscent of a charming brocante. An iron staircase curls up to the guestrooms and next to a large stone fireplace. The adjacent rooms are used for dinners and breakfasts with an open terrace where pre-dinner drinks are served.
General manager Mireille, a natural-born hostess who is gregarious and talkative, welcomed us warmly for dinner in a rustic conservatory where a lively, informal atmosphere prevailed. Having witnessed tomatoes of various types being brought to the kitchen earlier in baskets, as well as savory mixed leaves and herbs, we were confident what we were about to eat was straight from the garden. For dinner we enjoyed spelt risotto with parmesan and cèpe mushrooms; homemade terrine with onion confit; and rabbit rolls filled with olives, sun-dried tomatoes and served with Provençal sauce, polenta and Brussels sprouts. We finished the evening with the most decadent of local desserts—traditional baba—a brioche soaked in rum and covered in vanilla cream and red berries.
The restaurant serves its own homemade wines which can also be ordered in the US. Arnaud Bressi, master of the cellar, explained that old noble grape varieties such as Grenache and Syrah have been kept, while lower quality ones were removed and replaced by others such as Roussanne, Vermantino, Cinsault and Mourvedre.
Aside from accommodations in the main building, there is also Villa Grenache, located a few hundred yards away on the 54-acre estate with its own private swimming pool. The property also features two additional swimming pools and Pure Altitude spa.
One of the advantages of staying at La Bastide de Marie is the opportunity, all within an hour's drive, to visit many quaint Provençal villages such as Menerbes (where Picasso bought his mistress her home) or Forcalquier, where Distilleries et Domaines de Provence, maker of many fine liquors offers public tours. Visitors can also explore Roussillon, with its vivid ochre-colored cliffs and Lacoste, where fashion guru Pierre Cardin has renovated the Marquis de Sade's former chateau, placing giant esoteric sculptures out front for all to admire.
The historic town of Avignon is only a half hour's drive away, with its towering Pope's Palace, a UNESCO World Heritage Site and one of the most important medieval Gothic buildings in Europe. If it's a quiet, rural southern French retreat you're after with nearby medieval hilltop villages to drive through and a fine homemade wine to enjoy, La Bastide de Marie is a property that's hard to beat.