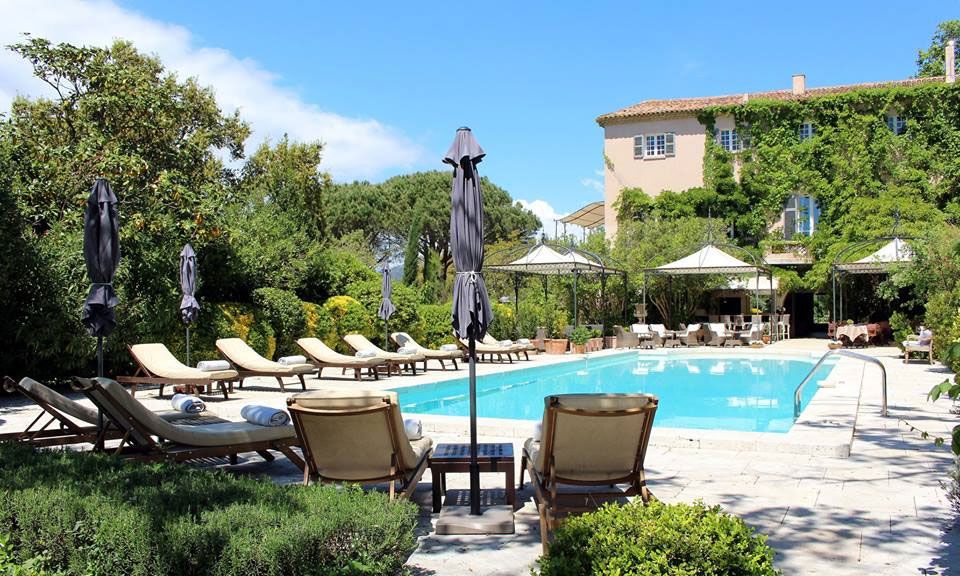 Photo Credit: Mas de Chastelas
Once a countryside estate involved in winemaking and silkworm farming, Mas de Chastelas a few miles outside Saint-Tropez, has been transformed into a five-star property attracting a diverse international clientele. It was here that the eyes of Gérard Depardieu and Catherine Deneuve met hypnotically on-screen in the movie Je Vous Aime.
Photo Credit: Mas de Chastelas
Entered up a slight incline, it sits snuggly above neighboring Bertaud Belieu vineyard on around seven acres of land, complete with an enticing outdoor swimming pool. With 23 rooms, including seven suites in three separate buildings, the property offers Italian- and Tuscan-style villas as well as the main mansion. Upon arrival, guests are treated to a welcome cocktail during check-in.
We stayed in the mansion, in cozy quarters overlooking the pool through one window and the sloping vineyard through the other. Like all rooms, there are separate bath and shower facilities with L'Occitane toiletries on hand. The interiors are decorated with an American country theme through shades of white and grey, linen curtains, embroidered cream bed covers, patina furniture and rough finishes on the white-washed ceiling.
Photo Credit: Columbia Hillen
Property owner Jerome Pujos who spends much of his time in Paris and owns a second five-star hotel, has obviously put much thought into the interior décor. The lobby area and the central pillared lounge feel like open invitations to relax with a terracotta tiled floor, cream-colored sofas, dark brown leather armchairs, an impressive fireplace and a small bar. For a more secluded spot, the nicknamed "Vermillion Cove" in one corner of the room features softer lighting with a life-size 18th century statue. Kudos must also go to the staff who, under the supervision of manager Olivier Valentin, were warm and friendly throughout our stay without being overly fussy and intrusive.
Photo Credit: Columbia Hillen
The more fitness-oriented guests are well catered to as well. The hotel is furnished with a large heated pool, tennis courts and a pitching green. For dining, the property's main restaurant features fine cuisine and a "less is more" mentality (thanks to its chef). What their small menu lacks in number of options, it makes up for in the quality of its few items. Among its entrées, the tender roasted medallions of chicken with truffle oil is served with mashed Ratte potatoes is a great option and braised calf sweetbreads paired with thin slices of smoked duck breast enveloped in port sauce are great choices.
Photo Credit: Mas de Chastelas
If relaxing in the hotel grounds isn't enough, there's always the complimentary shuttle bus service to the glitz and glamor mecca of Saint-Tropez five miles away, the more tranquil village of Gassin, or the three-mile long Pampelonne beach with its many private clubs and restaurants.
Photo Credit: Mas de Chastelas
If you're a boat lover, visit nearby Port Grimaud known as "Little Venice," to admire the various crafts, then clamber up the ruins of Gramaud castle to be rewarded with splendid panoramic views of the Saint Tropez gulf speckled with yachts of all kinds. Offering a secluded location but with the choice of both urban and rural settings close by, fine food and friendly service, Mas de Chastelas has what it takes to cater to most discerning tastes.