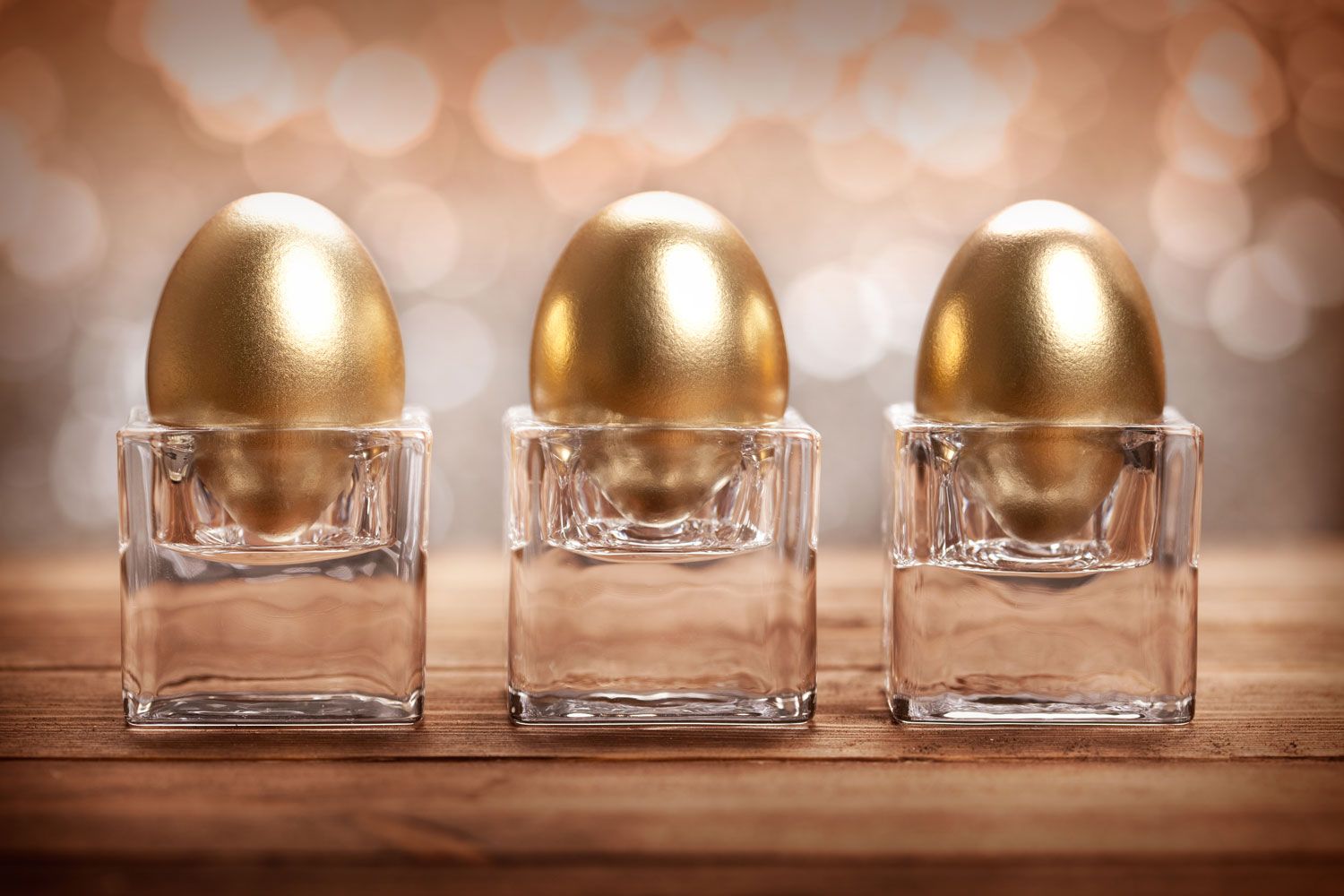 Photo Credit: Shutterstock.com
Is it just us or did Easter sneak up on you too? With visions of Cadbury eggs, pastel color schemes and Champagne brunches filling our minds, it may have come early, but we're definitely ready to celebrate. Across the globe, hotels are commemorating the holiday with plenty of activities for the little ones and festive dining options on Sunday. But since there should never be an age limit on having fun, we discovered properties that are hosting adult Easter egg hunts with grown-up worthy surprises inside. Below are seven hotels that are giving away prizes such as one-night stays, spa treatments and sunset cocktail cruises for lucky winners.
Photo Credit: Capella Singapore
Capella Singapore
Capella Singapore on Sentosa Island is one of our favorite properties. For Easter, they are serving brunch by guest chef Fabien Pairon as well as hosting an egg hunt to discover 1,000 hidden eggs. Inside special ones, guests will find one of three grand prizes: a voucher for a one-night stay in a One-Bedroom Garden Villa, dinner for two at Cassia fine dining restaurant, and a 60-minute spa gift certificate at the five-star facility.
But if you're not one of the lucky three to find those eggs, there are a few other prizes that are just as exciting. One winner will receive a voucher for Havana Nights at Bob's Bar, a weekly Cuban barbeque with live music and handcrafted fresh-pressed Mojitos. Or they may find the Chocolate and Tea Experience at The Knolls inside their egg. The affair allows guests to sip on teas from gourmet purveyor Gryphon Tea Company while enjoying international desserts and Valrhona chocolates. Easter Brunch starts at 12:30 on Sunday and rates for adults start at around USD $191 per person and $57 per child; reservations are required.
Photo Credit: The Greenbrier Resort
The Greenbrier Resort
Located in West Virginia, The Greenbrier is a National Historic Landmark property that has been hosting guests since 1778. Each year, the hotel hosts an array of Easter-themed activities including an 850-pound chocolate holiday display in their lobby. This year's annual adult Easter egg hunt involves around 5,000 plastic eggs with 100 of them containing special prizes inside. Guests can win tennis sessions, rounds of golf, complimentary spa services, chocolate novelties, exclusive food & beverage events, or special retail offerings. If you aren't one of the lucky 100, there will still be plenty of festivities going on to participate in. Wine tastings, fashion trunk shows, cooking demonstrations and art exhibits are all slated for the weekend. Easter Brunch is served from 10 a.m. to 2 p.m. on March 27. Cost is $75 per adult, $45 for children ages 4-12, reservations are required.
Photo Credit: Omni Barton Creek Resort & Spa
Omni Barton Creek Resort & Spa
Omni Barton Creek Resort & Spa in Austin, Texas is a hot spot for golfers. Over the years, its reputation has grown due to its challenging layouts, well-maintained greens, and beautiful vistas from its Tom Fazio-designed course. To celebrate their prestige among the golfing community, the resort is hosting their very first Easter Golf Ball Hunt. Hidden along the fairways, in bunkers and around the greens, will be different colored balls redeemable for prizes. Guests will have the opportunity to search for them on the Fazio Foothills on Saturday, March 26, and on the Fazio Canyons course on Easter Sunday. Any participants who discover a painted golf ball can turn it in for prizes including discounted spa treatments, complimentary golf rounds, restaurant vouchers or overnight stays. One lucky winner who finds the Golden Golf Ball will get a complimentary two-night stay with all meals included, a round of golf for two and one complimentary spa treatment. On Sunday, Easter Brunch will be served from 9 a.m. to 3:30 p.m. Cost is $65.95 per adult, $24.95 for children ages 6-12, reservations are required.
Photo Credit: Rosewood Little Dix Bay
Rosewood Little Dix Bay
Got your snorkel gear ready? Because Rosewood Little Dix Bay's annual Easter egg hunt occurs under the water. The resort sits in the British Virgin Islands surrounded by the island's lush rolling hills, turquoise waters and sandy beaches. During the Under-the-Sea hunt, guests can test their diving skills as they search for these large treasures in the waters of Virgin Gorda. Those who find the eggs will win prizes such as treatments at Sense® spa, a sunset cocktail cruise and dinner for two. Easter Brunch will be served from 12 noon to 3:00 p.m. and is priced at $55 for adults and $27.50 for children.
Photo Credit: Thompson Chicago
Thompson Chicago
Designed by British designer Tara Bernerd, Thompson Chicago features an eclectic sensibility, urban industrial touches and natural elements such as American woods. This year, the property is again joining in on the Easter-egg-hunt fun during their second annual Golden Egg in the Gold Coast event. Guests staying overnight on April 4 will have the opportunity to hunt for eggs within 10 guestrooms. Prizes are based on the egg's color: blue, a complimentary in-room dessert; purple, two cocktails from Salone Nico; pink, breakfast for two; and green, overnight parking. One guest will find the golden egg which means a complimentary overnight stay. Easter Brunch will be served from 9 a.m. to 3 p.m. and rates are unpublished. Inquire at Nico Osteria, the hotel's in-house restaurant.
Photo Credit: Vintro Hotel + Kitchen
Vintro Hotel + Kitchen
Vintro Hotel + Kitchen in South Beach is hosting its annual Easter Brunch Buffet on Sunday, March 27. The buffet includes items such as scrambled eggs; tortilla Española; a Jewels of the Sea raw bar; grilled lamb, pork or chicken; local fruits; morning pastries; Vintro's signature seafood paella and an à la carte menu. For an additional cost, guests can indulge in bottomless mimosas, Bloody Mary's and red and white sangria. Following the meal, a complimentary Adult Egg Hunt will take place as diners search for the Golden Egg. The winning one comes with a complimentary one-night stay at the property, $100 certificate to Vintro Kitchen and a complimentary bottle of Champagne. The brunch buffet goes from noon to 3 p.m. and is priced at $64 a person. The hunt will occur between 2-3 p.m.
Photo Credit: Le Bristol Paris
Le Bristol Paris
If you're spending the holiday in Paris, Le Bristol is treating guests to an Easter egg hunt on the hotel's French lawn on Sunday, March 27. Both children and adults can participate in the event, but we have a feeling you won't want to leave it up to the kids to find these prizes. One winner will win a two-night stay at the newly-renovated Lanesborough in London or the Palais Namaskar in Marrakech. However, if you end up prize-less, you'll still get to enjoy the fruits of your labor: chocolate eggs made by in-house pastry chef Laurent Jeannin.