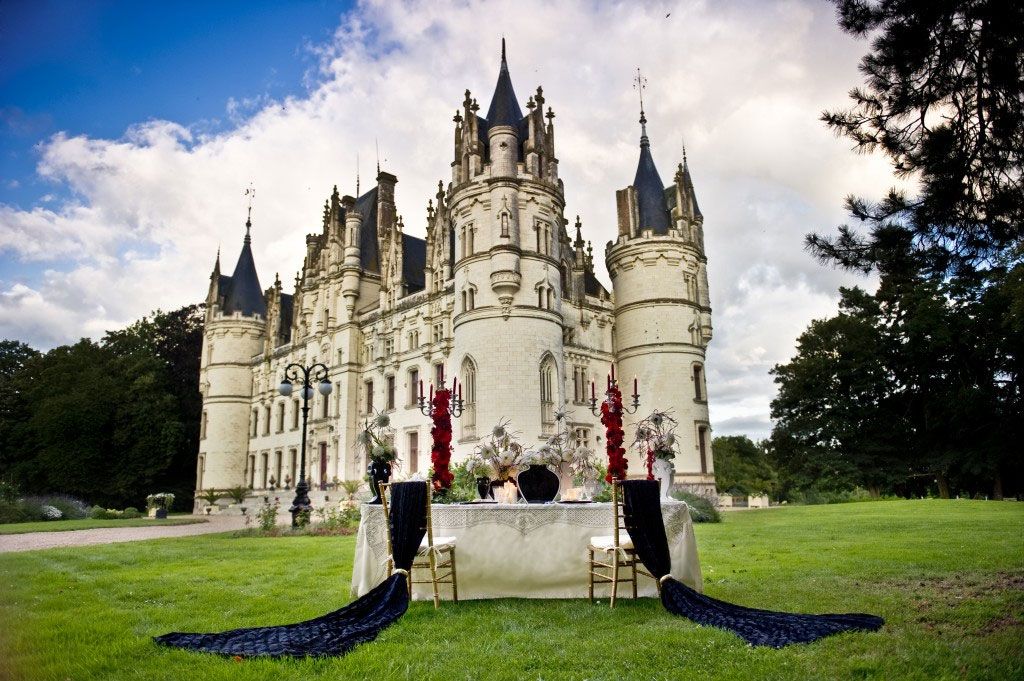 Photo Credit: Chateau de Challain
With the first episode of Game of Thrones Season 5 having aired this past Sunday, we have been daydreaming about castles, palaces and royalty all week. And, since Americans have a never-ending fascination with British kings and queens, it got us wondering what it'd be like to rent out a palace on our next vacation. Turns out, living like Prince William (or the Lannisters) isn't too difficult, even in the 21st century. Here are seven European castles that you can book for weeklong stays:
Photo Credit: Chateau Marouatte
Chateau Marouatte — Dordogne, France
Surrounded by high fortified walls with eight towers, Chateau Marouatte will take you back to the 14th century as soon as you step foot onto its grounds. The castle is decorated with historic photos, beautiful tapestries and ancient relics in each room. The 270-acre château boasts a heated pool, sun terrace, tennis court, formal gardens and the remains of an old winery still featuring large wine vats and barrels. Previous notable guests have included Cher, Jon Bon Jovi, Carole King, Keith Urban, Jeff Beck, Peter Frampton, Ted Nugent and Ellie Goulding. Many songwriters have also written music while staying here, and in 2011, the American performing rights society ASCAP began holding yearly retreats for songwriters.
Sleeps: 23
Weekly Price: Available Upon Request
Photo Credit: Castle Wasserburg
Castle Wasserburg — St. Pölten, Austria
This mustard-yellow, baroque-style castle sits just outside of Vienna and features its own moat (now mostly just considered a pond) which is home to ducks, fish and waterbirds. Castle Wasserburg goes back to the 12th century and has been renovated with modern amenities and furnishings, yet still evokes a romantic old-English atmosphere. The property includes a large salon, outdoor pool and pool house, sand tennis court, sauna and a stone garden. Nearby is the Danube valley where guests can venture to to visit local villages, vineyards monasteries or participate in sightseeing tours. House employees, a maid and a cook (arranged at an additional cost) are all available within the estate.
Sleeps: 20
Weekly Price: Around USD $14,100
Photo Credit: Le Château du Creuset
Le Château du Creuset — Bourgogne, France
Preserving its original architecture, this 17th century castle was a private residence until 2005. Now available for booking, Le Château du Creuset features eight bedrooms (five recently renovated) and five bathrooms. Sitting on 34 acres of parks, woodlands and gardens, the castle includes a swimming pool and Jacuzzi, outdoor chess, basketball and tennis courts, 12-hole mini golf, driving range and a playground for children. And, if you want to bring along your horse to enjoy the countryside as well, the estate has stables and a paddock available. While the castle is self-service, you can opt for catered meals and cleaning options for an additional cost. Be sure to arrange a few of the on-site activities as well that will really take you back in time, such as archery or crossbow shooting.
Sleeps: 15
Weekly Price: Around USD $37,400
Photo Credit: Chateau de Challain
Chateau Challain — Challain-la-Potherie, France
One of our personal favorites, Chateau de Challain has all the right ingredients to make living out your fairytale fantasies possible. Located 30 minutes from Angers in a quaint village, this 13-bedroom château with its scenic setting is the jewel of the Loire Valley. Everything is furnished to reflect an old-world charm with four-poster beds, gold accents, vintage statues and hanging chandeliers. This B&B estate includes a billiards room, BBQ, cable TV, fireplaces and daily maid service. There are a few dining options to choose from, and if you wish for a catered meal, many of their chefs are Michelin-starred talents. With bedrooms and public spaces looking like the set of Downton Abbey, there's a magical atmosphere here that really does put you in the Cinderella spirit.
Sleeps: 35
Weekly Price: Around USD $14,000-18,000
Photo Credit: Lough Cutra Castle
Lough Cutra Castle — Galway, Ireland
Lough Cutra Castle has a past that dates back to 866 A.D. Following a long and varied history, the estate's land was acquired by Colonel Vereker in 1797 who tapped John Nash to design the Gothic-style castle. If you know British history, Nash's name may sound familiar. He also helped worked on Buckingham Palace, Mitchelstown Castle, Regents Park Crescent and his own East Cowes Castle. Since its construction, the château has gone through a few different owners. But in 2003 went through renovations and continues to be modernized often. The castle is self-catered with nine bedrooms and has several activities on-site including fly or spinner fishing on their private 1000-acre lake, pheasant and duck shooting and numerous walking, running and cycling trails.
Sleeps: 18
Weekly Price: Around USD $24,000
Photo Credit: Château de Môh
Château de Môh — Candes-Saint-Martin, France
Possibly the most modern on the list, Château de Môh rests among 15th century village homes and overlooks the stunning Loire Valley. The French castle houses 18 rooms, with two in the Tower and two in the Loft, all with their own bathrooms. Guest accommodations are all unique and boast quaint French décor, colorful wallpaper, chic rugs and antique furniture. To really get that royal feel, reserve one of the tower suites which overlooks the moat. The château also features a heated swimming pool and its own spa with indoor pool. One of its coolest parts, however, is its underground dining enclave built inside a cave. With original stone walls and large protruding boulders shaping the room, the space feels incredibly authentic and true to its 15th century heritage.
Sleeps: 48 (includes nearby house)
Weekly Price: Available Upon Request (USD $3,300 per night)
Photo Credit: Fenton Tower
Fenton Tower — East Lothian, Scotland
This last castle, Fenton Tower, almost looks like it could be the set for a Wes Anderson film with its simple façade and perfectly-manicured lawns. The 16th century castle was once visited by King James VI of Scotland (son of Mary Queen of Scots and Lord Darnley) as he fled from the rebel army in Fife. Restored in 2002, the tower is a five-star estate set amongst the rolling hills of Scotland, about 18 miles east of Edinburgh. It is also surrounded by world-famous golf destinations such as Gullane, North Berwick and Muirfield. Inside, antique furnishings and Scottish décor create a warm, country-home feeling. Guests can participate in game shooting, bird watching, horseback riding and fishing at the castle or can explore the region around the château. Edinburgh, The National Museums of Scotland, Museum of Flight, Tantallon Castle, Dirleton Castle, the Haddington Priory, Hailes Castle and local gardens are close enough to explore on foot or following a short drive.
Sleeps: 12
Weekly Price: Around USD $10,000